The Giants were drained from the heat, but that would be less of a problem as the sun set during the second half.
Simms: "We had a nasty, ugly, old locker room, and I went in and got a drink of water and thought how hot it was. I found a little bench and laid down for about a minute or two and then sat up. I don't remember coaches telling us anything. We weren't a big halftime team. Our coaches never yelled at us or gave us pep talks."
Lawrence Taylor recalled that the defense was doing too much thinking. "We were worried about the heat, about the kind of shoes we were wearing. We were playing finesse defense. In the second half, we just went out and knocked their heads off."
DE Leonard Marshall: "We were trailing at halftime, 10-9, and yet we felt really good because the Broncos had played their best half of the season, doing almost everything right, and they were only winning by one point. We had played pretty badly, letting their offense get away with too many things. And still all they were ahead was just one point."
G Brad Benson: "Even though we were behind at the half, there wasn't a feeling in the locker room that we needed to make major changes. More than anything, we had to take charge of the game, as we had done in the playoff wins against the Niners and Redskins. We just came out as a team and said, 'If we want this game, let's take control right now.'"
Meanwhile, the Broncos were not down after their missed opportunities in the first half. Rather, they were angry that they weren't further ahead. Unfortunately they would be without injured LB Tom Jackson in the second half of what would be his last game before retiring.
Broncos LB Karl Mecklenburg: "We were pretty confident. Things were going okay, and we felt the Giants would settle into their normal pattern, and we'd be right there waiting for them. So we did not make any major adjustments at halftime. It was interesting because we were going, 'Well, a tiger is till going to have his stripes'–the Giants are going to to back and do what they did all year [run first]. They never did."
DB Louis Wright recalled: "We usually got 15 minutes in the locker room, but in the Super Bowl we got 30. Only no one told us. We did our routine-met with our position coaches, got a talk from Coach, then charged out toward the tunnel. But the security guards held us back saying: 'You have another 15 minutes.' That killed our vibe. We sat in the locker room and waited and waited. ... It was the longest 15 minutes of my life."
As the teams came back onto the field for the second half, the PA system played "New York, New York." "I got goose pimples," says McConkey. Meanwhile, Dan Reeves seethed even more after the mixup on the player introductions before the game favored the Giants.
The Giants took control of the game in the third quarter.
Quarter 3
Rouson
returned
Karlis
's kick 22y to the
NY
37. The
Giants
moved smartly from there to their second touchdown as
Simms
went five-for-five.
Morris
ran for three, then two. In between,
Simms
threw to
Carthon
in the right flat for four, which made it 4th-and-one. When
Phil
reached the sideline,
Parcells
told him, "Stay close." The punt team came on the field. "That's what it looked like from their sideline," said C
Bart Oates
. "But instead of the punt team, we ran out a bunch of big backup offensive linemen." Instead of a blocking back, they sent out backup QB
Jeff Rutledge
.
Landetta
went back in punt formation with
Rutledge
as his protector.
John Madden
told the TV audience to watch for a fake punt. After surveying the defense,
Rutledge
moved under center. One of his options was to take a delay-of-game penalty. He could also try to draw the
Broncos
offside. Even
Oates
wasn't sure what he would do. "I waited and waited and waited. I kept looking up at the clock. All they had over the middle were a couple of linebackers. We had two guards and a center to block them." When the
Broncos
didn't shift out of their base 3-4 defense,
Rutledge
took the snap and went through the center-right guard gap for 2y to keep the drive alive.
Reeves on the fake punt: "They faked a punt against us the first time we played this season. So we kept our defense on the field this time expecting something like that. But he still got the first down. It was a calculated gamble by Parcells. We had worked on it all week, too, yet they executed it and made a first down."
"That was a big play," said Simms. "It gave us a chance to move down the field and score a touchdown right at the start of the second half, and we played with extreme confidence after that–offensively, of course, but defensively even more so. We really started putting a lot of pressure on their offense, and that's where the game turned. Looking back, if Jeff had been stopped in our territory, that could have been a tremen­dous, tremen­dous turning point in the game, no doubt. I didn't at all question the decision to go for the first down. The rap on us was that we were a conservative team, but that was only because we were one of the few teams that could actually run the football. In truth, we were an aggressive team, and our coach was not afraid to take chances. Parcells would always say, 'This game is not for those who are faint of heart. You can't be worried about failure. If you fail, all right, there'll be another chance.'"
Simms
returned and completed passes to
Morris
for 12 and
Rouson
for 23. On 1st-and-10 from the
17,
Morris
ran around the right side for 3y.
Simms
tossed to
Carthon
for one, then hit
Bavaro
down the middle just before he ran into the end zone for a 13y touchdown.
Allegre
converted.
Giants
16
Broncos
10 (10:08)
S Dennis Smith had Bavaro well covered. "I probably shouldn't have thrown it," admitted Simms, "but I saw this little opening."
Joe Morris carries.
Denver
started from the 14 after
Lang
's 13y return.
Martin
deflected
Elway
's pass, but
John
came back with a 5y throw retreating from pressure to
Johnson
in the right flat. When the third down pass to
Willhite
was underthrown,
Horan
punted 42y to
McConk­ey
, who zipped 25y to the
Denver
36. The
Giants
' game plan said to throw the ball early to loosen up the defense, then run
Morris
in the second half. So he carried three straight plays for a net gain of 14 to the 22. Following
Rouson
's 1y carry,
Simms
threw over the middle to
Manuel
for a first down at the 12.
Carthon
ran for two, and
Simms
gained five evading the pass rush. After a
Giants
timeout,
Morris
gained just one. So
Allegre
banged through a 21y field goal.
Giants
19
Broncos
10 (3:54)
Denver
had come from behind in their last four wins, including the miracle 95y drive against
Cleveland
. Could they make it five in a row? From the 20,
Elway
threw three straight passes, completing just one for 8y to
Willhite
. So the
Giants
were right back in business on their 32 after the punt.
It took only five plays for the
Giants
to extend their lead to 16. After
Morris
gained two,
Simms
hit
Manuel
for 17 to the
Denver
49.
Lionel Manuel down right sideline after catching Simms's pass.
After
Morris
's 4y gain,
Simms
called for a flea-flicker. He pitched back to
Morris
, who ran forward and lateraled back to
Phil
for a throw to
McConkey
running wide open across the field from right to left. CB
Mark Haynes
made the touchdown-saving tackle as re­ceiver
Phil
landed head over heels at the one. That simply delayed the inevitable as
Morris
ran around the right side untouched into the end zone.
Giants
26
Broncos
10 (0:24)
Simms on the flea flicker: "The play comes in, and I think to myself, 'My God, we're gonna win the Super Bowl!' It was the perfect time and situation to call it." It was Phil's last completion in an eight-for-eight third period. Simms said later, "When we com­pleted the pass, and I saw him get tackled, I knew the game was over. I knew we'd get the touchdown, and they weren't going to score three times against our defense."
McConkey had an interesting story. He played football for the Naval Academy. After completing his mandatory five-year career as a helicopter pilot, he decided to try pro football despite weighing only 160lbs. He contacted Steve Belichick, Navy's backfield coach, who timed him at 4.4 seconds in the 40y dash. Belichick contacted his son, Bill, the defensive coordinator of the Giants. The team signed him as a 27-year-old rookie–the first Navy Midshipman to enter the NFL after his military service since Roger Staubach in 1969. After two seasons as a receiver and kick returner, Phil was released by the Giants before the '86 season and signed with Green Bay. After four games, the Giants gave the Packers a fourth-round draft choice to get Phil back. He played in the remaining 12 games and playoffs. "It was a great feeling to be wanted by a team that had let you go," said McConkey. "It was so satisfying to be able to come back to the Giants and contribute and be with my buddies where it started." On the completion to the one, he said: "We practiced it (the flea flicker) a lot. Bobby Johnson would go down the middle of the field, and I'd cut across coming in motion from left to right. And I'd run right to left as Simms handed to Morris. I will never forget the Denver secon­dary. I never felt such helter-skelter. They were caught completely off guard, totally going for the run, which was our normal nature. It was bedlam in the secondary and too late for them to recover. I was wide open the second I headed upfield. As I caught the ball and turned up, I saw a wide open field. I thought I was going to get in. I saw the goal line and thought, 'My God, I'm going to get a touchdown in the Super Bowl.'" Then he saw Haynes coming in low. "I tried to hurdle him, but he got enough of me to send me into a somersault. When I landed, I knew I was on the one. I wanted the score. It was something I had dreamed about since I was a kid." It wouldn't take long for Mc­Conkey to bury his disappointment at not scoring on the play.
Parcells
warned his defense to stay fired up and not start celebrating too soon. They heeded his words. After a touchback on the kickoff,
Martin
knocked the ball out of
Elway
's hand.
John
recovered and tried to escape only to be dropped by
Marshall
for a loss of 11. The
Broncos
gained only 2y during the third quarter with nary a first down. End Q3:
Giants
26
Broncos
10
Quarter 4


A false start moved the
Broncos
back half the distance to the four.
Elway
then threw from the end zone deep down the middle for
Mark Jackson
only to have
Patterson
intercept at the
Denver
35. He was tackled back on the 42 and another 10y was tacked on for an illegal block on the return.
Elway throws from his end zone.
The
Giants
offense continued to be unstoppable, driving 52y in six plays. DE
Rulon Jones
dropped
Morris
for no gain before
Simms
fired to
Robinson
down the left sideline for 36y to the 16.
Stacy Robinson runs to the
Denver
16.
Joe
found the going tough again, gaining only one. So
Simms
threw to
Bavaro
in the end zone.
Louis Wright
, running with his back to the quarterback, grabbed the receiver and was called for interference to put the ball on the one.
Wright
came back and stopped
Morris
for no gain. Then
Gilbert
and LB
Ken Woodard
sacked
Simms
for a loss of five. Then
Phil
got a break when his pass to
Bavaro
in a crowd in the end zone bounced off
Bavaro
's hands into the anxious arms of
McConkey
running behind him for six points.
Giants
33
Broncos
10 (10:56)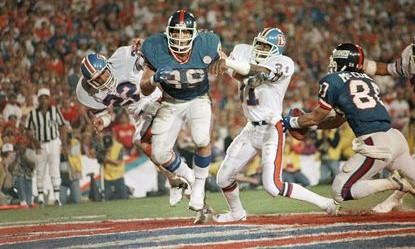 Phil McConkey catches the deflection off Mark Bavaro.
It was fitting that McConkey caught the deflected pass from Bavaro. Mark, "the silent strong man," and Phil, "who was definitely the most emotional player on the offense" according to Simms, "were the best of friends. They were the perfect match because McConkey did enough talking for two people."
McConkey recalled the play. "The play was called 'Flood Left, 83 Divide.' Bavaro was supposed to go upfield, and I'd come underneath him, going across the field. I remember lining up, and without Simms motioning me, I was thinking to myself, 'What the hell do I do here? So when the ball is snapped, I just make a diagonal route to go under Mark. Phil got rid of it quickly, and I think Mark was double covered. Frankly, it was so quick I don't think he was ready for it. I hadn't even come across yet. Every other time we ran that, I was clear of him to the other wide. Turns out I was lucky to be where I was at just the right time. It deflected off him when he got sandwiched between two defenders. I'll never forget the sensation of that ball tumbling end over end. It was like I was a little boy back in Buffalo catching snowflakes in my mouth. The sense memory to this day is so acute that I can see the grains on the football, and the logo is clear as day."
McConkey leaped into the arms of Bavaro, who told him, "I've got to take care of my friends."The navy veteran, who had fallen short of a touchdown earlier by one yard, took the touchdown ball to the sideline with him. Phil recalled, "I was pretty much out of my mind at that point. I was somewhere else. It was all an absolute white, light blur after it had happened. All you can think about is every ball you've ever caught, every pushup you've ever done. You've done it for one goal: To be the best."
Oates: "What I liked was we didn't sit on the ball. At times during the season, we had gone conservative when we got ahead, but that day everybody was thinking the same way: Let's carry it through to the end."
Bell
fumbled
Allegre
's kickoff hit
Bell
on the foot at the 10 and bounced to the 16 where
Joey Hackett
fell on the ball. Running his no-huddle offense,
Elway
led a scoring drive, starting with five straight completions:
Johnson
for 10,
Willhite
on a middle screen for four, 16 to
Jackson
on a scramble, five to
Willhite
, and 11 more to
Jackson
on a forward deflection. On 1st-and-10 from the
NY
38,
Sewell
gained 12 around left end on
Denver
's first running play of the half, and
Willhite
got six. After an incompletion,
Elway
ran a draw for five and a first down at the 15. But
Banks
tackled
Sewell
for a 5y loss before
Elway
scrambled for eight and then one. On 4th-and-six,
Reeves
inexplicably settled for
Karlis
's 28y field goal.
Giants
33
Broncos
13 (6:01)
The
Giants
were ready for the onside kick,
Bobby Johnson
covering it at the
Denver
46.
Rouson
scampered around the right side for 18, then gained three to the left. After
Carthon
gained one,
Simms
ran a bootleg around the left side for 22y to the two.
Ottis Anderson
, an eight-year veteran who came to
Giants
from the
Cardinals
during the season, took it in from there.
Allegre
missed the extra point.
Giants
39
Broncos
13 (3:18)
Simms finished the game without calling a single audible.
Denver
made the final score more respectable with a 69y touchdown that started with
Willhite
gaining 11 on a draw play to the 31. Then
John
threw three straight times to
Willhite
, completing only the first one for 11y to the
NY
47. Sidestepping the rush,
Elway
connected with
Johnson
down the middle for the touchdown.
Giants
39
Broncos
20
Johnson: "I was really frustrated because I wish I had gotten the ball more. When I scored the touchdown, there was no excitement. I walked off the field with my head down. There really was no cheering in the stands. I did hold onto the ball because I knew this was a moment I would never forget, but I knew it was too late for us to come back."
After
Mowatt
recovered the onside kick at the
Denver
44,
Parcells
sent in
Rutledge
at quarterback and 11-year veteran
Tony Galbreath
at running back.
Tony
gained six and after the two-minute warning, six more for a first down.
Rutledge
knelt down for a loss, but
Denver
called its first timeout. So
Parcells
went back to straight football.
Galbreath
gained seven. Timeout
Denver
.
Fletcher
dropped
Tony
for a loss of two. Timeout
Denver
. With the ball on the 28, the
Giants
passed up a chance to kick a field goal as
Rutledge
ran a bootleg for a loss of one to turn the ball over on downs.
Giants NG Jim Burt had started the tradition during the season of dumping Gatorade on Parcells in the last minutes of each victory. As the minutes ticked down in the Super Bowl, Jim finagled his five-year-old son onto the sideline, where he planned to hoist him on his shoulders at the final gun. Since Parcells would be wary of Burt, Harry Carson borrowed a security guard's yellow jacket to disguise himself so that he could sneak up on Bill with the Gatorade.
Eventually, both Parcells and Simms got ice bucket baths.
"I actually got Coach twice with the Gatorade," recalled Carson. "In most clips of the game, you see Coach standing there on the sideline as I dunk him from behind. But if you look closely, you can see that he is already shivering a bit and his sweater is already wet. I had actually gotten him about two minutes earlier. ... Little did I know that on the television broadcast, John Madden was diagramming the whole thing like it was a play with X's and O's."
Ted Kubiak
came in at quarterback and threw four straight hurry-up completions: 9y to WR
Clint Sampson
down the middle, then five to
Sewell
, 23 to
Watson
, and 11 to
Sampson
with the receiver stepping out of bounds each time. From the
NY
23,
Kubiak
tried to pass again, but rookie DE
Eric Dorsey
sacked him for a loss of six.
The
Giants
could finally celebrate the franchise's first NFL Championship since 1956.
FINAL SCORE:
GIANTS
39
BRONCOS
20
Harry Carson in security guard's jacket douses Coach Parcells.
The Super Bowl MVP award went to
Phil Simms
for his incredible performance: 22 of 25 for 268y and three touchdowns, including 10 of 10 in the second half.
G
Brad Benson
: "I was glad
Phil
was named MVP, and I was proud when he shared the award with the offensive line."
Simms: "Looking back at a lot of games that year and at the Super Bowl, I realize that nothing bothered me. I was so confident and focused. If the bigness of the Super Bowl helped me, it was that in the week leading up to it, I was so strong-willed that I allowed nothing to get in the way of football. The other thing is that I was not afraid of making a mistake or being intercepted even though it was a big game. Under Bill, we had been taught to play hard, not worry about mistakes, and talk about winning only in the last couple of minutes."
Denver Defensive Coordinator Joe Collier said years later: "(Simms) was a hot quarterback that day. He just couldn't miss. We were a big zone team. Always had been. Ron Erhardt devised a real good game plan against our type of defense. They found the holes and executed very well. He was the big difference in the game. It was one of the best performances I have ever seen."
Mecklenburg: "We went into the Super Bowl with the book on New York being that they were going to be very situational when it came time as to running or throwing the ball. We got into the Super Bowl, and they turned their plans upside down. It was amazing that they get all the way to the Super Bowl doing things one way, and once there they change. It was a brilliant coaching job by Parcells to convince his players to take advantage of our tendency to overplay. Whatever your tendency was, we were going to adjust and overload that tendency. And anytime you overload, you give up something. So we played that whole game out of position."
Watch the game ...