The Washington locker room was so calm at halftime that Mike Nelms took a nap.
Gibbs told his squad: "We were down more than this at other times this year. I told them we had a good shot at it. Being the underdog time after time gave us competitive fire. ... The key has been that we play as a group."
Theismann wasn't worried. "It was only seven (point deficit). We were starting to run the football better. The game was settling into our kind of football game."
Jacoby: "We weren't that discouraged at the break. The way our defense was now dominating them, we didn't see how they could score again. Miami had a good defense, but before the first half was over, we began to wear them down with our size and strength. They didn't match up well against us. ... They hadn't really stopped us yet. We had stopped ourselves with silly mental mistakes and miscues. All we had to do was execute."
Starke: "The coaches were more shook than we were at halftime. We knew we were moving the ball in the first half. We just weren't scoring."
Quarter 3
The
Dolphins
had allowed only 10 points in the third quarter all season - a tribute to
Bill Arnsparger
's halftime adjustments. The
Killer Bees
started strong.

Otis Wonsley
returned
von Schamann
's kickoff 13y to the 28 with a 5y facemask penalty tacked on.
Riggins
lost a yard trying to turn left end. Then
Baumhower
burst through and sacked
Theismann
for a loss of nine. A long incompletion over the middle brought out the punt unit. The ball traveled only 31y to a fair catch. But
Miami
was penalized 15y for an illegal block to place the ball on the
Dolphins
31.
Franklin
burst through for 9y. It took two more runs to move the chains,
Woodley
sneaking to the 41 on third down. After an incompletion,
Franklin
gained four. Then, in an omen for a miserable half for him,
David
overthrew TE
Joe Rose
.
Orosz
punted only 31y to
Nelms
who took the ball on the run to the
Washington
36. Little did the
Dolphins
know that they had just completed their longest series of the second half - seven plays.
David Woodley hands to Andra Franklin.
Theismann
began with a screen pass to TE
Don Warren
for 7y and followed with a handoff to
Riggins
for a first down at the 47. Then
Alvin Garrett
took an inside reverse from
Riggins
through the left side for 44y to the nine.
Garrett on the reverse: "This is the first time it was successful. We practiced it all week."
LT Jacoby: "We wanted to throw them some misdirection to keep them off-balance so they couldn't just key on our basic running plays and crowd some secondary guys on the line of scrimmage. My job, with the tight end right there with me, was to fake like I was blocking on a play where John was going to run a dive off right tackle or a sweep to the right. Then, when we got the defense to chase John, he handed the ball to Garrett, the receiver coming back around in the opposite direction."
But the
Bees
dug in and held
Riggins
to two, then tackled
Warren
as soon as he caught a short pass at the three. On third down,
Theismann
lofted a pass to the back right corner of the end zone over
Garrett
's head. So the
Redskins
settled for a 20y field goal by
Moseley
.
Dolphins
17
Redskins
13 (8:09) With the
Redskins
kicking away from
Walker
,
Lyle Blackwood
bobbled the short boot before returning it 15y to the 29. The
Dolphins
went nowhere as
Tony Na­than
gained zilch and the
Redskins
deflected two
Woodley
passes.
Nelms
took back
Orosz
's punt 12y to the
Washington
48.
This time
Riggins
faked the reverse, keeping around right end for 2y. Then he gained two more at left tackle.
Theismann
threw to
Brown
, who dropped the ball.
Vigorito
fielded the punt at the six and returned 12y.
The defenses continued to prevail, the
Redskins
forcing the third straight three-and-out between the two sides.
Nelms
took the punt back 8y to the
Washington
38.
Mike Nelms returns a punt.
Then
A. J. Duhe
struck again, batting
Theismann
's pass to himself at the 47 for the linebacker's fourth interception in two games.
After an offside penalty,
Woodley
couldn't find a receiver and ran for the first down at the 37. But after
Franklin
gained two, S
Mark Murphy
picked off a deflected pass intended for
Cefalo
at the five. It was the six-year veteran's 18th career inter­ception.
Franklin carries the mail as Darryl Grant tries to escape a block.
Riggins
ran for nine and four to move the chains. Then
Theismann
made a touch­down-saving play. As he rolled back to pass, RDE
Bokamper
batted the ball into the air. As the pigskin came down to the big end inside the 5y line,
Theismann
reached in and knocked the ball away. Instead of being down by 11, the
Redskins
stayed within four. They could continue their game plan of running
Riggins
to wear down the
Killer Bees
.
Jacoby: "We had the ball on our 18 when Theismann tried to pass. The play was called Charlie-Ten-Hitch and it was basically a short dropback, two to three steps, and Joe was supposed to throw it to the right. Doug Betters, who was George Starke's man, was 6'7", and when he jumped into the air, Joe didn't have any­where to throw the ball. So Joe pulled it down and was going to throw it to the left. I had cut down Kim Bokamper on that side, but by this time he'd recovered and gotten back up. This is when Bokamper tipped the pass up in the air."
Theismann: "I thought, 'Oh my god!' I felt like my feet were in cement. You could read Pete Rozelle's name on the ball, and you could see all the laces. It spun very slowly. I knew I couldn't get to the ball; so at the last minute, I figured I should dive and try to get my arm up in between Bokamper's hands and try to knock it away."
Bokamper: "You felt you were watching one of the NFL Films in slow motion. The ball was up in the air and just hanging there. You didn't think it was ever going to come down. The ball hit my hands, and he stripped it from my hands. If I had dropped the ball, it probably would have been more painful, but the guy made a good play on the ball."
Gibbs: "I had my heart in my mouth when I saw the ball come out. Joe made a great play to knock it out of Bokamper's hands."
Shula: "It was an incredible play for a quarterback to make ... a great reaction ... It really hurt."
Jacoby: "We were very relieved in the huddle to still have the ball, and we were all saying, 'Good job, Joe,' because they would have gone ahead 24-13 if Joe hadn't reacted so quickly. So we regained our composure."
Theismann later reflected on what would have happened if Bokamper had scored. "There was no way we would have won the game. We would have had to abandon our game plan. We would have had to throw the football."
Harmon
then bolted for 12y and a first down.
Riggins
gained two, and
Joe
threw a 4y flanker screen to
Brown
.
End Q3:
Dolphins
17
Redskins
13
Quarter 4
The
Redskins
drove to the
Miami
43 before the turnover bug bit again.
Theis­mann
hit
Warren
for 10 and a first down at the 46. Consecutive
Riggins
runs of nine and two moved the chains again. Then the
Skins
tried another flea flicker that backfired.
Theismann
handed to
Riggins
, who pitched it back to him.
Joe
threw a long pass for
Garrett
that was intercepted by
Lyle Blackwood
at the one. The play temporarily stymied the
Redskins
but would help them on their next possession.
Miami
could not move very far from its goal line. Two
Franklin
runs gained three before
Woodley
threw long from his end zone for
Nat Moore
incomplete against double coverage.
Orosz
punted from the end zone to
Nelms
at the 45. Flags flew on the return, and
Washington
started from its 48 after another illegal block penalty.
Riggins
slashed through left tackle for seven and then one.
Harmon
gained only one of the two remaining yards needed for the first down.
Gibbs
elected to go for it on fourth and about a foot at the
Dolphins
43. Expecting a punt,
Miami
called timeout. That set up the play of the game.
Washington offensive coordinator Dan Henning said, "The question was, Are we going to go for it? There really wasn't any decision on the play. It was the best play we had under those conditions, going to the best side we had." The play was "70-Chip," the same play that Gibbs was going to run before the timeout.
His gamble paid off in spades. After a
Miami
timeout,
Riggins
took a handoff into his favorite left tackle hole. Just beyond the line of scrimmage,
Big John
ran through the attempted tackle of RCB
Don McNea
l and sprinted down the left sideline to pay dirt, pulling away from fleet S
Glenn Blackwood
the last ten yards.
Redskins
20
Dolphins
17 (10:01)
McNeal
had followed TE
Clint Didier
as he went in motion across the formation to the defense's left. As
Theismann
handed off to
Riggins
heading for the defense's right side,
Don
slipped as he tried to turn back to his right. As a result, he was a step too late when he tried to tackle the 250lb bulldozer. "I wanted to make him bounce outside, but I never did get my arms all the way around him. I couldn't hold him. I had no idea he was going to be that tough. He was like a train, but I was confident I could tackle him. ... You can watch a guy on film, but you never really know until you hit him."
McNeal carried the weight of the missed tackle on his shoulders for years. "I slipped, but that's no excuse," he said decades later. "I've seen the picture a million times, and I've even got the picture on my wall at home. Why? I don't dwell on it, but it's part of my career."
Riggins
on the TD run: "It was a basic play, 70 Chip. We had already run it seven or eight times in short-yardage situations. I told
Joe
we were on the verge of breaking it. This time, everybody blocked his man, and only one guy had a shot at me ... He couldn't hold on." The guy who twice won the Kansas high school 100y dash championship at 9.8, added, "I could talk about my speed, but no one would believe me. I guess I was just fast enough to get to the end zone before anybody could catch me."
Jacoby
: "70 Chip was one of our short-yardage goal-line plays. It was supposed to go to the left, outside with myself and a tight end over there blocking. One tight end,
Clint Didier
was supposed to come back in motion and then to kick out. Our "I" back,
Otis Wonsley
, was supposed to lead up and chip into the line and take anybody on. Everybody did their job.
Wonsley
gave a wicked block and
Riggins
had a lean little seam to run through. ... I didn't watch
John
run down the field for the go-ahead touchdown because I was covered up by then. But I heard all the horns and I knew what
John
had done. Needless to say, that was a very big moment, probably the biggest of the game."
Theismann
: "I've got the best seat in the house. ... I get to see all the blocking up front, and I get to see
John
run.
Clint Didier
comes in motion and
Clint
's outside of
John
. As
John
breaks to the outside, I'm yelling at
Clint
, 'Don't clip anybody!'
Don
hits him, and it's just like watching butter melt in a frying pan. He just sort of slid down him and off, and then
Big John
started that gallop towards the end zone."
Gibbs
on his decision to go for it on fourth down: "
John
said before the playoffs that he wanted the ball. He said, 'Just hitch me up to that wagon, and I'll pull it.' I sure wasn't going to stop giving him the ball now." On the play call: "Basically, it's a play that goes right at the tight end's rear, and
John
reads it. It's really an op­tion play for him, and it's a play that he runs very well." Finally, "There comes a time in a game there's a gut decision. You have to make it and live with it. If we lost the game, I wanted to lose it by being physical."
Theismann
on
Riggins
: "Nobody practiced harder, nobody had a better feel for the game.
John
's a real intelligent guy. Were we close? No, not at all.
John
was mostly by himself. What did we have in common? Going out to win."
T
George Starke
: "
Riggins
' touchdown run was on a play we have run at least 100 times, and I know they had seen it 100 times. We block everybody but one man, and he has to tackle
Riggins
."
G
Russ Grimm
: "We're leaving one DB for
John
. If we block it right, we know we're going to get a first down. Very seldom did we ever break that play for a long gain. Usually, that was a play that would give us a two or three yard gain, and we would be good to go."
Miami
S
Lyle Blackwood
on
Riggins
: "When you hit him, it hurt."
Baumhower
on
Riggins
: "He picks and reads so well, he doesn't need much of a hole."
Riggins begins his touchdown run.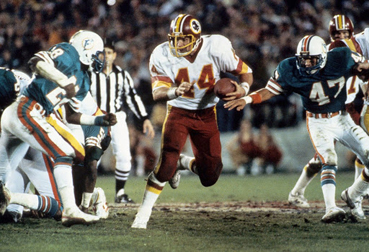 Don McNeal (28) takes aim at Riggins.
Riggins escapes McNeal.
The fired up
Redskins
stopped
Walker
at the 22 on the kickoff.
Miami
needed
Woodley
to get hot, but
David
had yet to complete a pass in the second half in seven tries.
Franklin
gained three, and
Harris
could get only one on a reverse. A false start penalty negated the next play, and put the
Dolphins
in a 3rd-and-11 situation.
Woodley
tried a down and out to
Harris
at the right sideline to no avail. So
Orosz
punted to
Nelms
, who returned 12y to the
Miami
41.
Dolphins backup QB Don Strock began warming up on the sideline.
Jacoby on the Skins' mentality when they took the lead for the first time. "We knew what we had to do to milk this game out for the final 10 minutes. ... By this time, our constant beating on their defensive guys had just worn them out. It wasn't easy for 250lb defensive players taking on 300lb lineman by that time. ... Now we could get 4, 5, 6, 7 yards at a crack and that kind of running further wears on a defense. Their secondary was now making the tackles, and that's something you don't want if you're on defense."
Getting stronger as the game progressed as usual,
Riggins
toted the leather on five straight plays for a total of 18y to make it third-and-three at the 23 and set a Super Bowl record for rushing yardage. After a
Redskins
timeout,
Harmon
replaced
John
and gained the first down by a yard.
John
returned but slipped as he got a yard.
Harmon
got nothing to make it 3rd-and-nine. The
Killer Bees
' task was straight­forward. Stop the next play short of a first down and force a field goal to stay within six points. But they couldn't do it.
Theismann
rolled left and threw to
Brown
at the sideline on the nine.
Riggins
gained three, then none. On the latter play, the
Red­skins
got a big break when
John
lost the ball as he went down, but the side judge ruled his knee was down. But TV replay proved the call was incorrect. So the burden fell on
Theismann
again, and he came through on 3rd-and-goal from the six. After the two-minute warning,
Joe
rolled right and fired to
Brown
at the edge of the end zone for the clinching touchdown.
Redskins
27
Dolphins
17 (1:55)
Theismann throws on the run.
Charley Brown catches the clinching TD pass as he is driven out of bounds.
Theismann: "Charlie went up and got knocked out of bounds before his feet came down. We were waiting for the official to signal, but he turned toward the press box. He didn't signal touchdown while looking at the play. Instead, he turned toward the press box and made the signal." Joe attributed the passing touchdown to the success of the running attack. "It forces the defense out of things they want to do. The linebackers have to come up a little more. It puts the corners on islands, and that's basically what we wanted."
Duhe on the Miami defense's plight: "We had no possessions. Our offense was going three and out, and they were doing those sustained drives. We probably were getting a little worn out. It was kind of the early stages of the 300lb men coming at you."
After
Walker
's 36y return to the 35, backup QB
Don Strock
, a nine-year veteran, replaced
Woodley
, who finished 4-for-14 for 97y, 76 of which came on one play.
G Bob Kuechenberg: "Shula waited too long to go to Don Strock. Hindsight is 20/20, and I certainly don't want to criticize Don Shula. But in my opinion, when you have a guy like Don Strock sitting on the bench, it's like having Earl Morrall on the bench behind Bob Griese. Shula always had a masterful backup quarterback behind his starter, but he waited too long to go to him."
He handed to
Vigorito
for a gain of four. Then he threw three straight incomple­tions.
Miami
ended with only two first downs in the second half.
Washington
took over at the 39 and ran
Harmon
three times to move the chains and enable
Theismann
to take a knee as time expired.
FINAL SCORE:
REDSKINS
27
DOLPHINS
17
Theismann: "The last play I called was, 'Winning Super Bowl formation on two.' I barely got the words out of my mouth because I began to tear up. It was truly a dream come true for a kid from new Jersey who only wanted to play football and how had reached the top of the mountain." After taking a knee, Joe ran off the field holding the football in one hand and extending his index finger with the other. "The emotions just flow out of you. I always remember Terry Bradshaw running off the field holding the football up after one of his Super Bowl wins. I always remembered Joe Namath running off the field waving the one finger. As I left the football field, it was really, in my mind, a split image. I don't even remember touching the ground."
Jacoby: "Before the final play of the game in which Joe put his knee down, we were all ... hugging each other. The strike that we had gone through and all the work that we had done and all the games that we had won had culminated in our winning the Super Bowl. What we had just experienced was something that I never thought would happen when I was a kid growing up. Just to be in this game was amazing, and then all of a sudden you're a Super Bowl champion. ... It was a great feeling, especially in just my second year. To win it in Pasadena, and to win it rushing the ball and with our defense playing great, was just a very big thrill."