"I've never seen so much written about a 3-8 team and a 5-6 team playing a football game." Those were the words of Saints' first-year coach Bum Phillips as his 3-8 team prepared to go to Houston to play his previous team, the 5-6 Oilers. "I'd rather concentrate on football," said Phillips. "I'm not going to throw one pass or catch a single pass. I'm preparing for this as the 12th game of the season, and that's all."
Ed Biles, Bum's No. 1 aide who succeeded him in Houston, said, "I'm sure he'll get a big welcome when he comes into the Astrodome. He deserves it. He did a great job while he was here."
There was even speculation that the sellout Astrodome crowd, unhappy with the Oilers' de­cline after making the playoffs for three straight years under Bum, might switch allegiance if the Saints took an early lead. "I think our fans will remain loyal to our players regardless of the coaching situation," Biles said.
More important than the coaching conflict, quarterbacks Archie Manning of the Saints and Ken Stabler of the Oilers were returning to the starting lineup after recovering from injuries – a wrist sprain for Stabler and pulled stomach muscles for Manning.
One of Bum's top priorities when he came to the Saints was to stop the run. So far in 1981, he was successful. After yielding 194ypg in 1980, Bum's 3-4 defense had cut that down to 115ypg. But the defense would get its sternest test when it faced Earl Campbell, Houston's star running back who had led the NFL in rushing yards each of the three previous years.
To thwart Campbell, the game plan assigned rookie LB Rickey Jackson to key on Camp­bell every play, especially when the Saints went into their nickel defense.
L-R: Bum Phillips, Archie Manning, Ken Stabler, Earl Campbell
Phillips Relaxes His Team
Something Coach Phillips said at the team's Saturday night dinner at the hotel may have helped his team win the game. He said this football game was not just the 12th game of the season. "It's a matter of life and death," he said with a straight face. "My life and your death."
Every Saint laughed. WR Guido Merkens, a former Oiler, said the comment "cleared the air and defused a pressure situation. I think we won the game right there. All of us realized how big this game was to Bum. Because we realized it, everyone was uptight. When he spoke his mind, though, it put everyone at ease. He knew what he was doing. He waited till the time was right, then told the players what they wanted to hear."
Bordelon's Interception Sets Up First TD
Neither team scored in the first period. The Saints moved the ball with authority on their opening possessions but came away empty-handed. Benny Ricardo had a 41y field goal attempt blocked on the first march, and RB Toussaint Tyler fumbled on the Houston 11 on the second.
But six plays after Tyler's fumble, LB Kenny Bordelon turned the first-half tide the Saints' way by intercepting a Stabler pass intended for TE Dave Casper at the Houston 11 and re­turning it to the nine.
"That's something we've worked on all week to confuse them on their outside running," said Bordelon about the Saints' coverage on the play. "I swap responsibilities with the strong safety. Stabler read a strong safety blitz and didn't see me on the tight end."
It took only one play for the Saints to score. With the Oilers in a safety blitz, FB Jack Holmes got the touchdown on a trap play behind a devastating block by G Sam Adams that buried ILB Darryl Hunt. Ricardo added the PAT. Saints 7 Oilers 0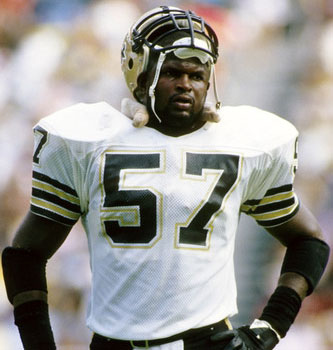 L-R: Rickey Jackson, Guido Merkens, Benny Ricardo, Kenny Bordelon
Saints Match Houston Field Goal
Taking advantage of a 38y Russell Erxleben punt, the Oilers finally got on the board in the final minute of the first half. The key play was Stabler's 23y pass to RB Ronnie Coleman on third-and-20. But a sack by rookie NT Jerry Boyarsky forced the Oilers to settle for a 49y Toni Fritsch field goal with 52 seconds left. Saints 7 Oilers 3
But that was enough time for the Saints to match the three pointer. Manning completed passes of 21y to Jeff Groth and 13 to Holmes to move from their 35 to the Houston 30 with six seconds left. Ricardo booted the 46y field goal. Saints 10 Oilers 3 at the half.
Saints Answer Oiler TD
The Oilers defense came out of the halftime break fired up. They forced a three-and-out, then roared through the Saints' punt formation to trap Erxleben for a 16y loss to take over at the NO two.
After a gain of one on first down, Campbell bounced outside and scored on the next play, and just that fast the score was tied. Saints 10 Oilers 10
Undaunted, the Saints offense went 74y in six plays to regain the lead with the help of two pass interference calls. Holmes went over from the two with nine minutes left in the third per­iod. Saints 17 Oilers 10
L-R: Jack Holmes, Russell Erxleben, Jeff Groth, Elois Grooms
Saints Defense Inspires Offense
The Oilers came right back, driving to the NO 37 where they faced a fourth-and-one. With everyone in the Astrodome expecting Campbell to get the ball, DE Elois Grooms penetrated and forced Campbell to change direction, and Jackson and S Dave Waymer finished him off.
The Saints inspired offense came back and lit up the scoreboard again, going 63y in nine plays. They even overcame two holding penalties along the way. The biggest gain came on Manning's 35y pass to Merkens. Five plays later, Archie threw a perfect pass to RB Wayne Wilson for the touchdown. "Archie put it right on the money," said Wilson, "and I just went up and got the ball." Saints 24 Oilers 10
Oilers Finally Open Up Their Offense
Down 14, the Oilers finally changed their ball-control offense and responded with an 88y drive that took just seven plays to cut the lead in half early in the fourth quarter. Stabler con­verted a third-and-13 with a 27y strike to Mike Holston, then found Holston again behind DB Frank Wattelet for a 50y touchdown strike. Saints 24 Oilers 17
Stabler thought the Oilers waited way too long to open up their offense. "We should've opened up about two minutes after 12 (kickoff time). This team is more effective with three wide receivers. It takes the pressure off of Earl."
L-R: Dave Waymer, Wayne Wilson, Frank Wattelet, Tommy Myers
Saints Extend Their Lead
Needing to regain the momentum, the Saints embarked on a drive that took 7:24 off the clock. It culminated with Ricardo's 42y field goal with 5:01 to regain a two-score lead. Saints 27 Oilers 17
But the home team wouldn't go away. They went 60y with Campbell strolling over from the one. But only 1:57 was left. Saints 27 Oilers 24
S Tommy Myers recovered the onside kick for the Saints, and the offense gained one first down to enable them to run out the clock.
FINAL SCORE: SAINTS 27 OILERS 24
As the clock wound down and pandemonium broke out on the ecstatic Saints sideline, Phil­lips clenched a fist and cracked a satisfied smile. Afterward, Bum dispelled the "just another game" theory he had been spouting all week. "This," he said as he clutched the game ball, "is the biggest win I've ever had in this building."
Saints players joined in the rejoicing. "It's the most fun I've had in clothes," proclaimed LB Jim Kovach. "Words can't describe it," said Elois Grooms. "This game ranks right up there," echoed Archie Manning.
Manning climbed on a table and handed the game ball to his head coach, saying, "You can take this football up to Bud Adams' suite and do anything you want with it." Bum roared, as did all the players.
Saints owner John Mecom Jr., who grew up in the Houston area, said, "This is a very, very special victory. It's special for me, and I know how special it must be for Bum. The man was fired out of jealousy. I'm glad he's with us. And I'm extremely happy for him."
Unfortunately, the Saints would lose all four of their remaining games to finish the season 4-12.