Saints Pivotal Moments
The 1969 Saints started a miserable 0-6. The seventh game found them on the road at Busch Stadium against the St. Louis Cardinals, who weren't off to the greatest start themselves at 2-3-1.
Speculation abounded concerning Coach Tom Fears' future. At this point, the only coach the franchise had known was 7-26-1.
Fans also directed their ire against 30-year-old QB Billy Kilmer. But
"He's the toughest guy I've ever seen. How can anybody even think of quitting when he's leading your team?" What Saint was a teammate who made that statement talking about? Perhaps Doug Atkins, the leader of the Atkins Army defense? Another defensive player like LB Johnny Brewer or DT Dave Rowe? An offensive lineman like Jake Kupp?
No, the object of the praise was 30-year-old QB Billy Kilmer. After an outstanding ca­reer at UCLA where he led the nation in total offense as a senior, he became San Francis­co's No. 1 draft choice in 1961. He became one of the three triggermen who alternated in the 49ers' celebrated shotgun offense until he was injured in an automobile accident near the end of the 1962 season and missed the entire '63 campaign. In his first two pro sea­sons, Billy, like the tailbacks in the single wing offense, ran the ball 189 times for 1,087y and 15 touchdowns. When he returned from the accident, he was SF's backup to John Brodie.
Kilmer missed the entire 1965 season and played sparingly in 1966. So it was no surprise that the 49ers made him available to the Saints in the 1967 expansion draft. The new club envisioned him as only a backup–and perhaps mentor–to a younger quarterback. They even hedged their bet by choosing Gary Wood, who had proven to be a capable relief pitcher for the New York Giants. To make chances worse for Billy, the Saints traded their #1 draft pick to Baltimore for QB Gary Cuozzo, Johnny Unitas's understudy who was considered the best backup in the league.
It took two productive preseason games to earn Kilmer a spot on the Saints' opening day roster in 1967. He started four games that year and 11 in '68. By '69, Billy was the undisputed leader of the offense, starting all 14 games.
Kilmer was by no stretch of the imagination a classic pocket passer like Unitas or Bart Starr. His style has been described by writer Christian Serpas as "a rugby player with a hel­met." Not blessed with a solid offensive line on an expansion team, Billy often had to roll out of the pocket to find a passing lane. Frequently throwing off his back foot, he rarely threw beautiful spirals. His deliveries were often described as knuckleballs or dying quails. So what Kilmer did on November 2, 1969, against the St. Louis Cardinals defied all odds.
Saints Offense Explodes
The 1969 Saints were winless in six games and had not scored more than 20 points in any game when they took the field at Busch Memorial Stadium. Three hours later, they had their first victory after scoring 51 points. Even more amazingly, Kilmer had thrown six touchdown passes, a career high!
Touchdown #1: 25y to TE Dave Parks for the first score of the game.
Touchdown #2: 20y to RB Ernie Wheelwright to put the Saints ahead again, 17-14.
Touchdown #3: 5y to WR Danny Abramowicz to make it 23-14 at the half.
Touchdown #4: 28y on a screen pass to Don Shy. 30-14 Saints
Touchdown #5: 11y to Abramowicz again to push the lead to 44-21
Touchdown #6: 13y to Parks early in the fourth quarter to make it 51-21.
L-R: Billy Kilmer, Dave Parks, Danny Abramowicz
Many jokes have been told about the woeful 1962 expansion New York Mets, who had the worst record in baseball history. One goes like this: "Dad, the Mets scored 17 runs today!" "Did they win?" Applying that to the Saints, we get "Dad, the Saints scored 51 points today!" "Did they win?" Yes, but only by nine after the Cardinals scored three unanswered touchdowns in the fourth quarter.
The combined 12 touchdown passes of Kilmer and St. Louis QB Charley Johnson set an NFL record. Billy hit 22 of 32 attempts for 345y while Johnson went 20-of-37 for 374. Kilmer doubled the previous Saints record of three TD passes in one game.
While it might seem impossible to point to any defensive plays as crucial in a 51-42 game, Saints CB Elijah Nevett recovered two Cardinal fumbles and intercepted a John­son pass, all of which were turned into Saints touchdowns.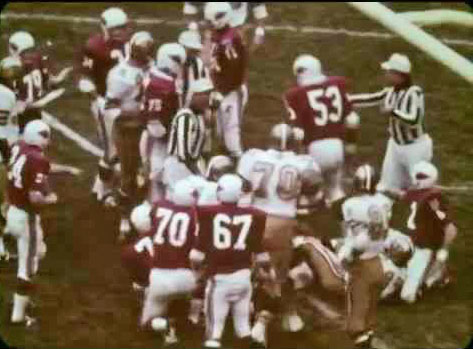 Officials discuss whether the Saints scored against the Cardinals.
Beleaguered Coach Tom Fears had this to say after being carried off the field by his players after the game. "Kilmer was superb all after­noon. Al Dodd was tremendous. (He caught seven passes for 145y, including a 52-yarder, although none were for six points.) Tony Baker ran as hard as I've ever seen him run. ... It was a really fine team effort. The team deserved this victory. They have been playing winning ball all season but until today, we just couldn't seem to put it all together." Tom added, "I never thought I'd see the day when a team of mine would score 51 points, and I'd still be sweating two minutes before the final whistle."