Saints Pivotal Moments
As the Saints prepared to host the Giants in Game 3 of their fourth season, they had not only lost their first two games but had failed to score a touchdown. They lost the opener at home to the Falcons 14-3 and were shut out at Minnesota 26-0. The offense had com­mitted six turnovers in the two contests. Coach Tom Fears' seat was quite hot.
The visitors, who had lost their first two games also, drew first blood with a 17-play, 86y march. The Saints forced a punt early in the possession, but Ken Burrough bumped into the punter to draw a 15y penalty. "I barely hit him," said Burrough, "and it looks like he did a little play-acting."
The deficit grew to ten points when Pete Gogolak, the pioneer soccer-style kicker in the NFL, booted an 8y field goal in the second quarter "from a wicked angle from the right hash mark" to climax. Giants coach Alex Webster had made the questionable decision to go for the field goal on fourth down when the ball rested only a foot from a touchdown. "I didn't know we were that close," admitted Webster afterward. Ironically, that kick would be Go­golak's only success. He later missed from 42, 26, and 30y.
The Saints needed a spark and DB Elijah Nevett supplied it when he made a leaping interception of a Fran Tarkenton pass intended for RB Joe Morrison and returned it 47y to the NY 20. "I don't guess I would have argued much," said Nevett, "if they had ruled me down. My knee hit the ground soon after I caught it, but maybe the receiver didn't have anything to do with it."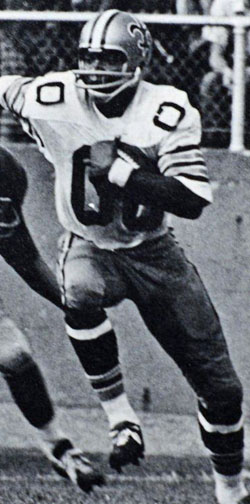 L-R: Ken Burrough, Pete Gogolak, Elijah Nevett, Fran Tarkenton
With the offense going nowhere with Billy Kilmer under center, Fears sent in Edd Har­gett. Let Edd describe what happened next. "On first down, I went for (Danny) Abramo­wicz, but they hooked him and got a 5y penalty. I was planning to go back to him again, but they had a combination coverage on Danny and Dave Parks on the left. When I saw this, I decided to go to Ken Burrough who had single coverage on the right side. Ken ran a post and beat his man easy." The result was the Saints' first touchdown on 1970 after almost nine quarters of play.
Neither team scored in the third quarter. Nevett made two more clutch plays. First, he went high again to break up a Tarkenton bomb to Clifton McNeil. Later, when Webster decided to go for it on fourth-and-goal at the two, Nevett snagged a pass intended for TE Aaron Thomas. "There was nothing to the last interception," admitted Elijah. "Tarkenton threw it to me just as if I had on a white shirt."
The Saints had gotten a break earlier in that possession. On second-and-goal from the five, Tarkenton hit Thomas near the sideline. The receiver seemed to catch the ball in bounds, but the official, perhaps confused by the color scheme–yellow dye surrounded by a green border inside the out-of-bounds lines–ruled Thomas out of bounds. "I had some choice words for the official," said Thomas. "I thought it was good," said Coach Fears. After a 5y delay of game penalty, Thomas caught one over the middle but was nailed by Doug Wyatt at the two.
L-R: Edd Hargett, Danny Abramowicz, Doug Wyatt, Al Dodd
Aided by their film study, the Saints punt-rush unit came up with the play that decided the outcome. They had noticed that rookie DT John Baker (#72) was the weak link on the Giants punt protection line. Saints DT Dave Rowe explained: "We saw that whenever someone lined up head on him or inside him, he'd block down–that is, to the inside." So the Saints lined up Rowe on Baker and put Burrough and Wyatt outside of him on the nine-man rush line. "If #72 moved like we felt he would, the man outside him would have to choose between blocking Ken or Doug."
So when the Giants lined up to punt on 4th-and-one at their 26, Baker, as expected, blocked down on Rowe. The man next to Baker blocked Burrough. That allowed Wyatt to run in untouched and block the kick with both hands. The ball bounced crazily, ending up in the arms of Al Dodd, who ran it in from the two to turn a 10-7 deficit into a 14-7 advan­tage.
The Giants won the statistical battle: 22-10 in first downs, 210-92y, and 361-183y in total offense. But the Saints won their first game of the season 14-7.