Bill Russell's third year as player-coach of the Celtics resulted in the franchise's poorest regular season in 13 years.
Boston finished 48-34, nine games behind the East-leading Baltimore Bullets but good enough to claim the the fourth and final spot in the playoffs.
That was Boston's poorest record since going 39-33 in 1955-56 - the year before Russell joined the team.
Bill struggled with injuries all season. "His knees really bothered him," said F Bailey Howell. "So he didn't even practice. He just played the games. But once he got his knees warm, he was all right until the game was over. Then they were stiff and sore again."

His team suspected that this was Russ's final year as a player, although he hadn't made an announcement about that. "He didn't tell us," Howell said. "But he knew he was gonna retire; so he had an extra incentive to go out as a champion."

He averaged only 9.9ppg, the lowest of his 13-year career. But he still snagged 19.3rpg, good enough for third in the league.
It wasn't just the 35-year-old Russell who was showing his age. The average age of the Celtics was 31.
Shooting guard Sam Jones, who announced his plan to retire at the end of the season, was almost 36.
Point forward Howell was 32.
Strong forward Satch Sanders was 30.
Point guard Larry Siegfried would be 30 in May.
The only new face on the squad was veteran G Emmette Bryant, whom GM Red Auerbach acquired from the

Knicks

because Em was a defensive wizard.
The Lakers returned to the top spot in the Western Division for the first time since '66.
A blockbuster summer trade made the difference. The

76ers

, bowing to his demands, shipped Wilt Chamberlain to

Los Angeles

in exchange for G Archie Clark, C Darrall Imhoff, and F Jerry Chambers.
Wilt turned the 1-2 punch of Jerry West and Elgin Baylor into a 1-2-3 punch.

Lakers

Big Three: Elgin Baylor, Wilt Chamberlain, Jerry West

Under second-year coach Butch van Breda Kolff, the

Lakers

glided to the top spot in the West, seven games ahead of the

Hawks

, who had moved to Atlanta from St. Louis after the '67-68 season.
The

Lakers

had put an exclamation point on their season by humiliating the Celts 108-73 on national TV a week before the regular season ended.

The dispiriting loss prompted Russell to give one of his rare speeches. "It was more a harangue than a speech," he said afterward. "You could not call anything with so many four-letter words a speech."
He decided to make a change that had a greater positive effect than his words. Looking ahead to the playoffs, Bill put Bryant in the starting lineup ahead of Siegfried to gain defensive quickness.
The Lakers dispatched the San Francisco Warriors and the Hawks with relative ease.
West averaged 31.8ppg and Chamberlain, happy to be on a team where he didn't have to shoulder the scoring burden, pulled down 23.5 rebounds per game in

LA

's six-game victory over the Warriors.
The

Lakers

had more balanced scoring in the five games against

Atlanta

. West scored 20.0 per game with Wilt right behind at 19.2 (and 25.6rpg).
Meanwhile the Celtics had to win two series without home court advantage.
John Havlicek averaged 27.2ppg and Russell 19.2rpg to spark the surprisingly easy victory over the

76ers

in five games.
As in the

Philly

series, the Celtics won back home-court advantage by beating the

Knicks

in Madison Square Garden in the opener 108-100. Then they won all three games in Boston Garden. Havlicek again led the scoring (20.7) and Russell dominated the boards (20.8).
The favored Lakers were confident that this was the year to finally get past the Celtics after six previous failures in the finals (including one in Minneapolis).
Chamberlain's presence meant Russell couldn't drop off him to stop West's drives.
Also, Bill had little confidence in his backup, Jim "Bad News" Barnes. So Russ played more minutes down in the stretch to assure the Celts secured the playoff berth. As a result, his defensive rebounding suffered, short-circuiting Boston's famed fastbreak.
Final standings
Eastern Division

| | | | | |
| --- | --- | --- | --- | --- |
| Team | W | L | % | GB |
| Baltimore Bullets | 57 | 25 | .695 | -- |
| Philadelphia 76ers | 55 | 27 | .671 | 2 |
| New York Knicks | 54 | 28 | .659 | 3 |
| Boston Celtics | 48 | 34 | .585 | 9 |
| Cincinnati Royals | 41 | 41 | .500 | 16 |
| Detroit Pistons | 32 | 50 | .390 | 25 |
| Milwaukee Bucks | 27 | 55 | .329 | 30 |

Western Division

| | | | | |
| --- | --- | --- | --- | --- |
| Team | W | L | % | GB |
| Los Angeles Lakers | 55 | 27 | .671 | -- |
| Atlanta Hawks | 48 | 34 | .585 | 7 |
| San Francisco Warriors | 41 | 41 | .500 | 14 |
| San Diego Rockets | 37 | 45 | .451 | 18 |
| Chicago Bulls | 33 | 49 | .402 | 22 |
| Seattle Supersonics | 30 | 52 | .366 | 25 |
| Phoenix Suns | 16 | 66 | .195 | 39 |
Division Semifinals


Celtics

over

76ers

4-1


Knicks

over Bullets 4-0


Hawks

over Rockets 4-2


Lakers

over Warriors 4-2

Division Finals


Celtics

over

Knicks

4-2


Lakers

over

Hawks

4-1
1969 Los Angeles Lakers

#
Player
Pos.
Hgt.
Wgt.
College
Exp.
12
Freddie Crawford
SG
6-4
190
St. Bonaventure
3
13
Wilt Chamberlain
C
7-1
275
Kansas
10
21
Johnny Egan
PG
5-11
180
Providence
8
22
Elgin Baylor
SF
6-5
225
Seattle
11
24
Keith Erickson
SG
6-5
195
UCLA
4
30
Bill Hewitt
PF
6-7
210
USC
1
25
Leroy Ellis
C
6-10
210
St. John's
4
31
Mel Counts
PF
7-0
230
Oregon State
5
33
Tom Hawkins
SF
6-5
210
Notre Dame
10
40
Cliff Anderson
SG
6-2
200
St. Joseph's
2
44
Jerry West
PG
6-2
175
West Virginia
9
Coach: Butch van Breda Kolff
1969 Boston Celtics
#
Player
Pos.
Hgt.
Wgt.
College
Exp.
6
Bill Russell
C
6-10
215
San Francisco
13
7
Em Bryant
PG
6-1
175
DePaul
5
12
Don Chaney
SG
6-5
210
Houston
1
16
Tom Sanders
SF
6-6
210
NYU
9
17
John Havlicek
SG
6-5
205
Ohio State
7
18
Bailey Howell
PF
6-7
210
Mississippi State
10
19
Don Nelson
SF
6-6
210
Iowa
7
20
Larry Siegfried
PG
6-3
190
Ohio State
6
24
Sam Jones
F
6-4
200
No. Car. Central
12
26
Rich Johnson
C
6-7
210
Grambling
1
28
Jim Barnes
C
6-8
210
Texas-El Paso
5
Coach: Bill Russell

RESULTS OF FIRST SIX GAMES
#
Date
Place
Winner
Loser
Winning Team
High Scorer
Losing Team
High Scorer
1
Apr.23
Los Angeles

Lakers

120

Celtics

118
West 53
Havlicek 37
2
Apr.25
Los Angeles

Lakers

118

Celtics

112
West 41
Havlicek 43
3
Apr.27
Boston

Celtics

111

Lakers

105
Havlicek 43
West 41
4
Apr.29
Boston

Celtics

89

Lakers

88
Havlicek 21
West 40
5
May 1
Los Angeles

Lakers

117

Celtics

104
West 39
Jones 25
6
May 5
Boston

Celtics

99

Lakers

90
Nelson 25
West/Baylor 26
For the first time, the Lakers got off to a 2-0 lead in games against the Celtics.
Game One: West had what Russell called "the greatest clutch performance ever against the Celtics. It wasn't his 53 points that beat us. It was his 10 assists." Bryant started out guarding Jerry, but he was too short to stop the outside shot. When the Celts played West close on the perimeter, he drove around them. Yet the

Lakers

squeaked out the victory by only two points. Havlicek sank 37, while Russ snared 27 rebounds to Wilt's 23.
Game Two: With the Celts double-teaming him to force him to pass, Jerry scored "only" 41, and Havlicek increased to 43. Yet the

Lakers

won by six. Russell and Chamberlain continued to negate each other. Bill got 21 rebounds and nine points to The Stilt's 19 and four. Baylor's 32 points, including the last 12, keyed the victory.

West drives past Russell.

Game Three: Both teams got more balanced scoring as the Celtics won 111-105. The Celtics jumped to an early lead, but the

Lakers

finally surged in the third quarter after Keith Ericksen poked a finger in Havlicek's left eye. They outscored the Celtics 38-21 in the third quarter to tie the game going into the final period and seemed poised to take a commanding 3-0 lead. But the Celts, buoyed by the Garden crowd, pulled out the victory. With his left eye shut, Havlicek hit late free throws to finish with 34 points, ten more than West. Larry Siegfried canned 28 to supply the extra punch Boston needed. Howell held Baylor to just 11. The

Lakers

stayed as close as they did thanks to 18 from Mel Counts.
Game Four: In the lowest scoring game so far thanks to a combined 50 turnovers,

LA

led 70-67 heading into the final 12 minutes. But they let the chance for a 3-1 lead slip through their fingers. Over the final four minutes the teams combined for one basket. With 15 seconds left, the

Lakers

had the ball with a 88-87 lead. All they had to do was get the inbounds pass in safely and force the Celtics to foul. But Bryant stole the ball and started a fast break. Jones missed a jumper, but Boston controlled the rebound and took a timeout with seven seconds left. Bryant inbounded the ball to Havlicek, then joined a triple pick with Howell and Don Nelson. John passed to Jones at the top of the key. Sam stumbled but righted himself behind Howell, who cut off West. With three seconds left, Sam lofted an off-balance 18-footer that bounced off the rim, then the background, and fell through. Watch the winning basket ...

Jones said: "I thought to shoot it with a high arc and plenty of backspin. So if it didn't go in, Russell would have a chance for the rebound." The only problem with his explanation is that Russ wasn't in the game.

Havlicek tries to block West's layup.

Game Five: Back in California, the

Lakers

won 117-104. Chamberlain completely outplayed Russell - 13 points to seven and 31 rebounds to just 13. West led all scorers with 39 points, 14 more than Jones and 16 more than

LA

backup G Johnny Egan, who benefitted from the Celts double-teaming West. Not much was made of it at the time, but West pulled a hamstring late in the game and would be hampered by the injury the rest of the series.
Game Six: Their backs to the wall again but playing on their parquet floor, the Celtics jumped to a 32-22 lead at the end of the first period and extended it to 55-39 at the half and 82-65 at the start of the last quarter.

LA

rallied, but it was too little too late. The

Lakers

didn't help their cause by missing 18 of their 48 free throws, a problem that would bite them in Game Seven. West and Baylor led the scorers with 26 each while Nelson topped Boston with 25. Em Bryant had his best scoring contest of the series with 18. With Jerry hobbled,

LA

needed more from Chamberlain, who took only five shots the entire game, scoring just eight points.

Boston sportswriter George Kiseda wrote this about Game Seven. "The Celtics, ancient and weary, only a fourth-place team during the regular season, were not supposed to get this far, but now that they're here, who would bet against them? Surely, everybody knows the Boston Celtics do not lose seventh games of playoffs. Their all-time record in seventh games is 9-0, the greatest record under pressure in sports."
Game Seven
For the first time in their seven finals against the
Celtics
, the
Lakers
would play Game Seven at home. A record Forum crowd of 17,568 filled the stands, and an additional 8,828 seats were sold by closed-circuit outlets in the Los Angeles area, where ABC's national telecast was blacked out.
West
became infuriated when he arrived early at The Forum for Game Seven. Looking above the court, he spotted containers of balloons that owner
Jack Kent Cooke
had ordered suspended from the rafters for release when the
Lakers
won.
Jerry
knew the
Celtics
would draw extra motivation from the cockiness of his organization.
Sure enough,
Boston
GM
Red Auerbach
also became enraged when he saw the balloons. "Those things are going to stay up there a hell of a long time," he promised.
Quarter 1
The fired-up Celtics came out smoking, hitting eight of their first 10 shots for a quick 24-12 lead. The

Lakers

charged back to reduce the advantage to three at the end of the period.


Celtics

28

Lakers

25


Quarter 2
Boston ran off seven straight points to start the period with Havlicek hitting five of them. During the next five minutes, the

Lakers

chipped away and closed within two, 42-40, at the midway point. Sam Jones was fouled at the buzzer and made both shots to give the Celts a three-point edge at halftime. Boston, however, was in foul trouble as Bryant had four, and Russell, Howell, and Havlicek had three each.


Celtics

59

Lakers

56
Quarter 3
The

Lakers

tied the score before going cold for five minutes, missing 16 consecutive shots. West, playing brilliantly despite his heavily bandaged leg, ended the drought with a basket to cut the Celtic lead to 71-62 with five minutes left in the period.
With 3:39 on the clock, Russell worked inside against Chamberlain, forcing Wilt to pick up his fifth personal foul. The three-point play made it 79-66. Since The Stilt had played 885 career NBA games without ever fouling out, Coach van Breda Kolff left him in. But Wilt playing tentatively, the Celtics worked the ball inside to extend their lead to 15 by the end of the period.


Celtics

91

Lakers

76

Chamberlain and Russell jockey for position.
Quarter 4
Both Russell and Jones picked up their fifth fouls in the early minutes. With nine minutes left, Boston had built a 100-83 lead. West scored five straight to reduce the lead to 12. After the teams traded free throws, Havlicek got his fifth foul, and moments later, Jones closed out his illustrious career when he picked up his sixth foul. He left the court with 24 points.
A basket by Baylor and three points by West against only a Havlicek jumper reduced the lead to nine with a little more than six minutes to play.
Then came a play that started perhaps the most controversial final 5:45 minutes of any NBA Finals game. Chamberlain went up for a defensive rebound and came down awkwardly, injuring his knee. He asked to be taken out, and van Breda Kolff sent in Counts. It was the first time Wilt had left the court in the seven finals games.
West hit two free throws to reduce the lead to seven. The Celtics were out of gas, gamely trying to hold on. Another jumper and two more foul shots by West reduced the margin to 103-100.
With Chamberlain ready to return, Counts sank a surprising jumper to make it a one-point game. van Breda Kolff told Wilt to stay put. "We're doing well enough without you."

West didn't learn about that exchange until after the game. That made him shift his ire from Wilt, whom he thought was shirking his duty to the team, to van Breda Kolff.

The teams traded missed free throws. With a little more than a minute left, West knocked the ball loose on defense. But Don Nelson picked it up at the free-throw line and threw it up to beat the shot clock. The ball hit the rum, bounced up a few feet, and dropped back through the net to make it 105-102.

Afterwards, Nelson said, "What can I say? It was a lucky shot, the luckiest of my life."

Summoning all his energy for his last game as a player, Russell blocked Mel Counts shot. An angry Chamberlain watched from the bench as the

Lakers

missed twice before the Celtics committed an offensive foul. Siegfried sank two freebies with 24 seconds left and Havlicek scored a field goal to increase the lead to 108-102. That allowed Boston to withstand a field goal by Baylor and an uncontested hoop by Egan in the last seconds after a steal.
FINAL:

Celtics

108

Lakers

106

Amid the Celtics' jubilation, Red Auerbach said, "What I want to know is what they're going to do with those blankety-blank balloons. Anybody wanna buy some balloons cheap?"
BOSTON CELTICS
Min
FG
FT
Rebs
Ast
Fouls
Points
John Havlicek
48
11-19
4-7
9
5
5
26
Sam Jones
32
10-16
4-4
7
2
6
24
Em Bryant
42
9-21
2-3
5
3
4
20
Don Nelson
25
6-12
4-7
6
2
5
16
Bailey Howell
23
4-11
1-2
4
0
4
9
Larry Siegfried
22
2-9
3-4
2
2
5
7
Bill Russell
48
2-7
2-4
21
6
5
6
Total
240
44-95
20-31
54
20
34
108
LOS ANGELES LAKERS
Min
FG
FT
Rebs
Ast
Fouls
Points
Jerry West
48
14-29
14-18
13
12
2
42
Elgin Baylor
43
8-22
4-5
15
7
4
20
Wilt Chamberlain
43
7-8
4-13
27
3
5
18
Johnny Egan
27
3-10
3-6
3
4
4
9
Mel Counts
21
4-13
1-2
7
1
4
9
Keith Erickson
39
2-11
2-2
7
3
6
6
Tom Hawkins
19
1-4
0-0
2
0
4
2
Total
240
39-97
28-47
74
30
29
106
After scoring 556 points in the 18 playoff games to break Rick Barry's 1967 record, Jerry West became the first member of the losing team to be voted the Finals MVP.
Postgame
Celtics Locker Room
Piggy-backing on Auerbach's comment about the balloons, Russell asked reporters, "Anybody wanna buy some champagne cheap?" Bill would not say this was his greatest championship. "How can I say it was the most satisfying? I've been on 11 world champions. I will say this, though. I consider myself fortunate to be associated with a great, great bunch of guys. Everyone contributed - and I mean everyone. It's a study in comradeship and friendship."
Asked about Wilt's departure from the game, Bill replied, "Too bad about him. What did he go out for in the first place?"

Three weeks after the championship game, Russell gave a speech at the University of Wisconsin. He accused Wilt of "copping out" in the final game. Bill was quoted as saying, "Any injury short of a broken leg or broken back isn't good enough. When he took himself out of the final game, when he hurthis knees, well, I wouldn't have put him back in the game either, even though I think he's great." The comment caused a rift between Russell and Chamberlain that ruined their friendship. They would not speak to each other for 20 years.
Apprised of Russell's comments, von Breda Kolff - no fan of Wilt's - defended him. "Wilt did not take himself out of the game. ... He could hardly make it up and down the court. He had to come out."

John Havlicek did not share Russ's view of the latest title. "This is my most satisfying championship because it's the one we've had to work hardest for. ... This has to be one of the greatest comebacks of all time. Time and time again all season we had to bounce back - and did."
Seven-year veteran Nelson agreed with Havlicek. "This has to be my most thrilling championship. It is bigger since we ended up in fourth place and came from nowhere to win it. I just can't believe it."
Sam Jones accepted congratulations as he retired as a champion. "Yes, I went out a winner, but it sure looked like I might not for a while near the end, didn't it?" He added, "We read out here this year that it would be a crime if we won another championship. So we just decided we'd better commit a crime."
Em Bryant, who scored a surprising 20 points, was perhaps the most ecstatic Celtic because this was his first year with the club. Looking at his hands, he chirped, "I'm wearing two rings, but you better believe I'll find room for another."
Auerbach circulated among the players, congratulating every player. "Unbelievable. What a ball club! We were underdogs in every series, yet won it all."
Lakers Locker Room
Reporters surrounded van Breda Kolff. "All the ranting and raving in the world is not going to change the final score. The score is up there. The season is over."
Naturally he was asked why he didn't return Wilt to the game. "I thought Mel Counts was playing well in his place, and I doubted Wilt could maneuver well enough with his injury."

In the aftermath of the defeat, von Breda Kolff announced that he would not return for the final year of his contract.

Chamberlain fumed in the locker room. "I asked the coach five times to put me back in the game, but he didn't. I felt I could have gotten the ball. But someone has to lose, and it was us. ... I don't really know how I feel at this point. I still have two years on my contract."

Wilt wrote in his autobiography: "I'm not sure I was ever as angry at one man as I was at Butch van Breda Kolff that night." Wilt suspected that Butch was spiteful and wanted to win the game without him.

Baylor said, "This is my most frustrating loss."
Not mentioning the balloons that made him so angry, West said, "Maybe they wanted to win more than we did."

Jerry West

wrote in his 2012 autobiography: "After the sixth and final defeat in 1969, I wanted to quit basketball in the worst way. There is a picture of me walking off the court at the Forum, shoulders slumped and alone, after Game Seven—the game that we lost by two points; the game in which the

Celtics

'

Don Nelson

hit a crazy shot near the end, and all those god-awful balloons that

Jack Kent Cooke

had arrogantly ordered to be put up in the rafters and released when, not if, we won, stayed right where they were and should never have been in the first place. The game that turned out to be

Bill Russell

's last and ended with

Wilt Chamberlain

mysteriously on the bench. It is a picture of defeat that, some think, rivals the one of

Giants

quarterback

Y. A. Tittle

on his knees with blood pouring out of a cut on his bald head. I scored forty-two points, had thirteen rebounds, and twelve assists in that game, and I was struggling with a hamstring so extremely strained that

Frank Deford

expressed the view in

Sports Illustrated

that I was essentially playing on one leg. (If our coach,

Bill van Breda Kolff

, had only taken me out of Game Five, when I first incurred the injury and we were fifteen points ahead, I might have been even more effective.)

"I was rewarded, if you can call it that, with the MVP Award for the Finals, the only time a player from the losing team has ever received it. When I went to New York not long after to accept my booby prize, a brand-new, souped-up Dodge Charger, green, no less (it was probably intended for a

Celtic

), I felt like putting a stick of dynamite in it and blowing it up, right there in Manhattan. I have never admitted that before, but this seems as good a place as any to show my ingratitude. Criticize me if you want, but that's how I felt. As a team, we had let down the fans and the city of Los Angeles (just as my college team had West Virginia, ten years earlier). Somehow, I was sure, the stars were aligned against us. ... On two occasions I felt we had the better team - particularly in 1969 - but it wasn't to be."

Jerry

thought long and hard about retiring. "I honestly didn't think I could endure any more pain." But he returned to the

Lakers

and played five more years, finally getting the championship he so desperately craved in 1972 against the

Knicks

.

Satch Sanders

Em Bryant

Butch van Breda Kolff

Jim Barnes vs Knicks

Jones dribbles past West.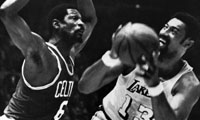 Russell and Chamberlain face to face.

Elgin Baylor vs Bailey Howell

Russell scores over Chamberlain.

Havlicek shoots over Keith Erickson.

Jones shoots his deadly jumper over Tom Hawkins.

Erickson shoots over Russell.

Chamberlain snags a rebound between Russell and Nelson.

Jack Kent Cooke

Havlicek vs West

Russell vs Chamberlain

West shoots under Russell.

Russell and Bryant rejoice.

Celtics GM Red Auerbach

A dejected West walks off the court.

Y. A. Tittle