After LSU's first round NCAA Tournament win over Purdue at the Assembly Center, star F John Williams began having diarrhea.
One of the Tigers' student trainers sent him to the campus infirmary where a needle broke off in his right (shooting) hand while feeding him intravenously.
Coach Dale Brown didn't know about it until the Tigers were about to take the floor against 28-5 Memphis State, the #3 seed that had four returning starters from the previous year's Final Four team.
"I walk in and see all these doctors huddled around John," Brown said. "I didn't know what had happened, but he was wincing and screaming every time the doctors touched it. His hand was pumped up nearly an inch with all the glucose stuck in it. The doctors didn't know if he could play. They said they'd give him a shot to maybe reduce the swelling, so I went out to the court thinking of how we had to play without him. A few minutes later, he came out to the court and played the next three weeks, even though he couldn't bend the wrist of his shooting hand."
Williams would play the second round game with his right hand bandaged.
In its first round game with an impressive display of athleticism,
Memphis State
blasted
Ball State
, 94-62.
For LSU, the glaring individual mismatch would be C Ricky Blanton giving away five inches in the post guarding 7-foot Memphis State C William Bedford.
"I played a little bit the year before in the NCAA tournament against (Navy's) David Robinson," Blanton recalled, "and I hadn't seen anybody as long as him until I saw Bedford. He was a true 7-footer and had long arms."
A born optimist,
Brown
awoke the morning of the game with the same feeling he had when
LSU
reached the Final Four five years earlier.
He listened to the song "You Gotta Have Heart" on the radio.
"That's exactly what I told the team," he said. "We can't beat this team today without it."
L-R: William Bedford, Baskerville Holmes, Dana Kirk, Andre Turner
The first half was nip and tuck from start to finish.
Both teams played a 2-3 zone most of the half.
Memphis led by six briefly, 37-31, with 3:53 left but didn't lead by that much again until 6'7" Baskerville Holmes sank a 30' desperation shot as time ran out to make it 47-41 at the break.
Led by John Williams, who had just six points but 10 rebounds despite spending the last four minutes of the half on the bench with two fouls, LSU did an amazing job on the of­fensive boards against Memphis's tall front line.
LSU hung tough despite sharpshooter Anthony Wilson having a bad half. After scoring a career-high 25 points against

Purdue

two nights early, he missed 6-of-8 first-half shots and spent the last minutes on the bench.
Redden did his best against Bedford, who had 13 points in the first half. LSU could not afford to have him get that many in the second half. Don outscored Bedford by two to lead LSU in the first half.
Memphis coach Dana Kirk surprisingly kept his senior PG Andre Turner on the bench for a large portion of the half. When he put him back in, he took him out within two min­utes of playing time.
Halftime score: Memphis 47 LSU 41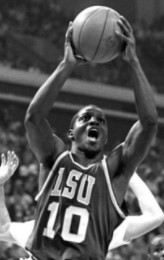 L-R: John Williams, Ricky Blanton, Derrick Taylor, Don Redden
Memphis
started strong in the second half.
Kirk tricked LSU on the inbounds by having him team line up on the wrong end of the court. So when the ball was thrown in Turner, he went the opposite way for an easy basket.
A Wilson miss and a fast-break layup made it 51-41 and forced Brown to call a timeout after only 56 seconds. He told his team, "Don't imagine that the avalanche is about to hit because it isn't."
Williams committed his third foul three minutes in but stayed on the court.
Next came a sequence that CBS TV Analyst Billy Packer cited as a turning point in the game.
With Memphis up 56-45, Williams took a pass in the lane and turned for a bank shot basket. It appeared that he pushed off the defender but was not called for his fourth foul, which would have sent him to the bench.
Brown junked the man-to-man defense and went back to a diamond-and-one zone wth Redden guarding Bedford.
With Turner playing much better, Memphis stretched their lead to 60-48, their largest of the game.
Another key call helped LSU's cause. Blanton scored in the lane, and Bedford was whist­led for his fourth foul and left the court with 14:51 remaining. Rickey sank the free throw to make it 64-55.
LSU
scored the next six points.
Taylor hit two jumpers from his sweet spot at the top of the key, which helped open up the middle for Williams and Blanton to operate.
Williams picked up his fourth foul with 11 minutes to go but stayed on the court as LSU went back to the 2-3 zone to help protect him.
Memphis
maintained a 6-to-8 point lead past the eight-minute mark.
Another Taylor jump shot followed by a steal and his layup cut the margin to 73-69.
Kirk decided he could keep Bedford on the bench no longer.
The teams traded baskets until another turnover led to a basket by Williams to cap a 12-4 LSU run and tie the score at 77 with under five minutes left.
The defenses prevailed the next two minutes.
Finally, Redden's jumper gave LSU its first lead, 79-77 since 25-23 in the first half.
LSU forced another turnover but couldn't convert, and Turner hit a jump shot to tie the score at 79 with 1:30 left.
After an LSU timeout, Redden scored in the lane. 81-79 LSU with 0:55 on the clock.
Memphis took a timeout and set up Bedford for a turnaround jumper off the backboard from the left of the lane to tie the score again with 30 seconds left.
That set the stage for one of the most memorable plays in
LSU
basketball history.
With the crowd on its feet, LSU worked its weave offense to hold for the last shot. Who would take it?
As the clock ticked under 10 seconds, Redden worked his way down the right side of the lane and took a jumper that rattled around the rim and came off onto the floor.
As two men from each team battled for the ball, Anthony Wilson came in and grabbed it as it popped out of the pack and threw up a desperation shot from 5' just to the right of the lane.
The ball bounced off the backboard and rattled around the rim. As CBS's Dick Stockton said, "And the game is going to ov...," the ball fell through the net to give LSU the im­probable 83-81 victory.
As the LSU team and fans stormed the court to jump on Wilson, Bedford grabbed the basketball and launched it 100' into the upper section of the Assembly Center.
Anthony Wilson carried off after his game-winning shot.
Some statistics:
Williams finished with 19 points and 13 rebounds despite foul trouble in the second half.
Blanton contributed 11 points and 11 rebounds and did a marvelous job holding Bedford to 15 points and only 6 rebounds.
Redden, playing in his final home contest, paced LSU with a game-high 23 points.
LSU sank 21 of 28 free throws while Memphis State hit just nine of 14. Memphis had five more field goals, 36-31.
Postgame Reactions
Coach Brown said his Tigers had to be at their best to beat Memphis. "They have every ingredient to have been the national champion. They don't have a weakness. ... We won it with outright guts."
Anthony Wilson had taken only one second-half shot, which he missed, before his game winner. He said he was aware of his poor shooting and the need to bank the shot off the backboard. "When I'm not shooting well, I try to bank it in. I didn't know how much time was left, so I just pitched it up, and it went in. It was the greatest feeling I've had since I've competed in sports. I used to dream about making a shot like that when I was a kid."
Coach Kirk had slapped Brown's hand when Dale tried to shake hands in front of the scorer's table amid the pandemonium. "This one went down to the wire and give LSU the credit. They all did a good job. Blanton, Williams, etc. They played a fine ballgame. ... We're a pretty good basketball team. It's just hard to express yourself when you can't play because of foul trouble. But that's all history. We wish LSU well. ... The crowd didn't affect us near as much as all the foul trouble. We couldn't play as aggressively as we had early when we got the lead."
Kirk was upset that SEC official Don Shea was one of three referees to work the game. Before halftime, Kirk said he heard Brown tell Shea, "You've been working for me for 14 years." "I knew we were in trouble then. I don't gripe regularly about the officials, but I don't think it's fair." Told about Kirk's comment, Brown said, "The only reason I went to Don at halftime is because he wouldn't talk to me during the game. I told him, 'Don, you've been refereeing 14 years, and I've been in the SEC 14 years. So don't treat me like a junior-high school kid."
Andre Turner admitted, "I never figured LSU was out of it even when we had a 12-point lead. LSU did what it had to do to keep it close at the end."
Bedford summarized the game this way: "The only way they stayed with us is that we kept getting into foul trouble, and they (officials) called BS fouls. ... They've cheated us like this all year. John Williams had four fouls, but none of them were on offense. How come they can't call an offensive foul on Mr. John Williams?"