The Tigers were on pins and needles waiting for the NCAA Tournament bracket to be announced.
The Selection Committee rewarded their late season surge by giving them a #11 seed in the Southeast Regional.
In a decision that would lead to a change in the tournament rules, the Tigers were assigned to play the first and second rounds in their home arena.
Gene Keady, the coach of LSU's first round opponent, #6 Purdue, was not happy with the pairing.
"I've been hot since Sunday night," he said at a press conference in Baton Rouge. This was the second time in three seasons that the

Boilermakers

had to play the host team in an NCAA Tournament game. "You work hard all year to get a good draw," said Keady, "and this happens."

Purdue

senior F Herb Robinson put a positive spin on the challenge. "I hope we'll play well enough to take the crowd out of the game."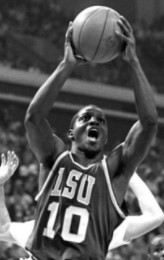 L-R: Doug Lee and Coach Gene Keady, John Williams, Derrick Taylor
After all the problems that had plagued the
Tigers
throughout the season–academic ineligi­bility, injuries, illness–sophomore F
John Williams
, the team's leading scorer and rebounder who had been out 10 days during the season with chicken pox, came down with a virus two days before the game and spent four hours in the hospital the next day. However, he was expected to play.
"The key is not to let John Williams score 30 points," Keady said. "And if we stop Williams, we can't let somebody else get 30. We have to be good on team defense."
"

Purdue

tries to pressure the ball when you go inside," said LSU senior PG Derrick Taylor, "so the guards are going to have to shoot well and take that pressure off."
The Tigers hadn't won an NCAA Tournament game since 1981, but Taylor said the team was confident entering this year's tournament. "We have a tremendously hungry attitude, and we're going to do what it takes to win."
Coach Dale Brown: "Anything is possible. I think it's already been somewhat of a Cinderella story. ... Maybe the NCAA thought we were so bad that we probably couldn't get out of our own gym. But at the moment I saw that tournament bracket, I felt like an astronaut and a cosmonaut at the same time."
"I knew Gene Keady well," Brown recalled, "and I told our team all week that 'this guy is a former football player (a former

Steelers

draft choice), so this game is going to be like a heavyweight fight, it's not going to ever end.' "
Buoyed by the frenzied crowd, the
Tigers
controlled the game for most of the first half.
Williams was still weak from the virus, and his left hand was in severe pain from being fed through an i.v. the day before. John would catch the ball with his right hand and bring it into his left.
Both teams started slowly on the offensive end before picking up the pace. With Don Redden and Taylor supplementing Williams' scoring, LSU led by six on several occasions late in the half before going to the locker room with a 39-35 lead.

Purdue

lost the services of sophomore C Melvin McCants, who left the game late in the half with an injured ankle never to return.
L-R: Don Redden, Anthony Wilson, Ricky Blanton
The hackneyed phrase "nip and tuck" perfectly describes the second half.
The game was tied 15 times in the second half.
After tying the game at 49 with 14:32 remaining, the

Boilermakers

scored the next six points to take their largest lead of the game.
When Taylor picked up his fourth foul and went to the bech, Brown switched to a zone defense that slowed

Purdue

's offensive momentum.
The final 10 1/2 minutes were nip-and-tuck with neither team ahead by more than two for all but a few seconds as the teams traded basket after basket.
With

Purdue

leading 59-57, Anthony Wilson went on a tear, hitting four straight jump shots to counter

Boilermaker

baskets.
The Tigers led by four, 69-65, but

Purdue

scored the next four points to tie with 1:20 on the clock.
When neither team scored on the next three possessions, Keady had his team hold for the last shot but missed to send the game into overtime.
The teams traded baskets in the first overtime.
The Tigers never led during the five minutes but never trailed by more than two points.
With the score tied at 73, LSU held for the last shot after Redden stole a pass with 0:40 left.
But Williams' shot in the lane bounced off the rim to force a second extra period.
LSU electrified the crowd by scoring the first ten points in the second overtime.
Ricky Blanton put back. 75-73
Blanton rebounds

Purdue

miss, and Wilson sinks a jumper. 77-73
Another

Purdue

miss, and Williams feeds Wilson for a layup. 79-73
Turnover, Redden fouled, and sinks both free throws. 81-73

Purdue

pass goes out of bounds. Williams breaks the press for a slam dunk. 83-73
With the crowd celebrating the sure victory, Purdue went to its try-to-steal-the-ball-or-foul game.
Doug Lee field goal ends the 10-point run. 83-75
Taylor hits two free throws. 85-75
Turnover but Williams clanks a dunk.

Purdue

makes the first free throw but misses the second. 85-76
Taylor two more free throws. 87-76

Purdue

basket. 87-78 with 0:58 left
Taylor misses free throw.

Purdue

makes a basket despite Williams' fifth foul and sinks the free throw. 87-81

Purdue

steal. Taylor fouls out. Two free throws make it 87-83 with 0:38 left.

Purdue

fouls Bernie Woodside, LSU's worst free throw shooter. He misses but gets his own rebound, then throws the ball away.

Purdue

hits a field goal. 87-85 at 0:18.
Wilson is fouled and makes both free throws. 89-85

Purdue

hurries downcourt for a quick field goal. 89-87 at 0:05

Purdue

called for an intentional foul, with a technical foul on Keady added. Wilson sinks three of the four free throws. 92-87
LSU passes in to Wilson, who's fouled and sinks two more freebies.
FINAL SCORE: LSU 94

PURDUE

87
Postgame Reactions
Coach Brown praised

Purdue

F Todd Mitchell, who hit 11 of 13 field goal attempts, grabbed eight rebounds, and scored a game- and career-high 31 points. "I thought Todd Mitchell's performance was the best single performance by an athlete we faced this season." Dale also complimented his own players, saying John Williams "played on guts." Brown also praised G Neboisha Bukumirovich for his six minutes of error-free ball when Derrick Taylor went to the bench with four fouls.
Anthony Wilson played all 50 minutes, scored a career-high 25 points and repeatedly scored when LSU needed a basket. "I was wide open for 18- and 19-foot shots, and I was hitting tonight." He added, "With all those close games we've lost, I thought, 'When was our time going to come?' It came tonight."
Derrick Taylor said the hometown crowd "was definitely the difference tonight," adding that its impact was "immeasurable." "It was unbelievable when we ran out onto the court. It had me so pumped up. I thought we may have been too high to begin the game."
Coach Keady dismissed the crowd factor. "It's just like a league game in the Big Ten. It was noisy, but it didn't bother us any. It's part of coaching, and you have to accept it. They have great fans although I don't like things thrown on me and our players." He added, "Wilson shot the ball extremely well. Williams didn't hurt us as bad as Wilson at critical parts of the game. He (Wilson) made his shots when he had to."