Bernie Bierman, after coaching Tulane to the Rose Bowl in 1931, moved to his alma mater, Minnesota. He had played for the Golden Gophers under legendary coach Henry "Doc" Williams from 1913-15. Following a season as an end as a sophomore, Bierman moved into the backfield, where he became a starter for the one-loss team of 1914. Then as captain his senior year, he blossomed into an All-American halfback for the undefeated "Giants of the North." Minnesota went 17-3-1 during Bierman's three seasons on the varsity.
After serving with the Marines in World War I,
Bierman
began a coaching career that saw him become the head coach at
Montana
(1919-21),
Mississippi State
(1925-26), and
Tulane
(1927-31). His combined record at the first two schools was a mediocre 17-17-4. He started 2-5-1 and 6-3-1 at
Tulane
but soon moved the program to the top of the Southern Conference by winning 28 games the next three years with only two losses.
Meanwhile, back at Bierman's Alma Mater, his mentor, Dr. Williams, retired after the 1921 season. As often happens, the men following a legend could not maintain the foot­ball program at the high level that Gopher fans had come to expect. William Spaulding compiled a mediocre 11-7-4 record in his three years. Clarence Spears did much better in his five seasons, 28-9-3, including a share of the Big Ten Conference championship in 1927.
When
Spears
left to coach
Oregon
after the 1929 season,
Minnesota
hired
Fritz Crisler
, who had been an assistant at his alma mater,
Chicago
, under living legend
Amos Alonzo Stagg
. Serving as athletic director as well as head football coach,
Crisler
produced
Minnesota
's first losing record since 1921, 3-4-1. From his sickbed,
Doc Wil­liams
said, "
Minnesota
should get
Bernie Bierman
."
Crisler
improved to 7-3 in '31 before heading to
Princeton
. That opened the door for
Bierman
to take over.
Before a crowd of 600 at a testimonial dinner at the Nicolet Hotel in January 1932, Bierman said, "I am making no predictions, but I will attempt build football teams on the foundation already laid so well by Dr. H.L. Williams and Fritz Crisler."
Bierman was only 5-3 in his first season but led his second squad to a strange 4-0-4 record. One of the four victims were the Pittsburgh Panthers, 7-3, in Minneapolis.
L: Bernie Bierman, R: Jock Sutherland as player and as coach
(Pittsburgh Owl Yearbook Class of 1917)
In 1934, 35
Gophers
traveled East carrying rabbits feet for a return engagement.
Minnesota
's deep, experienced, and healthy team had not lost a game since the final contest of the 1932 campaign when
Michigan
beat them 3-0.
Bierman
's boys had warmed up for the intersectional clash against
Pitt
by routing
North Dakota State
56-12 and downing
Nebraska
20-0.
Bierman's squad ran a single wing offense in which the left halfback and fullback did the bulk of the work. That meant two-time All-American team captain Francis "Pug" Lund and future All-American Sheldon Beise would get the bulk of the carries.
Jock Sutherland
's
Panthers
were also undefeated:
Washington & Jefferson
26-6, @
West Virginia
27-6, and
Southern California
20-6.
Pitt
wanted revenge for their only loss of the 1933 campaign.
Like Bierman, Sutherland had returned to his alma mater after coaching elsewhere. Jock played under legendary coach Glenn "Pop" Warner at Pitt from 1915-1917. A unique feature of the 1917 team was the fact that every starting position was filled by dental students, including Sutherland. "The Fighting Dentists" went undefeated that year, outscoring their ten opponents 260-31, to win the mythical National Championship as bestowed by sportswriters. Jock earned first-team All-American honors as a guard his senior season.
After graduating from the School of Dentistry (where he later held a professorship), Sutherland coached the Lafayette College team in Easton PA from 1919-1923, during which he compiled an admirable 33-8-2. He returned to Pitt as head coach in 1924 following Warner's departure to Stanford after the 1923 season.
Heading into the 1934 campaign, Pitt had not endured a losing season under Sutherland. Included in his resume were trips to the Rose Bowl after the 1927, 1929, and 1932 seasons. Unfortunately, the Panthers lost all three postseason games.
Sutherland's philosophy has been compared to that of Vince Lombardi. Both relied on attention to detail and discipline rather than an innovative offensive or defensive scheme. As with Lombardi's power sweep, you could know what was coming but still not be able to stop it.
Many times, the so-called "Game of the Year" doesn't live up to its hype. But this one did, although the excitement didn't set in until the second half. Twelve players who would earn first-team All-American honors took the field that afternoon.
64,856 in the sun-drenched horseshoe of Pitt Stadium saw their heroes outscore the visitors 7-0 in the first 30 minutes. After two weeks of rest, the Gophers looked flat.
Magnificent punting kept Minnesota backed up until Pitt got the first break when E Harvey Rooker recovered HB Lund's fumble of a bad pass from center on his six. However, UM's bulky line led by G Bill Bevan held FB Izzy Winstock, described as "a tremendous human battering ram" who would earn All-American status at the end of the season, to just 4y on four runs to turn the ball over on downs at the two.
Minnesota
stages its goal-line stand. (
Minnesota Gopher Yearbook
Class of 1935)
After punting out, Minnesota repelled the next enemy thrust at the 12 when HB Julius Alphonse intercepted HB Mike Nicksick's pass just over the goal line for a touchback. After failing in close, Pitt struck from afar in the final minute of the half after receiving a punt at their 36. FB Izzy Winstock faked to his right, then bolted through left tackle. As the Gopher secondary converged on him at midfield, he lateralled to his left to the trailing Nicksick who raced untouched the remaining 55y.
After failing to make a first down in the first 30 minutes, the Gophers were a different team after intermission.
Minnesota
interceptions. (
Minnesota Gopher Yearbook
Class of 1935)
Minnesota's fortunes turned around when HB Bob Larue muffed a pass from center for a 25y loss. Then P Miller Munjas bobbled another snap for a 10y loss to put the Panthers back at their three. The second attempt at a punt was successful, but the Gophers had their best field position of the day.
Coach Bierman sent in 230-pound FB Stanislaus Kostka–"the hardest man to stop in college football." He smashed the Pitt line twice for gains of eight and nine and Minne­sota's initial first down of the day. After three more runs, the Gophers faced fourth-and-one as the quarter ended.
L-R: Francis Lund, Stanislaus Kostka, Bob Tenner, Glenn Seidel (
Minnesota Gopher Yearbook
Class of 1935)
Trickery produced not only the first down but the tying touchdown as fleet Julius Al­phonse took a reverse 29 yards behind perfect interference to pay dirt. Bevan booted the tying point.
Forcing what today would be called a "three-and-out," Minnesota received the punt on its 46. Kostka and Lund bulled to the 26. Another Kostka plunge followed by a lateral pass and a shuttle pass set up the fourth-and-two play on the 18 that ESPN selected as #96 in its "100 Moments That Have Defined College Football."
More
Minnesota
-Pittsburgh action. (
Minnesota Gopher Yearbook
Class of 1935)
Here is the dramatic description of Arthur Daley in the next day's New York Times.
"Again the mighty Kostka went hurdling at the Pitt line and the Panthers braced. He never got through, but it mattered not. He had flicked the ball to (QB) Glen Seidel at his left. The blue-jerseyed defense shifted and Seidel ferried the pigskin back to Pug Lund, over to the right. Minnesota's All-American took aim and fired a forward pass to Bob Tenner, standing alone a scant step from the end zone. Into Tenner's waiting arms the ball spun. Desperately Pitt tacklers dove for him but it was too late. It was one step and he was over with the winning score. It all happened with such bewildering suddenness that the huge crowd sat silent for a split second, scarcely aware of what had taken place before its eyes. Then a roar of thunderous acclaim split the air."
The PAT failed, but the Gophers led 13-7.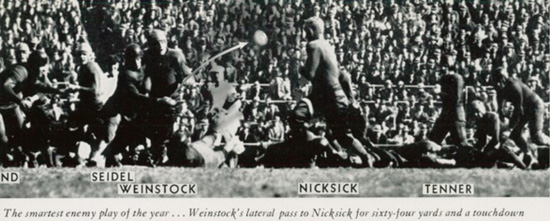 The key play of the game. (
Minnesota Gopher Yearbook
Class of 1935)
Pitt tried to mount a comeback. Larue, trying to make up for his crucial fumble, carried the ball three straight times, first on the kickoff, then on two plays from scrim­mage to put the pigskin on the 40. Then he threw a pass to Rooker at midfield. With the prospect of a touchdown and an extra point giving the Panthers a 14-13 victory, Larue tried one pass too many, and Vernal Levoir intercepted it to end the threat.
Sutherland called it "the greatest game between the two greatest teams that ever played on the same field."
Pitt finished 8-1. So the Gophers spoiled the Panthers' perfect season for the second year in a row. Sutherland could at least boast that his charges provided Bierman's lads their only tight game.
UM roared through their six Big Ten foes 181-19! They outrushed opponents 2,700 to 550 and made 135 first downs to opponents' 37. As a result, Minnesota was recognized by every evaluator as national champion.
Because of the policies of their schools and conferences, neither Minnesota nor Pitts­burgh played in a bowl game that year.