Clash of Titans
Games featuring a future Hall of Fame coach on each sideline.
October 18, 1924: Michigan @ Illinois
George Little vs Robert Zuppke
It was a festive occasion at the University of Illinois as $1,700,000 Memorial Stadium was officially dedicated. (The arena had actually been completed for some games in 1923.) The capacity of 69,249 was exhausted as the 2-0 Illini hosted the mighty Wolverines of Michigan, unscored on in their first two contests. The teams had not met in 1923 when both went 8-0 and claimed national titles. Illinois had been Big Ten champion by virtue of its 5-0 conference record vs. Michigan's 4-0.
Illinois Memorial Stadium
Illinois' success in 1923 was partly attributable to the excellent coaching of Robert Zuppke and partly because of the play of 5'10" 170 lb. sophomore running back Harold "Red" Grange. At first, Red didn't even go out for football. He had played in high school but thought baseball and basketball were his better sports. (He also ran track.) When pressured by fraternity brothers, he joined the freshman team and was issued #77. In the first scrimmage against the varsity, he returned a punt 65 yards for a touchdown, and the legend of "The Galloping Ghost" began to form.
In his first varsity game against Nebraska, Grange scored touchdowns on runs of 50, 35, and 12y. His 125 yards in punt returns in that game is still the school record. Illinois' rock-ribbed defense held the first three opponents to one touchdown each and then pitched shutouts for the last five games to complete the undefeated campaign. Red was named All-American.
After one season, Grange ranked as a good but not great back. That perception changed in one quarter of football in the third game of his junior year.
Fielding Yost had been the Michigan football coach from 1901-1923. During that time, he compiled an incredible 151-27-10 record. He retired after the '23 season in order to focus on his duties as UM athletic director. His replacement was George Little, who had been Yost's top assistant for the 1922 and '23 seasons.
Zuppke became the Illinois head coach in 1913. His record stood at 53-21-6 going into the 1924 season. During that time, he developed a contentious rivalry with Yost. Their teams had met on the gridiron four times, each winning two. Zuppke wrote a letter to his players during the summer of '24 in which he accused Yost of taking the Illini lightly. Grange recalled: "Zup had worked on that game from the start of the summer. He started telling us all kinds of things Yost had been saying about us all summer. It wasn't until a long time afterward that I found out that Yost had been in Europe the whole summer. He had gotten us so riled up about Yost that we just couldn't lose."
The Wolverines came to Champaign as heavy favorites. Even though he was not the head coach, Yost predicted trouble for Red. "Master Grange will be carefully watched. Every time he takes the ball, there will be 11 hard, clean Michigan tacklers headed for him at the same time. I know he is a great runner. But great runners have the hardest time gaining ground when met by special preparation." Notice that Yost used the term "Master Grange" rather than "Mister Grange" or just "Grange."
The "special preparation" wasn't nearly enough.
Red Grange runs wild against Michigan.
Michigan foolishly kicked off to Red to start the game. He scooped up the ball bounding toward him, roared up the middle, then cut right and ran 95 yards untouched to the end zone. Less than ten seconds into the game, Illinois led 7-0.
In his Preface to Red's 1953 autobiography, Ira Morton described the kickoff return like this. "Grange took the opening kickoff on the Illinois five-yard line and headed upfield like a cheetah chasing prey. Within seconds he crossed Michigan's goal line, untouched. The stadium erupted in the first of a series of thunderous, nearly deafening ovations."
A few minutes later, Grange ran 67 yards around right end for a second touchdown.
Next possession: 56 yard touchdown run on the same play.
Still again, 44 yards to paydirt.
Four touchdowns and there were still three minutes left in the first quarter! Four touch­downs equalled the total number the Wolverines had allowed in the previous two seasons combined!
The Associated Press reporter at the game described Red's runs like this: "In each in­stance he started behind perfect interferences and side-stepped Michigan's safety men in the final spring. He has a way of dodging almost coming to a dead stop before whirling in another direction, that leaves his tacklers flat-footed and amazed."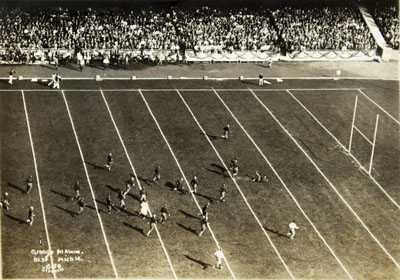 Grange scores one of his four first quarter touchdowns.
Red amassed 265 yards of offense on six touches. He scored a fifth touchdown in the second half on a measly 13-yard run. He ended the day with 402y as Illinois romped 39-14. The New York Times reported: "Unbiased experts agree that his performance was among the greatest ever seen on an American gridiron."
The Michigan Daily, which the year before had named Grange to its All-American second team, groused after the game: "All Red Grange can do is run."
Red said years later: "I don't think I ever played in any other game where every man did exactly what he was supposed to do. In the first quarter, if a man was supposed to block the end, he blocked the end. If he was supposed to hit the tackle, he hit the tackle."
In their other seven 1924 games, Michigan allowed only 15 points, less than half what Grange and Company put up that magical day in Champaigne-Urbana.
Zuppke wrote this about Grange in his Foreword to Red's autobiography: "I have watched an endless number of football players down through the years, but never have I seen anyone quite the equal of Harold 'Red' Grange. He came nearer to being the per­fect football player than anyone I have ever known. What made him the football immortal that he is? I think I can sum it up in these words: exceptional football abilities, courage, willingness to learn and, above all, his modesty.
"It has often been said that all Grange could do is run. The fact is, he could punt, pass, block and tackle with the best of them. But when he did run he was something to behold. He was the smoothest performer who ever carried a pigskin. He ran with rhythm, every movement of his body having meaning and direction. On the gridiron, Red Grange was a football stylist, a symphony of motion."
Red became a charter member of both the College and Pro Football Halls of Fame. Illi­nois still plays in Memorial Stadium, but there certainly has never been a performance to equal the one staged for its dedication game.
Postscript
So embarrassed was U-M athletic director Fielding Yost by Michigan's performance that day, he decided to abandon his seat in the stands and return as head coach for 1925. For 12 months, Yost schemed how to bridle the Galloping Ghost. He replaced Michigan's unsuccessful six-man line of 1924 with a seven-man front and a diamond-shaped secondary.
Illini coach Zuppke tried to counter the wily Yost by shifting Grange from his customary halfback post to quarterback.
A steady rain throughout the night turned the Memorial Stadium field into a muddy quagmire. Twenty-five times the Wheaton Iceman carried the ball, and 25 times Michigan sent a shudder through the sellout crowd as Grange was jolted to the turf by bone-crushing tackles. The final statistics showed No. 77 with a meager net total of 55 yards, less than a fifth of what he had accumulated the year before. The only score of the game came just before the first half ended when Michigan converted a 25y field goal. Though the final margin was just 3-0, that didn't matter to Yost. The burden he carried for more than a year had finally been lifted from his shoulders.
In January 1925, George Little accepted an offer from the Wisconsin to become its athle­tic director and head coach of the football team. Yost resumed the head coach position at Michigan for the 1925 and '26 seasons before retiring permanently from that position.
References:
The Red Grange Story: The Autobiography of Red Grange, Red Grange with Ira Morton (1953)
https://mvictors.com/yost-returns-to-bust-a-ghost/