1957: Rote Leads Lion Comeback
1957 Western Division playoff: Detroit Lions @ San Francisco 49ers
The Detroit Lions' 1957 season got off to a shocking start. At the annual "Meet the Lions" banquet August 13, Coach Buddy Parker, who had led the club to the 1952 and '53 championships and lost in the finals in '54, astonished everyone when he got up to make his usual speech. "I'm getting out," he announced. Later, in a hurried press conference, he said: "This is the worst team I've ever seen in training camp. They have no life, no go, just a completely dead team. I know the situation. I don't want to get into the middle of another losing season. Maybe somebody else can handle it better than I can."
The "somebody else" turned out to be assistant coach George Wilson. He led the Lions to an 8-4 record, good enough to tie the San Francisco 49ers for the top spot in the Wes­tern Division.
The two contenders met the next Sunday at Kezar Stadium in San Francisco. They had split their season series, each winning on its home field.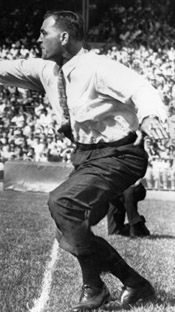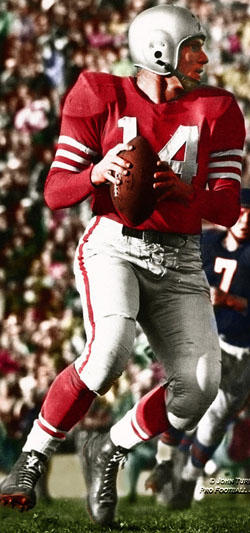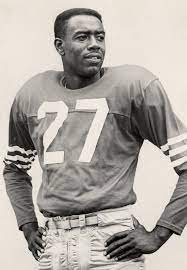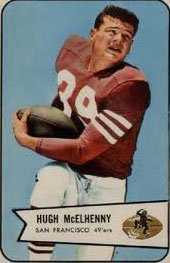 L-R: George Wilson, Y. A. Tittle, R. C. Owens, Hugh McElhenny
It looked like that trend would continue when the 49ers, led by Y. A. Tittle who com­pleted 12 of 19 passes for three touchdowns including his patented "Alley Oop" to R. C. Owens, forged a 24-7 halftime lead and quickly extended it with a field goal early in the third quarter set up by HB Hugh McElhenny's 71y sideline to sideline scamper to the 10 where he was tackled by the last defender. The Lions had every right to pack their duffle bags, head for International Airport and fly home as graceful losers.
If ever a game illustrated "Don't count your chickens before they hatch," this was it. Detroit exploded for three touchdowns in five minutes, two of which were scored by Tom "The Bomb" Tracy, who hadn't carried the ball in the Lions' four previous games.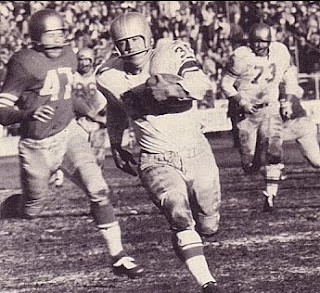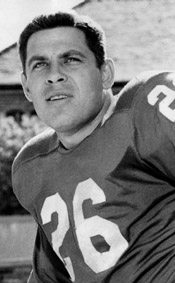 L-R: Tom Tracy runs 58y for a touchdown; Gene Gedman
The Niners stopped the Lions on their first possession after falling behind 27-7. But the tide began to turn when Bob Long recovered Tittle's fumble on the SF 47. Eight plays later, Tracy slammed over from the one. 49ers 27 Lions 14
Detroit soon had the ball back, and Tracy skirted right end, broke back toward the middle, and ducked and dodged tacklers until he broke into the clear for a startling 58y touchdown. 49ers 27 Lions 21
Once again, the Frisco offense went nowhere. Lion QB Tobin Rote, who had replaced Bobby Layne when the former Texas great was injured two weeks earlier, found rookie WR Steve Junker for 36 big yards to set up Gene Gedman's 2y touchdown plunge. Lions 28 49ers 27 with 14:16 to go.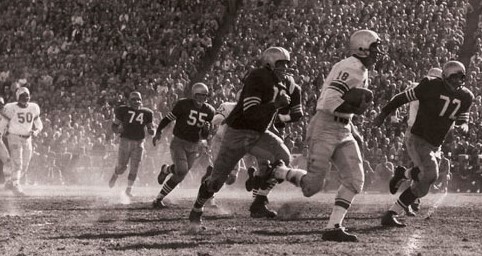 Tobin Rote scrambles for yardage.
With plenty of time to retake the lead, Tittle led the 49ers out to midfield only to have RB Joe Perry fumble and DE Gil Mains recover for Detroit. But the Niner defense rose up and forced a punt.
Detroit soon had the ball back when Tittle unloosed a long floater down the middle that Carl Karilivacz intercepted and returned into SF territory. The Lions drove to the three. Just when it looked like they would score a clinching touchdown, DB Gill Stits and DE Bob Toneff hit Tracy, causing a fumble that Stits pounced on at the one.
The Niners gained one first down, but Tittle threw another interception, this one by LB Joe Schmidt who ran back 18y to the SF 10. The Lions were soon on the two, but the intrepid 49ers staged another goal line stand that forced Jim Martin to kick a 14y field goal. Lions 31 49ers 27 with less than two minutes remaining.
Tittle wasn't about to give up. He hit McElhenny for gains of 17, seven, and eight. DE Darris McCord blunted the advance by smothering Y.A. for a loss of 11. Then Tittle was hit as he threw to provide LB Roger Zatkoff with the first interception of his pro career to seal the victory.
A week later, the team that Parker gave up before the season clobbered the Cleveland Browns 59-14 to win the NFL championship.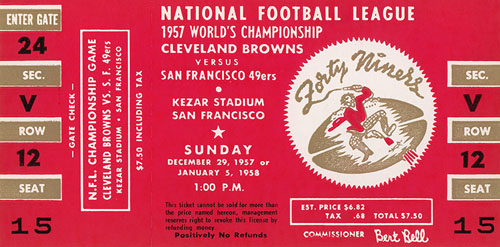 Championship Game ticket
49ers
printed prematurely