These articles look at similiar situations in two or more sports.
Stan and Bob
Two Hall of Fame athletes from two different sports are associated with teams in St. Louis.
Stan Musial from Donora PA played his entire 22-year major league career with the St. Louis Cardinals.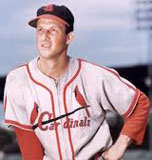 When he retired, Stan the Man had 3,630 hits, 475 HRs, 1951 RBIs, and a .331 average.
Stan led the National League in hitting five times, the last in 1957 at age 36.
He is fourth all-time in hits, behind only Pete Rose, Ty Cobb, and Hank Aaron.
Alex Rodriguez recently passed Stan for 6th place in RBIs.
Musial is third in extra-base hits with juiced up Barry Bonds in second behind Hank Aaron.
Stan ranks third in doubles and 9th in runs scored.
And yet he was overlooked by the fans in the 1999 vote for the All-Century Team. A panel appointed by Commissioner Bud Selig added Musial to the team.
That's what happens when you don't play on either coast.
Bob Pettit from Baton Rouge LA started his NBA career with the Milwaukee Hawks.
He moved with the franchise to St. Louis the next year and spent the remaining ten seasons until his retirement in the Mound City.
He played in the All-Star every season he played.
He led the NBA in scoring twice and rebounding once.
Many considered him the best offensive rebounder in the league.
Bob ranks in the top ten in rebounding and scoring among players whose careers overlapped his.
He earned induction into the basketball Hall of Fame in 1971.
He was elected to the 50th Anniversary NBA team in 1997 (along with two other

LSU Tigers

, Pete Maravich and Shaquille O'Neal).
Both Stan and Bob were known as gentlemen and model teammates who helped younger players.
Neither promoted himself but let his play do the talking.
And both were my favorite players in their respective sports.
A Tale of Two Heisman Winners
March 2016
Johnny Manziel
's recent travails create a sharp contrast to the way another passing-running Heisman Trophy winner was treated by the NFL after the 1993 season.
Charlie Ward won the 1993 Heisman as well as the Maxwell Award and Davey O'Brien Award after QBing Florida State to the national championship.
That season Charlie completed 264 of 380 passes (69.5%) for 3,032y, 27 TD, and only 4 INTs. He added 339y rushing on 65 attempts for four more TDs.
Ward was an outstanding individual who not only never got into any trouble but instead acted as a role model for teammates and youthful fans.
However, NFL scouts branded him as, at best, a 3rd round pick, citing the type of offense he led at Florida State - Bobby Bowden's "fast break" offense that featured no huddles and a spread formation that kept the QB in the shotgun. Some even suggested that, at 6'2", he was not tall enough to succeed in the NFL.
Charlie announced before the draft that, if he wasn't taken in the 1st round, he would play in the NBA.
That became self-fulfilling prophesy as no team drafted him in any round.
As a result, Charlie played 12 seasons in the NBA with the

Knicks

,

Spurs

, and Rockets.
Fast forward 20 years.
Johnny Manziel burst onto the national scene as a redshirt freshman QB at

Texas A&M

in 2012.
He completed 295 of 434 (68.0%) for 3,706y, 26 TDs, and 9 INTs. He also ran 201 times for 1,410y and 21 more TDs.
His Heisman-clinching performance came against

Alabama

in Tuscaloosa, a 29-24 victory that handed the #1-ranked

Tide

their first defeat of the season.
He became the first freshman and only the fifth player in NCAA history to pass for 3000 and rush for 1000y in a season.
Manziel won the Heisman as well as the Davey O'Brien Award - the first freshman to win either prize.
Johnny actually threw for more yards - 4,114 - the next season but ran for much less - 759. He didn't even finish in the top five in the Heisman voting that season.
By that time, his off-the-field escapades drew more attention than his play.

A&M

suspended him for the first half of the first game of the 2013 season because of reports that he had signed autographs for money in January, although no hard evidence was ever uncovered to substantiate the claim.
Other incidents involved disorderly conduct and possession of a fake ID (June 2012), Internet photos of him holding a bottle of alcohol at a club in Dallas despite the fact that he was only 20, reporting late and being told to leave the Manning Passing Academy in July 2013, shoving a graduate assistant on the sidelines during a spring practice scrimmage, and on and on.
When he declared for the NFL Draft after his redshirt sophomore season, NFL scouts expressed reservations about his prospects as a pro QB, just as they had done for Ward 20 years earlier even though spread offenses were much more prevalent in the league.
But the

Cleveland Browns

, eager to excite a fan base fed up with continual losing, drafted Manziel in the 1st round with the 22nd pick.
You know the rest of the story.
In two seasons, Johnny continued to get in trouble off the field. He has been in and out of treatment centers for alcohol abuse.
His ledger for the

Browns

' investment:
15 G, 8 GS (2-6 record), 147 completions in 258 attempts (57.0%), 1675y, 7 TD, 7 INT, 46 rushes for 259y and 1 TD.
The new

Cleveland

coach for 2016, Hue Jackson, reportedly isn't interested in Johnny.
But that may be a moot point because Manziel faces his biggest legal crisis after his ex-girlfriend accused him of striking her several times during an altercation in the Dallas area last month.
The contrast in the way two exciting Heisman winners were treated by the NFL says a lot about the change in the league over 20 years.
First, the offense that Ward ran at FSU has become more prevalent in the NFL. So Manziel wouldn't need to become the "traditional" under-C, three-, four-, or five-step drop QB of days of yore. His experience in a spread, shotgun formation was a positive, not a negative.
But I also think teams were less concerned about his bad boy image than they would have been in 1993. The money involved is astronomically larger than twenty years ago, and the need to win over young fans who find Johnny's rebellious lifestyle attractive rather than revolting trumped the reliability questions that his character raised.
In some respects, it's another facet of the same phenomenon that has Donald Trump leading the race for the Republican nomination.
And we don't have to leave pro football for another instance of that - "Broadway Joe" Namath taking New York by storm when the AFL's Jets signed him away from the NFL for the largest salary at the time that had ever been paid an athlete in any sport. Bart Starr, a cleancut, devout

Alabama

QB from a decade earlier, never attracted that much attention. Namath's signing contributed to the merger of the leagues a few years later.
Wilkins and Manning
April 2015
Viewing an interesting ESPN-SEC documentary on Dominique Wilkins is the genesis of this next installment, which compares similar situations in two different sports or in different eras of the same sport.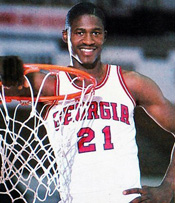 The hour-long documentary focused on Wilkins growing up in Washington NC and leading the local high school to back-to-back AAA state championships - the first in the school's history.
Dominique was the toast of the town until he spurned the in-state ACC schools, including Dean Smith's Tar Heels, in favor of

Georgia

. Suddenly, the community turned against him. Dominique was called "traitor" and had to de­fend himself with his fists. His family received death threats and had their house vandalized. The enmity reached the point where the family moved to Georgia ahead of his enrolling at the university. (The documentary says nothing about how a single parent of a large family suddenly found housing and a job in another state.)
Wilkins played for Hugh Durham at

UGa

for three years, 1979-82. During that time, he electrified the university and the entire SEC with his above-the-rim style of play and thun­derous dunks. He averaged 21.6 ppg during his college career and was named SEC Men's Basketball Player of the Year in 1981.
With Durham's consent and even encourage­ment, 'Nique entered the NBA Draft after his junior year. The Utah Jazz chose him in the first round but traded him to Atlanta be­fore his rookie season. Just as he had resuscitated the

Georgia

basketball program, he invigorated the Hawks for 12 seasons before being tra­ded. He made the All-Rookie Team and the NBA All Star team nine times. He ranks as the all­time leading scorer for the Atlanta franchise. His #21 was retired by the Hawks. He was elected to the Basketball Hall of Fame in 2006.
Let's backup in time and establish the second parallel that this article is about.
In 1979-80, Wilkins' freshman year,

Georgia

went 14-13, their first winning season since 1971-72.
Durham added more quality players to his roster. The result was a 19-12 mark in Dom­inique's sophomore season to earn a berth in the NIT. The

Bulldogs

defeated

Old Dominio

n

74-60 before losing to South Alabama 73-72.
1981-82 brought another 19-12 season and another NIT bid. This time

UGA

won three games to earn a spot in the semifinals in Madison Square Garden, where they lost to

Purdue

81-60.
The season following Dominique's departure to the NBA, the

Bulldogs

finished 24-10, winning the SEC Tournament to clinch a spot in the NCAA Tournament. The

Dogs

made it to the Final Four for the first time in school history. Ironically, they lost to North Carolina State - one of the schools that thought it had a lock on Wilkins's services when he graduated from high school.
Let's fast forward about 15 years to another legendary SEC player, albeit in a different sport.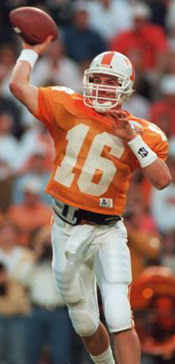 Peyton Manning grew up in New Orleans, where his father, Archie, quarterbacked the

Saints

after becoming a legend at

Ole Miss

.
Like Dominique, Peyton lifted a small school, in this case Newman High School, to its greatest heights on the gridiron.
Ranked either the #1 or #2 QB prospect in the nation (alongside Josh Booty of Shreveport), Peyton was expected to follow in his father's footsteps to Oxford. Instead, he chose

Tennessee

.
That evoked the wrath of the

Rebel

faithful, many of whom turned against father Archie, calling him a traitor for not sending his son to

Ole Miss

. They also vented their spleen against Peyton.

Rebel

Nation's rift with the Manning family would not be healed until brother Eli enrolled a few years later.
That's the first parallel between Wilkins and Pey­ton Manning. But there's another.
Peyton took over the starting QB position at

Tennessee

a few games into his freshman year (1994) after injuries felled multiple veteran sig­nal-callers (including Todd Helton, who would achieve fame on the diamond with the

Colo­rado Rockies

).
Manning's first season as a

Vol

ended with an 8-4 record and a 45-23 victory over Virginia Tech in the Gator Bowl.
In full control of the team as a sophomore, Peyton engineered an 11-1 season, the loss coming to the team that would prove to be his nemesis,

Florida

. A 20-14 triumph over

Ohio State

in the Citrus Bowl propelled

UT

to a #3 ranking in the final AP poll, one notch below - you guessed it - the

Gators

, whom Nebraska had destroyed in the championship game 62-24.
Peyton's junior year produced another double­digit win season. The ten victories included a 48-28 thumping of Northwestern in the Citrus Bowl. In addition to losing to

Florida

, the

Vols

were upset by Memphis 21-17.
Unlike Dominique Wilkins, Manning returned for his senior season in hopes of leading the Big Orange to an SEC championship. And that he did as Philip Fullmer's team overcame their fifth straight loss to Steve Spurrier's

Gators

to win the SEC East and earn their first appearance in the conference championship game. Peyton led an in­spired comeback to nip

Auburn

30-29 to capture the title he so coveted. Unfortunately, it wasn't enough to gain Manning the Heisman Trophy. He finished second to Charles Woodson of Michigan. The disappointment continued when Nebraska sealed its sec­ond straight national championship by thumping the

Vols

42-17 in the Orange Bowl.
Like Wilkins, Manning was a first round draft choice. The Indianapolis Colts chose him with the first pick. Peyton, of course, has forged a Hall of Fame career with the Colts and Broncos, including a Super Bowl victory in 2007 and a loss to the

Saints

in '10.
Meanwhile, back in Knoxville, the year after Peyton graduated, the

Vols

, led by QB Tee Martin, broke the losing streak to

Florida

on their way to an undefeated regular sea­son and 24-14 triumph over

Mississippi State

in the SEC Championship game.

Ten­nessee

then won the first-ever BCS Championship game, 23-16 over

Florida State

.
So the beginning and end of the college careers of Dominique Wilkins and Peyton Manning were eerily similar - recriminations as they left high school, success as col­legians but an even greater season for their alma maters the year after each left school.
Pitino and Saban
January 2015
Every
LSU
fan knows the story of
Nick Saban
's departure from Baton Rouge for the NFL. But college basketball has a similar story.
After five seasons in Baton Rouge that included two SEC titles (2001 and 2003) and a BCS Championship in 2003, Nick Saban decided to scratch his itch to see how he would fare as a head coach in the NFL. (He had served stints as an assistant with the

Houston Oilers

1988-89 and Cleveland Browns 1991-94.)
Saban has revealed that he didn't really want to leave

LSU

. But Dolphins owner Wayne Huizenga was a persuasive salesman who offered Nick unprecedented control as head coach. Saban kept upping his salary de­mand in hopes that Huizenga would give up. But Wayne never did.
After two years with the Dolphins, Nick decided that college was where he wanted to be. Still, he might not have made the move at that time had not the

Alabama

job opened up.

Alabama

offered Rich Rodriguez, the West Virginia coach, its head coach­ing position after firing Mike Shula. But Rich backed off, supposedly be­cause he realized that the AD didn't have complete control of the ath­letic department.
So after assuring everyone, including Huizenga, that he would continue as Miami coach, Saban bolted for

Alabama

at the end of the 2006 NFL sea­son. (Read more about Saban's decision.)
From the

LSU

point of view, the story could not have had a worse ending. Not only did the

Tigers

no longer have Saban on their sidelines, he was now the head coach of their biggest rival!
Had Rich Rod taken the

Crimson Tide

job for 2007, Saban would undoubt­edly have returned to college after one more year with the Dolphins. Looking at openings for 2008, he could have ended up at

Arkansas

, Geor­gia Tech, Michigan, Ole Miss, Texas A&M, or UCLA, with Michigan the most likely destination.
How ironic would that have been? Instead of taking the

Alabama

job, Rod­riguez stayed at West Virginia for another year, then went to Michigan where he was fired after three unsuccessful seasons.
Let's switch to basketball and consider the case of Rick Pitino.
Rick took over the ailing

Kentucky

program in 1989 after a recruiting scan­dal landed the school on NCAA probation.
He quickly restored the

Wildcats

to prominence, leading them to the Final Four in 1993. Three years later, he won the school's sixth NCAA champion­ship. In 1997,

UK

lost to Arizona in OT in the NCAA finals.

Big Blue Nation

had every reason to think they had another Adolph Rupp who would coach in Lexington until he retired at a ripe old age, winning a multitude of SEC championships as well as a number of NCAA titles along the way.
Pitino, you see, had already had a taste of the NBA, having coached the

New York Knicks

for two years. He led them to their first division title in nearly twenty years.
But after two seasons, he yearned for the college game again and went to

Kentucky

.
As another example of "Never say 'never," Rick succumbed to the brand­ishments of the NBA and took over the

Boston Celtics

in 1997.
He amassed a 102-146 record through 2001 and grew increasingly frus­trated with the dynamics of the NBA. In college, the coach can recruit the best players. In the pros, you draft college players when your turn comes and compete on the open market for free agents with a salary cap limiting your options.
Rick's frustration boiled over after a buzzer-beater loss to the

Raptors

March 1, 2000. He told the press:
Larry Bird is not walking through that door, fans. Kevin McHale is not walking through that door, and Robert Parish is not walking through that door. And if you expect them to walk through that door, they're going to be gray and old. What we are is young, exciting, hard-working, and we're going to improve. People don't realize that, and as soon as they realize those three guys are not coming through that door, the better this town will be for all of us because there are young guys in that (locker) room playing their asses off. I wish we had $90 million under the salary cap. I wish we could buy the world. We can't; the only thing we can do is work hard, and all the negativity that's in this town sucks. I've been around when Jim Rice was booed. I've been around when Yastrzemski was booed. And it stinks. It makes the greatest town, greatest city in the world, lousy. The only thing that will turn this around is being upbeat and positive like we are in that locker room... and if you think I'm going to succumb to negativity, you're wrong. You've got the wrong guy leading this team.
Like Saban, Pitino decided he was best suited to coach in college. And where did he end up in 2001? At

Kentucky

's instate rival,

Louisville

, fol­lowing the retirement of legendary Hall of Fame coach Denny Crum.
The only difference compared to Saban is that Pitino is not in the SEC. But in terms of recruiting,

Big Blue Nation

could not have picked a worse spot for their once-revered coach to land.
---
Florida State
and
Kentucky
February 2015
The first season of the College Football Playoff resulted in the lone undefeated team not receiving the #1 seed from the Playoff Committee.
13-0

Florida State

finished #3 in the Committee's rankings because their schedule was not considered strong enough in a comparatively weak conference, the ACC.

Alabama

, which had lost to

Ole Miss

in their fifth game and escaped in OT in Baton Rouge, took the #1 spot, which sent them to the Sugar Bowl to meet

Ohio State

, the #4 seed because of their "bad loss" to Virginia Tech in Week 2.
We could have a parallel situation in NCAA men's basketball this year.
Kentucky

is off to the best start in the program's storied history: 25-0.
However, like the

Seminoles

last fall, the

Wildcats

have escaped with some tight wins in three conference games: OT wins over

Ole Miss

and

Texas A&M

and a two-point victory over

LSU

when a last second 3-pointer missed.
March Madness has always been controlled by an NCAA committee that chose the teams and seeded them.
It's entirely possible that the committee will not rank

Kentucky

as the overall #1 seed even if the

Wildcats

finish the regular season undefeated.

UK

will probably earn one of the four regional #1 seeds even with a single defeat, but the committee might select Duke (22-3 but coming on strong) or Virginia (23-1) as the "national" #1 seed.

Gonzaga

currently sits #3 in the AP poll and #2 in the USA Today Coaches Poll with a 26-1 record. But the

Zags

don't play in a "power" conference and probably won't be a #1 seed, which would parallel what happened to TCU in football.
Of course, in basketball not being a Top Four seed is no problem because you still make the tournament although the

Bulldogs

could be as low as a 3 or 4 seed. However, TCU didn't make football's Big Dance because only four teams qualify. (Don't read into what I just said that I favor expanding the football playoff beyond four teams because I don't. Regular season games count the most in college football of all the sports. Play a stronger non-conference schedule, TCU, and don't blow a 4th quarter lead at Baylor.)
Les Miles and Bud Grant
April 2017
Les Miles compiled an outstanding record at LSU.
He won 114 games against only 34 losses, a .770 winning %. He basically won 3/4 of his games in the toughest conference in the land.
He took LSU to a bowl game in every one of his 11 full seasons, winning 7 and losing 4.
He won the SEC championship in 2007 and 2011 and the BCS Championship in 2007. He also played in the 2011 BCS title game.
That 2011 BCS title game was the beginning of his downfall.
It came at the end of what many commentators called the greatest regular season in college football history: 13-0 against nine SEC teams, including

Alabama

on the road in another "Game of the Century," and Oregon and West Virginia away from Baton Rouge.
But Les had the misfortune of having to face the

Crimson Tide

again after the final BCS poll put them back at #2 following Iowa State's upset of unbeaten

Oklahoma State

late in the season. Beating Nick Saban once is difficult enough. But beating him twice in the same season? Next to impossible.
To win a rematch with anyone but especially a coach as good as Saban, you have to make changes. Your offense scored only 9 points in the first contest, with 3 of those coming in OT.
But the Tigers did nothing new in the rematch, and

Bama

held LSU to five first downs and 92 total yards. Tiger fans started wondering in Q2 why Miles kept Lee on the bench. Jefferson was like a deer in the headlights.
The defense played their guts out and held the

Tide

to five FGs until finally succumbing to a TD in Q4 in the 21-0 humiliation.
A large percentage of Tiger fans jumped off the Miles bandwagon after that game and never came back.
The inept performance against the

Tide

in the Superdome may also have dampened Miles's chance of recruiting a top-notch QB.
Since 2007, Matt Flynn's senior season, LSU has not had a QB play in the pros except for Zach Mettenberger, who started 10 games in 2014-15 but failed to make a roster in '16.
Another reason for Miles's downfall was his faith in his buddy from their coaching days at Michigan, Cam Cameron. An offensive coordinator with the Chargers (2002-06) and the Ravens (2008-12), Cameron was expected to improve LSU's QB play and passing attack and help attract outstanding high school signal-callers to Baton Rouge.
But none of that happened. Many suspected that Miles was limiting Cam's flexibility with the offense, and that may be partially true. However, reports from Baton Rouge, especially since Miles' and Cameron's joint firing last September, indicate that Cam was very difficult to work with and quite inflexible in his approach.
Bottom line: Miles should have jettisoned Cameron after the 2015 season when Les barely held his job after the F. King chancellor chickened out of firing him.
Instead, Miles and Cameron promised a "new look" LSU offense for 2016. But after four games, including two losses, when it was obvious Miles-Cameron hadn't changed a thing, both got canned.
So where does Bud Grant come into this discussion?
Bud coached the Minnesota Vikings for 18 years (1967-85). His record was 158-96-5 (.621).
His teams represented the NFL in the Super Bowl four times from 1969 through 1976 but lost every time. He was also 10-12 in all his post-season games.
His teams were noted for their rugged defenses, led in the early years by the Purple People Eaters up front.
But like Miles's LSU teams, the Vikings generally did not have a varied enough offense to get over the hump and win the championship.
Bottom line on Miles and Grant: They were solid, successful coaches but not in the top tier of their professions.
Will Miles coach again?
An article on foxsports.com shortly after Miles's firing concluded that he would - and sooner rather than later.
"There are dozens of programs across the county who would love to get Miles. He will coach again in college football if he wants, and as soon as next year if he pleases."
"What school gets Miles will be getting one of the most accomplished living coaches in the history of the sport. ... Beyond the national title, he also has two SEC championships, and if he hadn't been in the same league as Saban - arguably the great coach of all time - for the last decade, he would probably have at leat another one or two of those as well."
"In a little over 11 years, Miles won 114 games, a staggering average of over 10 a year. Miles never won fewer than eight games a year at LSU, and topped the 10-win plateau in seven of 11 seasons ... He was also one of the sport's top recruiters, with LSU having more active players on NFL rosters than any team in college football."
But that last fact was one of the reasons for Miles's demise. With so much talent at his disposal, why did his teams lose 10 of the last 19 games he coached?
Most people would say it was because of the pedestrian offense he insisted on running. Miles might reply that he ran that offense because he didn't have a QB to lead a more open attack. But point/counterpoint, it was his fault that he didn't attract such a QB to Baton Rouge or, if he did (Brandon Harris was a four-star dual threat QB out of high school), Cameron failed to develop him.
We know the article referenced above was wrong in predicting that Miles would be coaching in 2017 - barring an unforeseen scandal as happened at Baylor last May or a sudden health problem for a current coach.
Scuttlebutt has it that Miles interviewed for the Houston job but did not impress.
The Cougars were replacing Tom Herman, the architect of high-scoring offenses at Ohio State (as O-coordinator) and Houston (as head coach).
Miles might take over a Big Ten program that runs a more traditional style offense but not a program like Houston (or Memphis or Baylor or any number of other schools I could name) that has gotten used to fast-paced, no-huddle excitement.
It's possible that Les set his sights too high for 2017. He might have had a chance at a job like

Purdue

, Indiana, or UConn. We don't know if those schools put out feelers to him or not.
Of course, Les is still receiving a handsome salary from LSU and so has no need to rush into anything. He says he's not finished as a coach but only time will tell if he'll get his wish.
I think we can say with certainty that he won't take an assistant's job anywhere in college or the NFL. Been there, done that.
As for radio/television, ESPN loved Les Miles because of his quirkiness. Their announcers kept condemning those who called for Miles's ouster. But he's not glib and I haven't heard of anyone offering him a commentator's job. But there's still time for that to happen.