At a few minutes after 8 P.M., on Friday, September 9, 1960 ...
Tom Discenzo
did something at Boston University Field that a lot of people never thought would be done. He kicked a football and thus launched the American Football League's first official game.
Discenzo
, a 245-pound
Boston Patriots
' tackle out of
Michigan State
, would play only one season in the AFL, but with that boot he secured his place in trivia history.
There had been exhibitions going on for nearly six weeks ... so the first official game was only a surprise in relation to the many predictions of the previous spring that the AFL would never get off the ground. By midsummer, with eight teams in training camp, most doomsayers were willing to admit that the new league would, against all odds, play its first season - or at least part of it.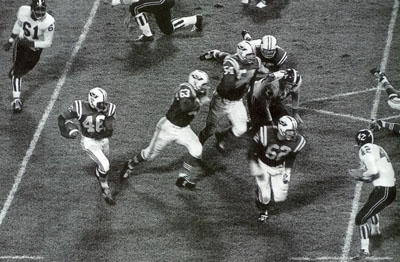 Action from the first AFL regular season game between Boston and
Denver
.
The
Broncos
' vertical-striped socks lasted only one year.
The crowd of 21,597 at BU Field for that first game was paltry by NFL standards, but encouraging for a league materializing out of dreams and promises. ... The players on the field typified AFL rosters in that brave new year: rookies like
Denver
's
Bob McNamara
and
Discenzo
, NFL castoffs like
Denver
HB
Al Carmichael
and Canadian Football League imports like
Denver
QB
Frank Tripucka
. Quite a few had been out of football for years. One of those was
Boston
's
Gino Cappelletti
, who scored the first AFL points before the quarter ended on a 34y field goal.
Cappelletti
had been recommended to
Boston
coach
Lou Saban
by
McNamara
, his old college roommate at the
University of Minnesota
. Ironically,
McNamara
, a college star in the mid-1950s, was dealt to
Denver
before the end of training camp and lasted only two seasons in the AFL while
Cappelletti
, who'd played briefly in Canada after not even being drafted by the NFL, went on to become the AFL's all-time scoring leader.
"At the time, I didn't have the luxury of thinking I had made history by scoring the first AFL points ever,"
Cappelletti
explained. "We didn't have much time for history. We were concerned about surviving. I knew that if I messed up that first kick, I might not get a chance to try another one. In the beginning, you never really knew if you had made the team. I had been out of college since 1956. Then I played ball in Ontario for two years. When
Bob McNamara
mentioned me to
Lou Saban
, I was working at my brother's bar in Minneapolis, wondering if I'd ever get a chance to play pro football."
In that first game,
Cappelletti
played defensive back - "You couldn't be just a kicker then because the teams carried only 33 players" - but he was slow afoot and
Denver
took advantage of that. Shortly afterward, he was switched to wide receiver where his soft hands enabled him to catch anything he could reach. By the time he retired 11 seasons later, he had made 292 catches good for 42 touchdowns.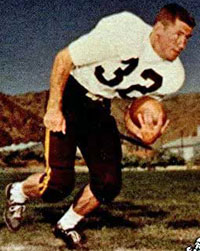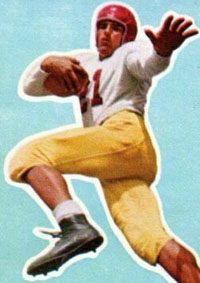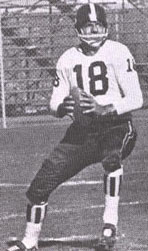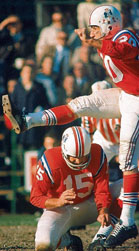 L-R: Bob McNamara, Al Carmichael, Frank Tripucka, Gino Cappelletti
The first AFL touchdown came on the first play of the second quarter when two old pros combined for
Denver
.
Tripucka
fired a short pass to
Carmichael
in the right flat.
Al
reversed the field and zipped 59y down the left sideline to score.
Carmichael
, a scatback out of
USC
, spent six seasons with the
Green Bay Packers
in the pre-
Lombardi
years, specializing in kick returns. "I saw the AFL as a chance to play more pro football," he said. "I didn't think of it as a step backward to play in the new league. It never mattered to me who was hitting me when I was playing. You felt it just as hard in the AFL as you did in the NFL."
Tripucka
had been a standout quarterback at
Notre Dame
in 1948. After four so-so years in the NFL, he headed for Canada where he became a star. At 33, he was ready to forego the aches and bruises so "when they asked me to come to Denver, I thought I would be only a coach. I thought I was through with playing." With that understanding, he signed with the
Broncos
for $15,000 - $20,000 less than he was making in Canada.
Also pressed into surprise service for
Denver
in that first AFL game was
Gene Mingo
, the team's placekicker. "I didn't expect to be returning punts that night," he remembers, "but someone had gotten hurt and so the coach asked me to go in and return kicks." In the third quarter, he brought a
Boston
punt back 76y for a touchdown. "I was so tired I couldn't get the full leg strength I needed for the extra point, and I hit it weak and it went off." It wasn't needed. The
Broncos
held on to win 13-10.