Warren Fair
, a
Gator
letterman at guard in '57, furnished several stories for the book. One of the favorite subjects of
Fair
was his
Gator
coach,
Bob Woodruff
.
"He was a very intelligent person who came out with some of the damnedest things. Someone described Coach
Woodruff
as the oratorical equivalent of a blocked punt,"
Fair
said. That
Woodruff
was capable of poking fun at himself was proved when he took that description and applied it to himself often in his talks.
"A lot of people swear he made the same pep talk every game, and he did,"
Fair
said. "Just a few words were different sometimes. I still remember his talks, especially one time when he said, 'Get out there and tackle 'em HARD and block 'em HARD, and don't forget, the team that makes the fewest mistakes always makes the fewest mistakes. ...'
"We were studying film on Wednesday night before the game one week. It was pitch black dark in there, and Coach
Woodruff
kept running the film backward and forward. Then we all noticed a strange smell in the room.
Woodruff
smoked cigarettes at the time, and this deep voice of his came out of the dark, 'Lit the wrong end....'"
"When we were scrimmaging, Coach
Woodruff
constantly would say, 'Run that play back.' One day the players prepared for him to say that after a pitchout from the quarterback to the halfback, and when he said it, the players ran the play backwards, like it would be re-run when you backed the film up. Every player ran backward from downfield back to the huddle. They even had it arranged where the running back pitched the ball forward to the quarterback, and the quarterback ran backwards to his spot under center. It broke everybody up, including the coaches."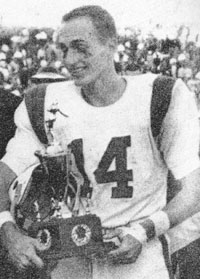 L-R: Bob Woodruff, Wally Butts, Jimmy Dunn
Fair
said
Woodruff
may have been his funniest after the
Florida
-
Georgia
game of '58.
Georgia
had about 400y of offense to
Florida
's 100, but
Georgia
fouled up consistently in scoring territory, and the
Gators
won the game, 7-6, on a 78y run by QB
Jimmy Dunn
.
"
Georgia
was already mad about the game,"
Fair
said, "and when it was over, Coach
Woodruff
walked up to shake hands with
Wally Butts
,
Georgia
's coach, and said, 'How did you like our offense,
Wally
?'"
Fists were thrown at some postgame parties because of comments like that, but
Butts
was able to restrain himself regarding
Woodruff
's comment.
Dick Stratton
, Jacksonville TV sports director and a
UF
graduate, showed up at the Green Derby restaurant in Jacksonville with the game's official statistics about an hour after the game. One of
Georgia
's assistant coaches was in the room as
Stratton
read the stats in dramatic fashion, something like this: "First downs,
Georgia
18,
Florida
4. Rushing yards,
Georgia
280,
Florida
90. Passing yards,
Georgia
120,
Florida
10. Total yards,
Georgia
400,
Florida
100. But the most important statistic of all: Points,
Georgia
6,
Florida
7."
The
Florida
fans in the crowd broke into applause, but the
Georgia
assistant coach jumped up and decked
Stratton
with a right to the jaw. There's disagreement about who the
Georgia
assistant was, so his identity is being withhead.