"Dear Nigger," the letter began. "Do you know what Hell is? We will make your next 4 years at
Miami
hell." The envelope was postmarked February 2, 1967, and it was sent by a group calling itself Patriotism, Inc.
Ray Bellamy
had been getting letters like this for two months. They all started out the same: "Dear Nigger ..." They all challenged his sanity, telling him to remember his place. If he didn't, ... they'd
get
him. The letters always came to his school,
Lincoln Memorial High
in Palmetto FL.
Bellamy
was the president of the student body at all-black
Lincoln
, an honor student and a star wide receiver for thefootball team. ...
Bellamy
was six-foot-five, 190 pounds, and could run the forty-yard dash in under 4.5. And he played on a powerhouse team that once beat a team from Clearwater 89-0 - ... In
Bellam
y's three seasons at
Lincoln
, the team was 25-0. ...
The next step for a player of
Bellamy
's gifts would be college. That meant
Florida A&M
or
Bethune-Cookman College
or maybe mighty
Grambling
in Louisiana.
What about Florida's Big Three,
Miami
,
Florida State
, and
Florida
? Not in that day. Colleges in the South were petrified about even recruiting a black player. (
Wake Forest
had three in the mid-sixties but still wouldn't acknowledge their existence four decades later.) ... However, the
University of Miami
... set out to change that.
The green light was given by
Miami
president
Dr. Henry King Stanford
, a country-as-corn-bread Southerner from Americus GA who wanted the school to be seen as a leader. College football, like the rest of society, was divided into two halves: the South and the rest of the country. Other programs in the North and Midwest began recruiting black players from the segregated South in the early fifties. In 1953,
J. C. Caroline
, a black sophomore running back from Columbia SC became a consensus all-American for
Illinois
, leading the country in rushing with 1,256 yards in a nine-game schedule.
Illinois
fans loved
Caroline
's dazzling style. So did rival Big Ten coaches. Within the next two years, a new wave of black football talent migrated to Big Ten country. ...
Michigan State
built a powerhouse, winning six national titles in the fifties and sixties with the barred black stars from the South as its foundation. ...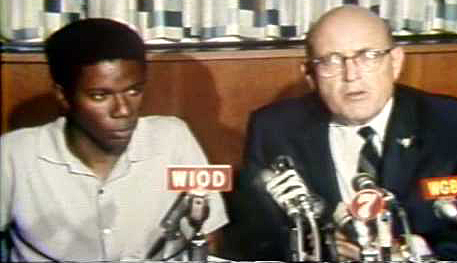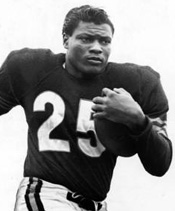 Ray Bellamy and Dr. Henry Stanford, J. C. Caroline
Miami
,
Dr. Stanford
believed, was the ideal proving ground [for recruiting black players] because, yes, it was Southern, but it really wasn't the South. The '
Canes
... had many players who were Southerners, but also had many who were from the Northeast and Midwest ...
Stanford
had informed his head coach,
Charlie Tate
, that the time was right, and soon the search was on for the right student to cross the color line. ... Colleges relied on the part-time help of well-placed alums, who would moonlight as recruiters and get paid in game tickets. Guys like
Ed Dick
.
An insurance agent,
Dick
covered Jacksonville and the Tampa area for
Miami
. Over a 15-year period starting in 1961,
Dick
sent 15 players to
Miami
.
Dick
was a
Miami
grad, he sat on the local school board, and he was a staunch civil rights advocate. He hired the first black insurance agent in the state of Florida. "I got called 'N-lover' more times than anyone in the history of Manatee County,"
Dick
says. He started pushing
UM
to recruit black players in 1961. That was the same year
Miami
's board of trustees voted to allow blacks into the school. But suiting up a black football player proved to be a struggle ... "They kept saying no, they couldn't,"
Dick
said. "There was always an excuse, though. They kept saying how they were afraid of schools canceling games against them because they wouldn't play a team with a black player."
That argument didn't wash, though. Even
Alabama
was playing teams with black players. That started in 1959, when the
Crimson Tide
accepted a bid to play an integrated team from
Penn State
in the Liberty Bowl and attitudes began to soften. Not that the school loved it. Sure, death threats were made on the lives of
Bryant
and the
Alabama
university president, but the '59 Liberty Bowl was played without incident. Throughout the 1960s,
Bryant
continued to accept bowl bids to face integrated teams. Before each of these bowl games,
Bryant
would give his players, many of whom had never played against a black player in either high school or college, the same speech: "Treat 'em like any other player. Knock 'em on their ass and then help 'em up."
In the summer of 1966,
Dick
... knew exactly where to start looking: the little school right across the river,
Lincoln High School
. "We were looking for a special kind of person," says
Dick
. "Like a
Jackie Robinson
type of person."
Eddie Shannon
,
Lincoln
's head football coach, introduced
Dick
to
Ray Bellamy
, the school's star receiver. ... "
Ray
had the hands, the speed, but he had the character too,"
Shannon
said. "I didn't worry about him academically, and I knew he was humble enough that he could handle adversity." ... The coach said he was always impressed by the way
Bellamy
never seemed to let anything slow him down. ...
Shannon
sat down with
Bellamy
to see if he was interested in being "the first one," the one who would break football's color barrier in the South.
Bellamy
was. But first,
Shannon
had to make sure that
Bellamy
understood what he was getting himself into. "Do you think you can take people throwing stuff at you?" he asked.
Bellamy
nodded. "Do you think you can take people spitting at you?" Again,
Bellamy
nodded. "Well, then," the old coach continued, "if you think you can take a little bit of hell, then you can go on and get that education."
Dick
's first meeting with
Bellamy
came after watching a
Lincoln
practice.
Dick
's immediate reaction? Wow! "He was bright, he was charismatic, he had a lot of leadership qualities,"
Dick
said. "He was just very impressive. Right from then, I knew,
Ray Bellamy
was the fit. He was exactly what we wanted." ...
On December 12, 1966 ...
Ray Bellamy
made history. He signed to play football at the
University of Miami
. ...
Once word got out about his decision to play for
Miami
, the hate mail started to show up at
Lincoln
. He'd get it every week, telling him how they would kill him, kill his family.
Bellamy
vowed he wouldn't let "those people" stop him. "I'm fearless," he said. "Even when they threatened to kill me, I wasn't scared. My mom was more concerned with her baby being hurt than I was."
By the time
Bellamy
arrived on campus, the university had already admitted 12 black students. Before the first week had passed,
Bellamy
knew the name of each one. ... Of course, that didn't mean
Bellamy
's transition into
Miami
was seamless. "When I first got there, no one knew how to act around me," he said. "I paralyzed people. They just didn't know how to deal with me." Some, though, were quite certain how they wanted to treat
Bellamy
. One night he came home from practice and found a hate letter tacked to the door of his dorm. The next night he got another one. A week after that he had to dive out of the way after someone tried to run him down with a car. ...
He says when the school felt things were serious enough, they did "some things" to protect him. Like before
UM
faced
Auburn
in 1968, the school notified the FBI about a death threat against
Bellamy
. ...
It didn't hurt his cause that his teammates knew right away that the kid was legit. "
Ray
truly was a great athlete," said
Ted Hendricks
, who played DE from 1966-68. "His teammates had to respect that."
Bellamy
could outrun all the defensive backs, he could make these never-seen-before one-handed snatch catches, and they couldn't tackle him. More important, he could help them win. ... [After playing on the freshman team] he led
Miami
in receptions with 37, the most ever by a
Hurricane
sophomore.
Bellamy
followed up that with a great junior year and looked primed for an NFL career.
But on January 3, 1970, while driving back to school from his home in Bradenton with his girlfriend,
Bellamy
fell asleep at the wheel a few miles from Miami. His blue Chevy Nova went off the road and smashed into some pine trees.
Bellamy
's girlfriend emerged virtually unscathed, but he broke his arm and his leg and suffered a head injury. He was hospitalized for four months and missed his senior season.
Bellamy
, though, was convinced he would leave his mark on
UM
. He ran for student body president in 1971, and - imagine that - he won. ... Before
Bellamy
left
UM
,
Miami
had 14 black players on its team.