My Black Hat: A Gift from St. Ara
Jimmy Johnson as told to Ed Hinton: Turning the Thing Around: Pulling America's Team out of the Dumps and Myself Out of the Doghouse"
Johnson's first season as coach after replacing Howard Schnellenberger at Miami ended with a home game against Notre Dame.
As surely as Howard Schnellenberger's Orange Bowl upset of Nebraska had established Miami in the nation's mind as a football power, our game with Notre Dame would place a nationally perceived black hat on Miami's head, and specifically on mine.
Gerry Faust
had run a legendary, super-power high school program at
Moeller
in Cincinnati. After
Dan Devine
resigned as head coach at
Notre Dame
following the 1980 season to go to the
Green Bay Packers
,
Faust
was named
Notre Dame
coach by the school's president in charge of athletics, the Rev.
Edmund P. Joyce
.
Faust's arrival in 1981 was the most celebrated for a Notre Dame coach since 1941, when Frank Leahy was brought in from a highly successful tenure at another Catholic school, Boston College. Faust was and is a devout man (and I respect that). So Faust's arrival was much more than a secular celebration. It was a nationwide religious experience. He was Mister Catholic. Sports Illustrated ran a picture of Faust kneeling at a little shrine, accompanied by some of his players.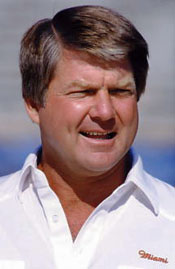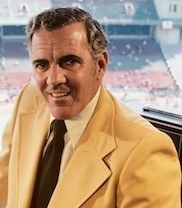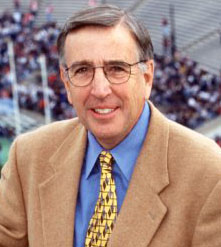 L-R: Jimmy Johnson, Gerry Faust, Ara Parseghian, Brent Musberger
It just never worked out like they'd hoped. Faust's years at Notre Dame were troubled indeed. In 1981 he coached the Irish to their first losing season since 1963 under Hugh Devore, who had only lasted that one season as head coach. In 1982, 1983, and 1984, Faust went 6-4, 7-5, and 7-5 respectively–this in a program whose followers were disappointed any year they weren't in the running for a national championship.
Here are some circumstances leading up to our game with Notre Dame on November 30, 1985, that I would not learn about until many years later, from journalists:
By the week of Notre Dame's final home game of the 1985 season, on November 23, against LSU, the Faust regime was coming apart at the seams, and deeply disillusioned Notre Dame players were beginning to speak out vehemently against Faust–they claimed he and his staff were inept and that the squad was simply miserable and fed up with him, except possibly for a few players to whom favoritism had been shown.
That week, there was a heavy undercurrent of feeling that Faust was about to resign under pressure, but Fathers Hesburgh and Joyce weren't confirming. Before the LSU game the Atlanta Constitution got some players to talk. With their stories of misery and incompetence came wryly spoken references to "Mister Catholic" and how, in crucial game situations, Faust would yell down the bench, "Okay! Everybody say a Hail Mary that we'll make this first down!" This on a staff which when offensive linemen would come off the field reporting that the blockiing scheme was futile and suggesting adjustments, would reply, "You do the playing and be quiet, and we'll do the coaching." And the onslaught from the opposing defensive front would continue.
The players who talked were adamant that the Constitution hold the story until the morning of the LSU game, to assure that they wouldn't be held out of their final home game in South Bend for speaking out. The story was picked up by CNN and South Bend was abuzz with it during the game, which Notre Dame lost to a mediocre LSU team, 10-7.
Notre Dame alumni in Atlanta wrote thankful and congratulatory notes to the Constitution, and added that they'd Fed-Exed the story straight to Father Joyce's desk, to make sure he got those kids' messages loud and clear.
The following week, Gerry Faust announced his resignation, effective after the last game of the season, which would be played on the road. That road trip, a nice one, amounted to one huge sigh of relief from the Notre Dame players. They wanted to go to Miami, to lie in the sun for a few days, after such a miserable season, and, in some cases, such miserable college careers.
And that was the Notre Dame team Miami faced on November 30, 1985. I knew that Faust had announced his resignation, but I had no idea of just how bad the situation was within the Notre Dame team. I'd been totally focused on coaching–we'd won nine games in a row–and hadn't picked up on the news stories.
In fact, getting ready for Notre Dame, I was scared to death. With the pride and the tradition of Notre Dame and the quality of their players, I thought Faust's resignation might be a rallying point for them. I could envision us walking into a buzzsaw, with them at a fever pitch emotionally to win one last game for Gerry.
Silly me.
On game week, the only hint that I had that they might not be ready to play was that a few of the media people had told us Notre Dame had come down a few days early and that their players were up in Fort Lauderdale having a big time enjoying the sunshine and the beaches.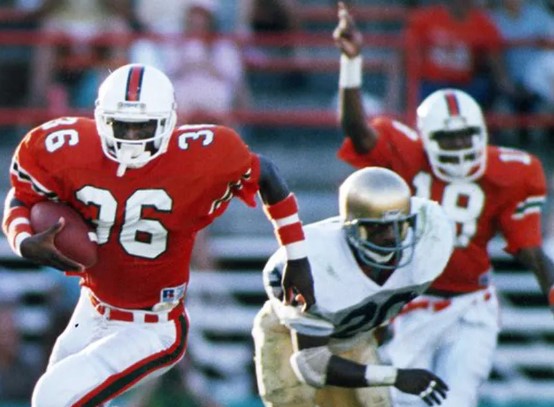 Action in Miami's 1985 rout of
Notre Dame
Well, of all the games that I have ever coached in my career, I don't know that one of my teams has ever played another game as flawlessly as that Miami team did against Notre Dame. We scored on defense, we scored in the kicking game, we scored on every possession up until the last part of the game, and it was a complete rout, 58-7.
Now: Little did I know that with us playing so flawlessly and the rout being what it was, Ara Parseghian was up in the CBS broadcast booth almost in tears, saying that we didn't have any compassion.
Parseghian
was there as color commentator. This was the same
Ara Parseghian
who'd spent eleven years as
Notre Dame
's head coach, 1964 through 1974, and who during that time had made a common practice of humiliating opponents. He coached so many routs that his mere over-40 totals would take too long to list, but here are highlights of
Irish
rampages on
Parseghian
's watch: On November 6, 1965, he beat
Pittsburgh
69-13; on November 12, 1966, he beat
Duke
64-0; on October 7, 1967 he beat
Iowa
56-6; on October 19, 1968, he beat
Illinois
58-8; in the 1970 season alone, he beat
Army
51-10,
Navy
56-7,
Purdue
48-0 and
Pittsburgh
46-14. And on December 1, 1973, he beat the
University of Miami
44-0.
And Parseghian's ruthlessness was not at all a departure from Notre Dame tradition. Knute Rockne himself wasn't above hanging, oh, for example, a 74-0 on Kalamazoo here and a 77-0 on Beloit there.
And even poor old
Gerry Faust
hung a 52-6 on
Purdue
in 1983.
And never once, by November 30, 1985, had I criticized Notre Dame for running up a score. I still don't. Again: it's a 60-minute game. I just point out some of their routs to illustrate to you what an absolute hypocrite St. Ara the Tearful was being when he criticized me, saying emotionally to a national television audience, "It's time for Jimmy Johnson to show some compassion."
Well, even down on the sidelines, I guess I should have known. I'd learned way back in Port Arthur TX that nobody cries louder and more pitifully than a bully who's just had the shit stomped out of him. But later, when I watched the videotape of the telecast, I was incredulous.
Not only had Parseghian shown his gold underwear and been an obvious hypocrite to anyone with an objective knowledge of football history, but he had failed to do his job as color commentator, and Brett Musburger had failed to do his as a play-by-play man. They are there to spot with expert eyes and explain with expert tongues, things that the layman viewer has not spotted. One thing they said was absolutely ridiculous: "How can they [Miami] be blocking punts when the game is completely out of hand?" That was probably the line that made Miami a name that would live in infamy in Notre Dame hearts, and therefore in many, many American hearts in general. But here is exactly what happened on the punt block: By that point we had so many second- and third-string players in the game that we were having problems getting our substitutions straight. All the starters had been pulled. Notre Dame was punting out of their own end zone, and we set up to return the put, but it wasn't even our regular punt unit. We called for a return right. By no stretch of the imagination did we have a punt block called. And, in the substitution confusion, we only got ten men on the field for the play.
And then Bill Hawkins, one of our backup defensive tackles, strolled untouched into their backfield and blocked the punt for a touchdown. Now if we'd sent some first-string strong safety firing through a gap or around the outside to block the punt, that would have been one thing. But as it was, any junior high coach could have sat up there in the broadcast booth and seen that there was no punt block on and that Bill Hawkins had just waltzed in. What was Bill supposed to do? Take five giant steps backward and bow while the punter got it off?
And any color commentator or play-by-play man with anything remotely resembling an objective eye would have seen that and would have said so. But this was Parseghian and this was Notre Dame. Very few Amerian souls are objective about Notre Dame. Most people either love them or hate them, and the lovers vastly outnumber the haters. And to compound it, this was Gerry Faust's last game and everybody felt for him–everybody, it seems, except his players. Those players were truly just putting in time that day, and my team happened to play flawlessly.
I had never seen anything like the reaction we got the next week. We had stacks and stacks of letters, most of them negative. But some of them were very positive. "Hey, Notre Dame has been doing that to us for years. I'm glad you did what you did."
But that was the day Miami got the black hat, a gift from St. Ara, placed squarely on my head. And to this day a lot of people think I'm negative toward Notre Dame. Just the opposite is true. I've always had tremendous respect for Notre Dame, and actually, it's one of my favorite schools. It's just that we happened to put a score on them that they'd put on other people for years and years.