Foortball coaches are always looking for an edge, and new technology often provides it. In the early stages of the 1956 season, several teams, led by rivals
Cleveland
and
Detroit
, rolled out an innovative messaging system that was a glimpse of the National Football League's future. For the first time, selected players were "wired for sound" - outfitted with miniature radios that allowed them to receive signals from the bench or the press box.
Unsurprisingly, the pioneer was
Paul Brown
. The
Cleveland
coach had been fooling around for years with the idea of using radio signals to more efficiently send plays to his quarterback, instead of relying on his usual system of messenger guards and backs. According to a source, at one point
Brown
"actually got a radio in
Otto Graham
's hel­met. Then he experimented at League Park and Cleveland Stadium.
Brown
broadcast from the bench while
Graham
ran to all corners of the field, wig-wagging the results."
It wasn't until September 15, 1956, in the second of back-to-back preseason games with the
Lions
, that
Brown
field-tested the system against a real opponent. The helmets of quarterbacks
George Ratterman
and
Vito "Babe" Parilli
were each outfitted with a receiver about the size of a pocket watch.
Brown
, who had to obtain a shortwave li­cense to operate the radio, used a four-watt transmitter and microphone to send plays from the bench. There was no difference in the outcome. A week earlier the defending champs had lost to
Detroit
, 17–0, without
Brown
's gizmo, and on this occasion they were whipped by the same seventeen-point margin, 31–14, with it. "There is some spec­ulation that quarterbacks
Ratterman
and
Parilli
might have picked up some short-wave police calls, some dance music, or an SOS from a stricken fishing boat off the coast of New Zealand," wrote a bemused
Lyall Smith
in the
Detroit Free Press
. Actually,
Ratterman
spent much of the stormy evening in Akron fearing for his life. In addition to the head-hunting
Lions
targeting the contraption in his helmet, there were the occa­sional flashes of lightning that he admitted "scared the hell" out of him by threatening to fry his electronic ears.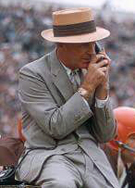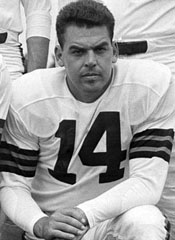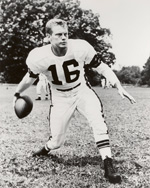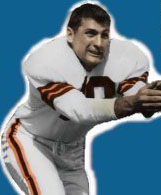 L-R: Paul Brown, Otto Graham, George Ratterman, Babe Parilli
Lions
head coach
Raymond "Buddy" Parker
was more concerned than amused. Other teams, such as
Los Angeles
, the defending division champs, also were experimenting.
Parker
wasn't about to be left behind, even as the
Lions
opened the 1956 campaign with road wins in Green Bay and Baltimore. With the first home stand of the season coming up against the
Rams
and
49ers
, he had general manager
Nick Kerbawy
ex­plore the cost of putting in a system at Briggs Stadium. The retail price came to $1,161.50. However,
Kerbawy
was able to strike a deal with electronics expert
Len Kieban
for about $500. The grounds crew installed 2,200 feet of wiring under the sod, criss-crossing nearly the entire playing area. The network allowed a wired helmet to pick up signals extending 30 feet beyond each sideline. Of course,
Parker
's star quarterback,
Bobby Layne
, wouldn't countenance any play-calling from the sidelines, electronic or otherwise. But
Joe Schmidt
, in his first year as middle linebacker in the
Lions
' recon­stituted 4-3 defense, was receptive—-literally. A button-sized receiver and an amplifier shaped like a cigarette lighter were fitted into
Schmidt
's helmet. The unit weighed a combined four ounces and cost $79.50. "I'm for it solidly,"
Schmidt
said. "We can al­ways use a 12th man."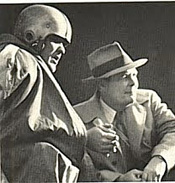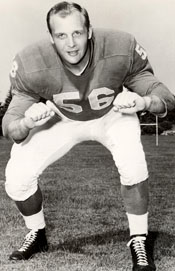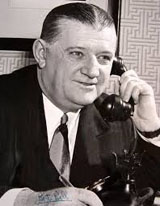 L-R: Bobby Layne and Buddy Parker, Joe Schmidt, Bert Bell
The
Lions
had three additional helmets outfitted, "in case
Parker
should elect to in­crease his Space Ship membership for future home games," wrote the
Detroit News
's pseudonymous
Buck Roger
s. The
Lions
' so-called Space Ship Division made its debut at the home opener on October 14, 1956. With assistants
Aldo Forte
and
Red Cochran
making observations from their vantage point in the press box, defensive coordinator
Buster Ramsey
relayed coded defensive formations from the bench to No. 56 on the field. "Couldn't help feeling a little funny every time
Ramsey
's voice came into my hel­met,"
Schmidt
said afterwards. "Caught myself looking around a couple of times to see what he was doing out on the field."
Ramsey
was happy that, for once, he wasn't hoarse for two days from spending the entire game screaming out instructions. The
Lions
narrowly won, 24–21, stockpiling a 17-point lead and then holding off a fourth-quarter
Rams
rally. After the game,
Los Angeles
officials complained about not being able to utilize their own gadgetry. According to commissioner
Bert Bell
, "The
Rams
said they were told certain equipment was denied them, that they weren't cut into the wire. If the
Lions
wire the field, I think everyone is entitled to the use of that wire." Electronic skulduggery was the order of the day. In New York, the
Giants
bragged that they had used a receiver tuned to the same frequency as
Cleveland
's to intercept signals and score an upset win. The short-wave revolution was short-lived. Four days later, with the unanimous backing of owners,
Bell
issued a directive. "All electronic devices, including walkie-talkies, hearing aids of any description used to receive messages, radio equipped helmets or any device of this nature must be eliminated," he ordered. Although the ban was intended only for the balance of the 1956 season, it stayed in place until 1994, when owners officially approved the league-wide use of helmet headsets.
Bell
's embar­go caused the
Lions
to cancel plans for expanding and improving their system. Mean­while,
Schmidt
went back to calling signals and pretending not to hear any shouted instructions from the sidelines that he didn't agree with.