It was vindication for
Notre Dame
Coach
Terry Brennan
.
With their fourth-year coach under fire, the
Fighting Irish
turned in a rousing effort to shatter heavily favored
Oklahoma
's 47-game winning streak - college football's all-time record - with a stunning 7-0 victory before 63,170 fans in Norman, Oklahoma.
HB
Dick Lynch
's 3y touchdown run on fourth down late in the fourth quarter broke a scoreless tie and allowed
Notre Dame
to break a two-game losing streak.
For
Brennan
, it was a sweet victory.
Brennan
's
Fighting Irish
had lost to
Oklahoma
40-0 in South Bend the previous year - a season in which they registered their first losing record in 24 years with a 2-8 mark. Furthermore, the
Fighting Irish
had just dropped back-to-back games to
Navy
and
Michigan State
in one-sided fashion before heading to Norman and almost certain defeat against the nation's second-ranked
Sooners
, who had won their first seven games of the season.
But
Notre Dame
(5-2) pulled out of its tailspin behind a rock-ribbed defense that stopped the two-time defending national champion
Sooners
' run-oriented offense cold and an offense that mustered an 80y touchdown drive in the closing minutes.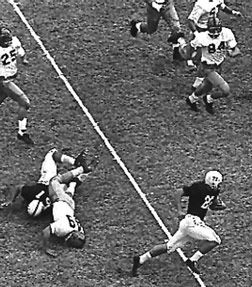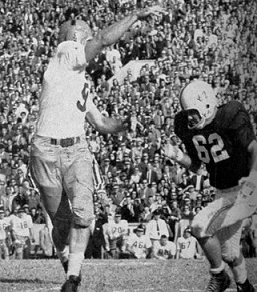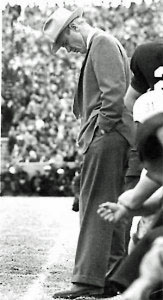 L-R: Carl Dodd runs for
OU
; ND QB Bob Williams passes; Bud Wilkinson dejected on the sideline.
Nick Pietrosante, a powerful 250-lb fullback, was the workhorse on Notre Dame's winning drive, smashing consistently up the middle for sizable gains as the Fighting Irish rolled to a first and goal at Oklahoma's eight. From there, Pietrosante chewed up 4y up the mid­dle to bring the ball to the four. On second down, Lynch was stopped for no gain. QB Bob Williams then carried up the middle for 1y, leaving the Irish facing fourth and three with 3:50 remaining. "
Disdaining the field goal, Notre Dame scored the game's only touchdown as Lynch carried 3y around RE, dashing into the end zone stand­ing up.
Brennan said in 1991 that he bypassed a field-goal attempt on fourth down for several rea­sons. He said he feared kicker Monty Stickles might be hampered by a bad angle with the ball so close to the goal line. And Brennan also expressed confidence that his fourth-down call would work.
"We just wanted to do the sure thing," Bren­nan said.
And the sure thing in this case was for Wil­liams to fake inside to Pietrosante before pitching the ball to Lynch around RE.
"When you're down at the goal line, and every one of the defenders is in the gaps," said Brennan, "where do you go? Outside."
"They were in tight, real tight, just waiting for me to give the ball to Pietrosante," Williams said. "Well, I just faked to him and tossed out to Lynch and it worked like a charm."

Lynch touchdown run.
Oklahoma
, an 18-point favorite, had shown a propensity during its winning streak for scoring the decisive touchdown in the fourth quarter and this late-game magic became a trademark of
Oklahoma
Coach
Bud Wilkinson
's teams. But this time,
Oklahoma
's desperate attempt to ctach up was blunted by an interception. The crowd then rose and saluted the gutty
Notre Dame
team with a thunderous ovation.

Oklahoma
, which had been averaging 300y a game, was held to 98y on the ground and 47 in the air.
Clendon Thomas
was
Oklahoma
's leading ballcarrier with 36y in 10 tries.
"
Oklahoma
was a fine football team,"
Brennan
said. "And
Bud Wilkinson
was a fine football coach. But he was predictable and we felt if we could stop their four or five basic plays, we had a chance to win. And we did."
One of
Oklahoma
's biggest weapons was the punting by
Thomas
and
David Baker
, who kept
Notre Dame
bottled up near its end zone in the third quarter. But the
Sooners
could not capita­lize.
"I was willing to settle for a scoreless tie in the third quarter," said
Wilkinson
afterward. "I felt at the start of the second half we had a good chance. But after we couldn't get going, even with our tremendous punting to their goal, I was ready to settle for a scoreless tie."
Oklahoma
's best scoring threat came in the first quarter when the
Sooners
drove to
Notre Dame
's 13 before they were held on downs. "They were just better than we were today,"
Wilkinson
said. "They deserved to win."
Notre Dame
not only stopped
Oklahoma
's winning streak, but the
Irish
broke the
Sooners
' national record of scoring in 123 consecutive games. Interestingly,
Notre Dame
was the last team to defeat
Oklahoma
, defeating the
Sooners
28-21 at the start of the 1953 season.
Oklahoma
was tied, 7-7, by
Pittsburgh
in its next game before beginning its amazing streak.
Brennan
, a former three-year starting running back at
Notre Dame
, often called the streak-stopping victory over
Oklahoma
"the greatest thrill of my athletic career."
Brennan
coached the
Fighting Irish
for five seasons, compiling a 32-18 record.
Pietrosante
distinguished himself as a stellar running back for the
Detroit Lions
.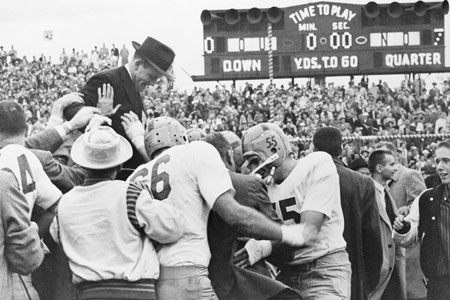 L-R: Nick Pietrosante; Coach Brennan carried off.