The consensus was unanimous:
Bill Parcells
had to go.
The
Giants
were staggering to a 3-12-1 finish in
Parcells
's first year as the
Giants
' head coach, and memories of the darkest years of the franchise were haunting the
Mara
family. Team president
Wellington Mara
had presided over the lost years of 1964–1978, when the
Giants
had gone from a consistent championship-contending team to a franchise besmirched by failure. Rock bottom had come on November 19, 1978, when the
Giants
were seemingly headed toward victory over the
Eagles
at Giants Stadium and simply had to run out the clock in the final seconds against an
Eagles
team with no time-outs remaining.
But rather than having quarterback
Joe Pisarcik
do the sensible thing and take a knee, of­fensive coordinator
Bob Gibson
inexplicably called for a handoff to
Larry Csonka
. The ball caromed off
Csonka
's right hip and was scooped up by
Eagles
defensive back
Herman Ed­wards
, who returned it for a 26-yard touchdown to give
Philadelphia
a 19–17 win.
Gibson
was fired the next day, and during the
Giants
' next home game, a small plane flew over the Meadowlands carrying a banner: 15 YEARS OF LOUSY FOOTBALL— WE'VE HAD ENOUGH.
Watch the fumble play ...
The fallout from a play referred to by
Giants
fans simply as "The Fumble" eventually led to the hiring in 1979 of
George Young
as general manager, a compromise choice that was ac­ceptable to
Wellington
and his nephew
Tim
. The two were not on speaking terms but had agreed to Commissioner
Pete Rozelle
's recommendation of
Young
, then a personnel assis­tant with the
Miami Dolphins
.
Ray Perkins
was
Young
's choice to become head coach in 1979, but when
Perkins
left in 1982 to coach at the
University of Alabama
,
Young
ap­pointed
Parcells
, a promising defensive coordinator under
Perkins
.
But by December of
Parcells
's first year on the job, it became clear to all three of the
Giants
' decision makers that a change had to be made.
"
Parcells
gets hired in 1983, and really the only basis upon which he was hired was that he had some head coaching experience, which wasn't a heck of a lot," said
John Mara
,
Well­ington
's oldest son and now the team's president and co-owner. "We come to the end of that season, and the jury is very much out on
Bill
at that point."
It was an excruciating season in every possible way, and not simply because of the final record.
Parcells
had misjudged his quarterback situation, anointing
Scott Brunner
over former first-round pick
Phil Simms
. More than two dozen players wound up on injured reserve. After getting off to a 2-2 start, the
Giants
lost ten of their next twelve games.
Parcells
's personal loss that season was incalculable. His mother,
Ida
, had died in December. His father,
Charles
, had died two months later. His running backs coach,
Bob Ledbetter
, suffered a stroke in late September and died less than three weeks later.
"Both my parents died. My backfield coach died. Hey, it was tough, but that's still no excuse,"
Parcells
said, looking back on the most difficult year of his life. "Listen, they'd seen enough. Everyone was on board with it."
The decision had been made: The
Giants
would look for a new coach.
Howard Schnellenberger
was their man.
Parcells
was as good as gone. ...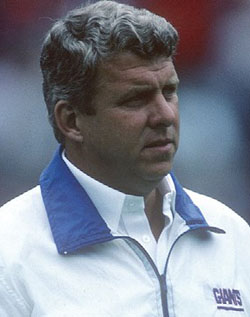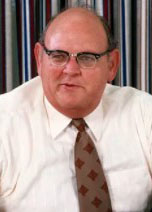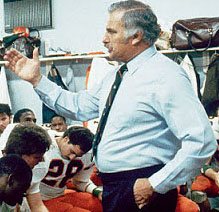 L-R: Bill Parcells, George Young,Howard Schnellenberger
Schnellenberger
was the hottest coaching prospect out there, and the
Giants
were in dis­array. Rock bottom came on December 4, when the
Giants
lost to the lowly
Cardinals
, 10– 6. Only 25,156 fans showed up at Giants Stadium, meaning there were more than 50,000 no-shows. But when
Young
reached out to
Schnellenberger
, the coach told him the timing wasn't right and that he wouldn't take the job. ... "I can't get him this year,"
Young
told the
Maras
, "but I may be able to get him next year." The
Giants
decided to give
Parcells
one more year to turn things around, and if the team continued to flounder,
Young
would try
Schnellenberger
again. ...
Parcells
's first major move was hiring a strength and conditioning coach, and he settled on a noted college trainer named
Johnny Parker
.
Parker
was on the cutting edge of training techniques at
LSU
and
Ole Miss
, even traveling to Russia to study what had then been con­sidered the world's most advanced weightlifting program.
Parcells
was desperate to improve his team's collective health after a hellish run of injuries the year before, and
Parker
told him he could help. ...
Parker
took the job, and thereby gained insight into how
Parcells
was going to handle his team moving forward. "Last year, I tried to be the head coach of the
Giants
, and that didn't work,"
Parcells
told
Parker
. "This year, I'm going to be
Bill Parcells
. If the players get me, they get me. They're going to get me doing it my way." ...
Parcells
knew he could win only if he had players who were completely committed to win­ning and to making the sacrifices— both physically and personally— to turn the team around.
Young
had drafted linebackers
Carl Banks
, a first-round pick out of
Michigan State
, and
Gary Reasons
, a fourth rounder out of
Northwestern State
of Louisiana, to replace
Kelley
and
Van Pelt
. And with nearly two dozen other players dropped from the team, the coach was starting to feel like he had enough of the "my guys"– type players to at least have a chance of winning. And
Parcells
drove them hard. "Those 1984 players, they're the ones that went through a torture chamber, because I had a whole new attitude, a resolve,"
Par­cells
said. "I was close to being over the edge in terms of pressuring these guys, practicing hard, contact, training camp. No fuckin' around."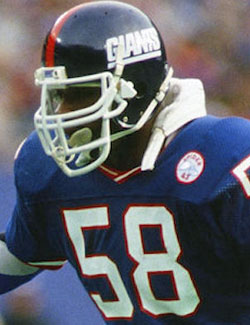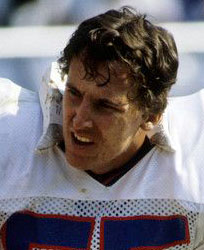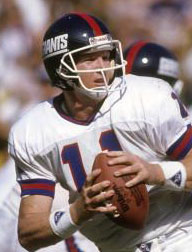 L-R: Carl Banks, Gary Reasons, Phil Simms
Simms
could tell the difference in
Parcells
's demeanor as soon as he interacted with the coach after the 1983 season. "
Bill
changed from '83 to '84,"
Simms
said. "He became
Bill Parcells
, this tough, acid-mouthed guy, and whatever came out of his mouth was the truth. He did it with sarcasm and humor, but it still drove the point home. It just changed us. Right from the start, we were a changed team. You could see it."
Once training camp began,
Parcells
was unrelenting. He had his players practice in pads six days a week, twice a day— which was actually standard operating procedure for most teams, but with
Parcells
, he was particularly brutal. If
Parcells
was going down— and there was that very real possibility, especially if he got off to a poor start— he would do so on his own terms.
Postscript: The '84 Giants started 3-3, then won three of their next four on their way to a 9-7 record and a playoff berth. They beat the

Rams

in the first round before losing to the 49ers, who would win the Super Bowl.
Parcells coached the Giants eight years, winning the Super Bowl in 1986 and 1990.