He never thought he deserved to be called "Mean." The nickname came into vogue during
Joe Greene
's sophomore year at
North Texas State
. The team wore green, and because
Greene
and the defense was playing well they were called the
Mean Green
.
Joe
being named
Greene
, the moniker rubbed off on him.
When he signed autographs in his early years with the
Steelers
, the future Pro Football Hall of Fame DT would sign
Joe Greene
, leaving off the Mean.
The way
Greene
saw it, he did the best he could on every down and played hard on every play. "But," he would quickly add, "I'm not mean." Sometimes he talked to opposing QBs when he got to them during games, but it was never mean. "Don't bother to run the draw,"
Greene
would tell the flustered QB, "because I'm going to be sitting right there in the hole waiting for it."
Greene
respected offensive linemen but never believed any of them should ever beat a defensive lineman man on man. Some offensive linemen sought to beat their defensive counterparts with quickness, some with strength.
Greene
never studied the man who would be opposite him. The leader of the
Steel Curtain
defense would wait to see what his opponent was trying to do when the game started, and
Greene
would react. "I do what I have to do," he would say.

Steelers
offensive linemen found this out firsthand in team scrimmages. After being the first pick in new head coach
Chuck Noll
's first draft in 1969,
Greene
held out before signing. He was considered the cornerstone for what the
Steelers
were trying to build, and the contract holdout angered some of the team's veterans. C
Ray Mansfield
and G
Bruce Van Dyke
looked forward to teaching the rookie a lesson or two. A couple of days of dealing with
Greene
in practice left
Mansfield
and
Van Dyke
wishing they'd never met
Mean Joe
. ...

Greene
wasn't always devoted to football. Growing up in Temple, Texas, he quit the sport the first time he tried out for it in the eighth grade because they didn't give him a full uniform.
Greene
gained confidence in his ability as a 203-pound high school freshman. By his sophomore year he was a 235-pound MLB. He weighed 250 his senior season, and his reputation was just as outsize.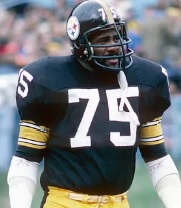 L-R: Joe Greene at
North Texas State
and with the Steelers
Greene
had the reputation of being the dirtiest ballplayer to come out of Temple. He acknowledged that when his team was losing, he'd act the fool. He grew up with a loving mother but without a father and wondered if having a dad would have given him more stability. For a time he was more round than tall; he was timid and shy and was picked on and ridiculed.
Greene
took out his aggressions on the football field. He got the reputation of being a bully.
Greene
knew he wasn't; he was exacting revenge for being teased. He once recalled being kicked out of every game his sophomore season and nine more his junior year. He ran over a few officials, sometimes intentionally, he said. Following a loss on his high school's home field,
Greene
went to a diner and encountered the team that had won. The opposing QB was enjoying an ice cream cone.
Greene
took the cone and smeared it all over the QB's face. Later that night he charged the front door of the opposing team's bus after being hit in the chest with a soda bottle thrown by one of the players. As
Greene
forced his way in through the front door, opposing players scampered out the back. ...
The same lack of discipline was evident to scouts who visited
North Texas State
. "Puts on weight, tendency to loaf," one scout said. Another opined that while
Greene
was physically gifted, he used his ability only in spurts. The final line in the
Steelers
' 1969 scouting file on
Greene
questioned taking him in the first round, "as he could turn out to be a big dog."
Greene
instead became the
Steelers
' top dog, the cornerstone of one of sports' greatest dynasties. Opponents saw him as mean, nasty, and intimidating - a big man who threw his weight around fiercely. Sometimes he could be reckless and take himself out of plays. But
Greene
also made tremendous plays that turned games around. He was inconsistent at times, given to playing some ordinary games. But
Greene
's ordinary games were better than outstanding games by other players.
Mean Joe
was one of the few defensive linemen who could dominate for four quarters. He was a powerful player on a powerhouse team, and he was always up for the big games. "
Greene
,"
George Allen
said, "was the one who scared you the most."
Greene
's coach at
North Texas State
called his defensive star a "fort on foot." In Pittsburgh the fort fronted what became known as the
Steel Curtain
.
Greene
had all the physical tools to be successful in the NFL. He also had vision, a quality he considered more valuable than all the others. He could see what was happening on every play, could see where the blocks were coming from and where the ball was going. His biggest handicap was his tendency to guess. Early in his pro career
Greene
said that when he got into the game, he didn't always have time to think about what he ought to be doing.
Monty Stickles
, ... a Raiders color analyst ..., noted during a
Steelers
-
Raiders
game that while
Greene
was a very active tackle, his aggressive style sometimes took him out of the play.
Greene
credits
Noll
for curing him of his tendency to play a guessing game with opposing offenses. When
Greene
guessed right he turned into a tornado that tore up everything in his path.
Noll
convinced
Greene
that guesswork meant he would be right only half the time. Do the job you're supposed to, Noll told him, and let his teammates do their jobs.
When they didn't
Greene
let them hear it.
Russell
recalled
Greene
growing angry when an opponent had success against the
Steelers
' defense. "
Andy
,"
Greene
thundered, "what're
you
going to do?"
Greene
got just as excited on the sidelines. He would approach
Noll
and say, "What's the QB doing?" and then approach WR coach
Lionel Taylor
and say, "What're the receivers doing?"
Russell
said
Greene
was such a great player that he thought everyone could play better if they only tried harder.
Greene
pulled himself from a game in '73 and stalked out of a team meeting in '74, upset with what he saw as his teammates' lack of fervor.