Utah
had gained the regional with an emotional upset victory over
UCLA
, and I knew
Utes
' coach
Jerry Pimm
would have them prepared. They played very tough defense until we kept moving back further out and taking those three-pointers we had learned to shoot in the ACC. They didn't count for three points now - and
Pimm
told his team at halftime: "Don't worry. They can't keep shooting that way" (i.e. 59%). He was right. In the second half, we shot 78.9% and won 75-56.
Virginia
beat
Boston College
in the other game, so the West Regional final would be a repeat of the ACC final.
North Carolina State-
Utah
action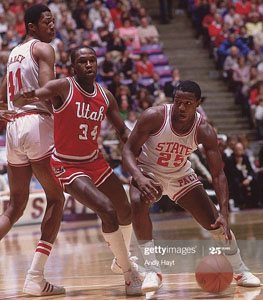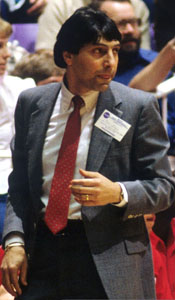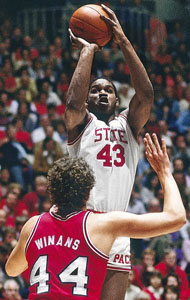 L: Dereck Whittenburg dribbles as Thurl Bailey sets a screen.
M: Jim Valvano on the sidelines.
R: Lorenzo Charles shoots.
I knew that in a Big Game, playing another team from our conference would be easier than playing a stranger. It's called Familiarity. It doesn't breed contempt so much as a sense of confidence that you
can
play with the other guys. There's no fear, no ascribing to them a higher rating than they deserve. This may sound self-serving, but that is precisely why I've always felt our victory over
Houston
in the championship game in '83 was a bigger upset than
Villanova
's over
Georgetown
two years later. ... Against
Virginia
, as big a game as it would turn out to be, I knew we would be relaxed and play up to the level of the game.
It was a great regional final.
Virginia
skipped out ahead by seven points, but we came back and it was virtually nip and tuck to the wire.
Sampson
slammed in a dunk with about a minute and a half to play, to give the
Cavaliers
a 61-59 lead. But then
Whittenburg
arched in a 22-footer. We decided - one more time - to make them win the game from the foul line. We chose to foul our old pal,
Othell Wilson
.
Wilson
made the first but missed the second, so we were in a position to win again: down 62-61, with possession of the ball.
This time we decided not to wait for the last shot; we were going to take the first available opportunity to score.
Whittenburg
drove the lane and dished off to
Charles
, who went up hard for the basket. Bop! he was fouled by
Sampson
.
Lo
was going to the foul line with two shots and 23 seconds left.
During the time-out, all I talked about was what we were going to do after
Lorenzo
made
both
shots. This time I remembered
Abe Lemons
' advice; I didn't want any black cows in this huddle. No negatives. I focused only on the positive. "
Lo
, Baby," I told
Charles
, "this is it. We've come this far. Team of Destingy. The Cardiac Pack. It's on you. Knock them both down. When you do, we're calling time-out again. Then we'll talk about defense. But there is no defense now, baby, because you are the man. Brooklyn, New York's own
Lorenzo Charles
. The guy from the Big Apple. My guy,
Lo
. Do it, baby."
Oh, I was positive. I was so positive. I made myself sick. That time-out never seemed to end. I wanted it to end, because I didn't have anything more to say. At least I didn't want to say anything else. As the seconds ticked off. I kept encouraging
Lo
. I had to practically bite my tongue off to keep myself from screaming anything else. Like ...
This is what the hell we're going to do when this S.O.B. misses both of these &*%$# free throws!
As soon as the horn went off and the team started out on the floor, I grabbed
Sidney Lowe
and told him what to do if
Lo
missed.
Lorenzo
, however, truly my guy, knocked in both shots, and
Terry Holland
called time-out for
Virginia
. There were 17 seconds left. Our defensive strategy was simple. It was the same we had played the whole game: one man on
Othell
, one man on
Ralph
, and then a triangle zone around
Ralph
. We wanted anybody but those two to shoot the ball. We had
Sampson
surrounded, and the criticism that
Holland
got later about not getting the ball to his 7'4" center was totally improper. Plain and simple,
Virginia
couldn't because we wouldn't let them.
North Carolina State-
Virginia
action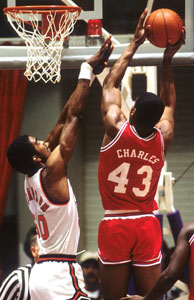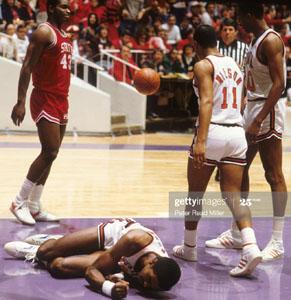 L: Lorenzo Charles shoots over Ralph Sampson.
R: Sampson floored.
Our defense was no surprise to
Virginia
.
Terry
knew me well enough to know that my teams tried to stop the opposition's best players. He had to know I was going to guard
Sampson
and
Wilson
. Because if
Wilson
had beat us, I would have screamed into the night about what I should have done to keep the ball out of his hands; if
Sampson
had beat us, I would have gone out and put a bullet in my brain. But if some other
Cavalier
got lucky and hit the open shot that we were giving him, I could go home and sleep like a baby.
Bottom line, this was one of those times when everything a coach planned came out the way he planned it. On that occasion it was as if God was paying me back for 20 years of losing at
Syracuse
by 57, of watching the
Iona
last-ditch chances fall away. All of a sudden all those stored-up atrocities were paid back. Because what happened in Ogden was that
Tim Mullen
of
Virginia
, who hadn't scored all night, who
hadn't even taken one shot
all night, got the open 18-footer - and missed it. After the ball bounced off the rim,
Wilson
got the rebound. But his attempt got nothing but air and fell short; I'm not sure if
Othell
was trying a lop pass to
Ralph
or a shot, but it didn't matter. ...
The arena at Ogden was circular; long into the night after the game, I remember simply waking around it. Around and around. Had it finally happened? Yes, we were going to the Final Four! ...
We finally came home to Raleigh because we ran out of underwear, but our pre-Final Four practices were ridiculous. I opened them up to the public, so we had about four to five thousand pepole there every afternoon. We got nothing done. People would just stand and cheer for every little move we made. Actually, I would have preferred for the season to have ended right there. We wouldn't play any more games; we'd just continue practicing and have the multitude come and cheer us. We'd sign autographs and pose for pictures and that would be it.
To be continued ...