The reason I was so confident going into the season of 1982-83 had nothing to do with how good I thought our team might be on the court, but it had everything to do with what had happened off it. I loved our personnel: I figured
Sidney Lowe
and
Dereck Whittenburg
would be one of the best guard combinations in the country. We also had a little mad bomber in
Terry Gannon
and a very talented freshman scorer in
Ernie Myers
. That backcourt would be simply terrific. Up front,
Thurl Bailey
was just coming into his own as a senior; he was a late developer who would go on to have an illustrious career at
Utah
in the NBA. This was our nucleus of veterans. But we also had two younger players, "
Co
and
Lo
" (
Cozell Mc­Queen
and
Lorenzo Charles
), something we really had been missing in the past two years: a center who could neutralize the middle and a crunching power forward to muscle the boards. ...
That previous spring, we (ACC coaches) voted to recommend to our athletic directors that the ACC institute the three-point shot and the 30-second clock. This came about after some long and, shall we say, vociferous infighting among those present. ...
I felt that the clock and the three-pointer would be good for game, but by the same token I had a team that was not suited for an up-tempo contest. In addition, we were one of the biggest culprits in stall ball. I had to do what was best for my ball club. I had a hard time explaining my contradictory thoughts on the subject. I did know this: If I went through another year of coaching like the last one, I would blow my brains out.
Ours had become a game of coaches, not players. We had taken a beautiful, action-packed thing and made it into a chess match. It took about as long as a game of chess, and about as many points were scored. It was ridiculous and horrible. The players all wanted to play, not hang back. The fans wanted it; everybody wanted it. ...
Twelve other conferences would legislate new rules over the summer; we were the catalyst for the whole country. And we wanted to make a bold statement - even though we'd have to adjust back to the old rules during the NCAA tournament, and we knew that might hurt our teams. We ended up with the shortest (shot) clock and the shortest (three-point) distance. The game in the ACC was the most fun in all of college. And a blast for
North Carolina State
.
The changes helped us win the national championship, to be precise.
I kept thinking about how the '82-'83
Wolfpack
could combine the best of our first two years in Raleigh. My first season we ran well, but we didn't have a good halfcourt offense. The second year we played excellent defense ... But we didn't run at all. That's when I first put together my plan for two different styles of ball on the same team. With a three-guard lineup, we could press and run. I also had the personnel for a power lineup that could be deliberate and pound it inside. ...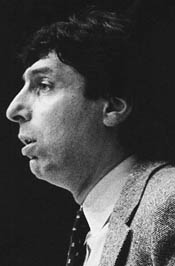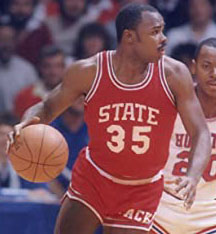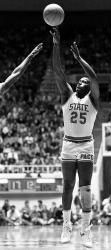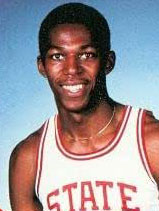 L-R: Jim Valvano, Sidney Lowe, Dereck Whittenburg, Thurl Bailey
The first big game for us was
Michigan State
at home. I knew the
Spartans
would spread the court and slow the tempo. Our new rules only applied to league games, unless the oppo­nent agreed to them.
Jud Heathcote
, the
Michigan State
coach, didn't. So it was a game like the year before, and they had three future pros,
Sam Vincent
,
Kevin Willis
, and
Scott Skiles
, playing it.
It turned out to be a heck of a game with a great ending. We were ahead by two points with 17 seconds left, when
Michigan State
called time-out with the ball.
Vincent
had been killing us all night, so we decided to go with a 1-3 zone and a chaser. But who would chase
Sam
?
We had a guy named
Harold Thompson
who had earned his scholarship every year by winning a game for us defensively. He was the obvious choice, but
Harold
had only played a few seconds in the game. What happened if they shot early, missed, then fouled
Harold
? What if he missed and they got another chance? What if? What if? Our entire defense would be based on
Harold
's ability to stop
Vincent
. This was risky, which is what bench coaching is all about. If it works, you're smart. If it doesn't, you're a bum.
What happened?
Harold
stole the in-bounds pass,
Thurl
hit a couple of foul shots, we won 45-41 and I avoided being a bum for another day. ...
We played a series of games under both the new and the old rules: winning against
Clemson
76-70 under the new, losing to
Missouri
under the old; and losing to
Ralph Sampson
and the
Cavs
88-80 in a heartbreaking game in which
Dereck Whittenburg
broke his foot.
Starting with
Georgia Tech
in Raleigh (whom we blew away) and ending with
Duke
in Dur­ham (whom we also blew away), there was a 14-game stretch which I have always referred to as our season-within-a-season. Obviously, we had to start all over. What style do we play? What kind of defense? What's the rotation on substitutions? We thought
Whittenburg
was gone for the season, when in actuality he did return after those 14 games. But it was a dif­ferent team he returned to, a better team, a team that had found itself, a team that would go on to win the national championship. And that season-within-a-season was the foundation.
I still think it's the best coaching job our staff ever did. We started out 2-4, then won seven of our next eight games. Had it not been for a one-point loss to
Notre Dame
, we'd have nailed all eight. And the unsung hero was
Ernie Myers
.
Ernie
started off by scoring 27 points against
Georgia Tech
. That was great. But the edu­cation of our new team started in a beating by
North Carolina
. Before the game, I showed
Ernie
the backdoor play
Carolina
likes to run. I told the staff he'd get beat the first time they tried it, and sure enough,
Michael Jordan
whipped by him right away.
Ernie
looked over at me on the bench and just shook his head.
That was all right. Even the 18-point licking was all right. What I couldn't stand was that for the first time, I felt the team didn't believe me. They didn't believe we could get the job done without
Whitt
. I ripped into them in the locker room. "If you guys don't believe, if any of you can't have the same dream I do, then get the hell out of here because I don't want you around. If it's three or five or whatever, we'll go on without you. We lost a player, but that's over with. I didn't promise it would be easy. It's a long, hard struggle. But we will get this thing done with or without you."