It took over fifty years, but Oscar Robertson's jersey at Crispus Attucks High School in Indianapolis was finally retired in February 2009. The ceremony was long overdue considering that the team Robertson played on in 1954-55 became the first all-black team to win a state championship in the U.S.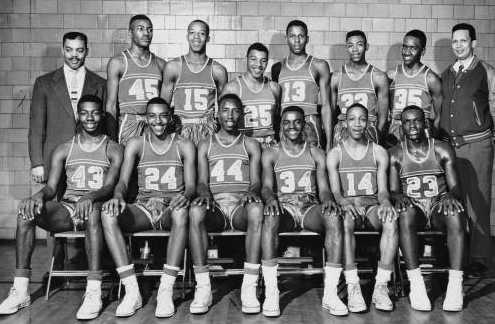 Crispus Attucks 1955 Indiana State Champs; #43 is Oscar Robertson.
Coach Ray Crowe stands behind Oscar.
Crispus Attucks High School has an interesting history.
The school was opened in 1927 exclusively for black students even though Indianapolis already had a mixed race school system. However, the three high schools in the city were hardly fully integrated. Athletics and extra-curriculars were largely segregated, and some classrooms even had segregated seating. As a result, a segment of the black community pushed for a new school exclusively for blacks. However, other black leaders opposed the step back to segregation.
One of the white residents who pushed the high school was D. C. Stephenson, the Ku Klux Klan grand dragon. When a lawsuit to stop the school failed, construction went forward. The original name chosen was Thomas Jefferson High School. However, a petition drive resulted in the school being christened after the first black man killed in the Revolutionary War.
After opening in 1927 with 1,300 students in a facility built for 1,000, Attucks fought an uphill battle to gain acceptance in the Indiana High School Athletic Association.
The IHSAA refused Attucks membership on the grounds that, since the school had no white students, it was not a public school.
It was not until 1933 that member schools were even allowed to play against Attucks.
Finally, in 1942, CAHS gained membership in the IHSAA.
Attucks attracted an outstanding faculty of black teachers who today would be university professors but rarely found openings at the higher level in those days.
Because its gym was so small, Attucks became a high school version of the Harlem Globetrotters, playing all their games on the road.
Since many of the all-white Indianapolis schools refused to play CAHS, most of its games were played in small towns outside the city where the gyms were packed to see the up-tempo, athletic brand of basketball the visitors played.
The team often could not find a place to eat in many towns.
From 1950-57, the Crispus Attucks Tigers compiled an incredible record.
CAHS won six regional championships, four semi-state championships, and consecutive state titles in 1955 and 1956.
The record during that span was 179-20, including a record 45 games in a row.
The 1956 team went undefeated.
The coach who started this remarkable string in 1950, Ray Crowe, predated another Indiana legend, Bobby Knight, in insisting on discipline on and off the court. To play, you had to maintain your grades, never miss school, and avoid smoking and drinking.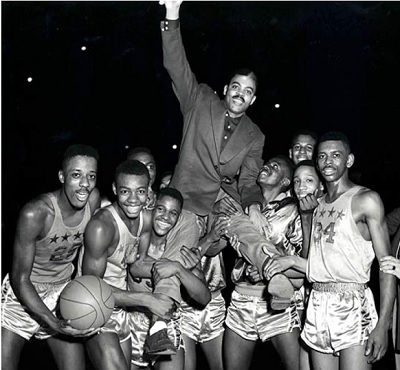 Crispus Attucks celebrates its regional title in 1954.
Before each game, Crowe reminded his team that they were playing seven opponents, the other team plus the officials. His motto was to score the first 10 points for the officials, then concentrate on the opponent. Nevertheless, there were incidents of blatant bias.
In the final minute of a tied 1953 playoff game against Shelbyville, future Globetrotter Hallie Bryant drove to the basket only to have an opponent player knock him down to save the game.
Officials called charging, and the FTs gave Shelbyville a 46-44 win.
The call was so blatantly wrong that five Indianapolis News writers signed an editorial in protest.
However, the Indiana Officials Association supported the call just before voting 40-7 against admitting a black official into the organization.
In 1954, Crowe's team lost to Milan in the state tournament.
Don't recognize the name

Milan

? That's the school whose team was the genesis of the 1986 movie Hoosiers.
Bobby Plump, whose last-second shot gave

Milan

the 1954 state championship, recalled, As we walked from our hotel to get something to eat at a restaurant, cards would stop and yell at us, "Beat those n------s out of here. It's hard to talk to people today about how much prejudice there was then.
Finally, in 1955, the Tigers won the championship, finishing 30-1.
They defeated New Albany in the semifinals.
Indiana tradition called for the losing team's cheerleaders to join the winners' for the final game. The two squads united to form an integrated unit for the first time in state history.
Robertson's 30 points led Attucks to an easy 97-74 win over another black school, Roosevelt of Gary.
The victory helped break down racial barriers in Indianapolis.
The team was invited to dine at a downtown restaurant, the first time Robertson and some of his teammates had ever eaten in a sit-down restaurant.
Schools that previously had snubbed Attucks now begged them to play in their gym so they could lure a big crowd.
And schools that had not admitted blacks now started recruiting them.
However, Crowe never won the Coach of the Year award in the state, a phenomenon Robertson calls "a complete travesty."
The first white student attended CAHS in 1971.
Because of declining enrollment, Attucks became a junior high in 1986.
Twenty years later, it was converted into a medical magnet school for grades 6-12.
When it resumed its basketball program, school officials approached Robertson about retiring his number. However, Oscar refused to cooperate unless the eight former Tigers who made the Indiana Basketball Hall of Fame were also honored.
The ceremony finally took place at a CAHS game at Conseco Fieldhouse.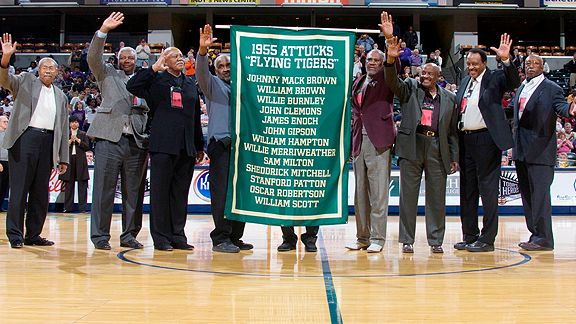 Ceremony Honoring Oscar Robertson and Other Indiana High School Legends
Chris May, director of the Indiana Basketball Hall of Fame, which includes the '55 and '56 Attucks teams as inductees, said in 2016, Attucks stands out, arguably, as the best team ever in Indiana, especially with what they had to go through. Their success changed things in [Indianapolis] and went well beyond the realm of high school sports.

Bill Hampton, a guard on the '55 Attucks champions, recalled: There wasn't equality in the 1950s like there is now. You learned to deal with - to take everything with a grain of salt. If we used color for everything that was said against us, we couldn't have played basketball.