Julius Erving - I
Wayne Embry
, a twelve-year NBA center, recalled his first meeting with
Julius Erving
.
It happened at a summer basketball camp in upstate New York where Embry worked.
One afternoon, Wayne wanted to shoot some, then run a few miles. A coach at the camp asked him if he wanted some competition. Thinking there was no one in the camp that could compete with an NBA player, Embry deferred.
But the coach kept pressing. I have this kid here, and he'd really love to play you.
Is he a college player?
No, he's just out of high school.
Nah, I don't think so.
The coach persisted and Embry gave in. So the coach brought out a skinny 6'5" kid who introduced himself as Julius Erving, which meant nothing to Embry. Thinking he'd give the kid a break, Wayne promised he would take all his shots outside the foul line.
Wayne recalled: Those were the rules. I had to shoot outside and the kid could do whatever he wanted, which is exactly what he did to me - whatever he wanted. He was absolutely phenomenal. I kept looking at him and couldn't believe he was a high school kid. His hands weren't just big, they were enormous.
We played another game, same rules, and I got my butt kicked again. For the third game, I said, I'm going inside. I was going to muscle this skinny kid, but I couldn't catch him. He drove around me, he dunked over me. So that was it. I was an NBA center and I had lost to a high school kid. Later that day, Johnny Green wanted to play me. Johnny was also working the camp and he was a very good player for the

Cincinnati Royals

. By this time, Julius had worn me out and I told Johnny that I was tired. Then I said, "Johnny, I got somebody for you."
Erving kicked Jumping Johnny Green's butt too.
Raised in Nassau County on Long Island, NY, Erving began attracting attention in the Rucker Park league in Harlem.
People called him "Black Moses" and "Houdini." But Julius preferred "Doctor," a name that a high school friend of his had given him. Soon the nickname evolved into "Dr. Julius."
Coming out of high school, he didn't gain the notice of many colleges. So he signed with the University of Massachusetts.
After sitting out his freshman year as required by NCAA rules at that time, he led the varsity Redmen (as they were called then) to an 18-6 record and a berth in the 1970 NIT (the same tournament that Pete Maravich played in). Erving finished with 18 in the opening round game against Marquette, which prevailed 62-55.
In his junior season, Julius was the second leading rebounder in the nation, and UMass repeated as Yankee Conference scoring champion.
With a 23-3 record, the Redmen again made the NIT, but this time fell to North Carolina 90-49 in a game in which Erving was tagged with four fouls before halftime and got the fifth with 16 minutes left in the game. He scored just 13 points with nine rebounds.
Despite the two post-season appearances, few basketball writers and fans outside of New England knew about Dr. Julius.
He still holds numerous records at UMass:
Most points in a half - 29
Most points in a game by a sophomore - 37, which he did three times
Most points in a season: 727 (1970-71)
Single season points per game: 26.9 (1970-71)
Games of 20 or more points in a season: 23 - in both 1969-70 and 1970-71
Consecutive 20-point games: 18 (1969-70)
Average points per game for a career: 26.3
Consecutive games in double figures: 52
Most free throws made in a game: 19
Most rebounds in a game: 32
Most rebounds in a season: 527
Rebounding average for a season: 20.9 (1969-70)
Double-figure rebounding games in a season and career: 26 and 51
Career rebounding average: 20.2
Consecutive double-figure rebounding games: 51
After talking to agent Steve Arnold, Erving decided after three years of college that he was ready to try pro ball.
His announcement a week after the NIT game against UNC didn't attract much attention except in a few front offices of the American Basketball Association. NBA policy prevented teams from drafting players until four years after they left high school. However, the ABA had no such rule.
Julius Erving may not have been a household name across the basketball landscape, but many pro scouts knew how good a player he was. One was quoted as saying that Erving was "the best junior in the United States." Another branded him "one of the three best forwards in the nation." All this despite the fact that college rules prohibited dunking the ball, which took away what would prove to be Julius's main claim to fame.
One person who knew of Erving's ability was Earl Foreman, the owner of the Virginia Squires of the ABA. After Arnold praised his client to him, Earl contacted a coach he trusted in Maine. The coach told him, Forget Cousy, forget everybody. Julius Erving is the greatest basketball player ever to come out of New England.
The Virginia GM, former NBA player Johnny Kerr, was also impressed by Julius. Even at 20 years old, he was calm, mature and totally in control. He said his mother had some health problems and it was his turn to help support the family. ... It was his hands that I'll never forget. I never saw such long fingers. They were the fingers of a pianist or a surgeon.
Erving recalled: I felt I had accomplished all I could in college ball and I was ready to turn pro. Virginia was interested in me and I was interested in talking to them ...
The result was the Squires signed their first undergraduate player April 5, 1971. In announcing the deal, Foreman tried to fend off criticism for luring a young man away from college. We are as anxious as anyone to see the young man finish college. He is an intelligent young gentleman who wanted to play professional basketball. We did not influence him to sign, but we are pleased he selected the Squires. Erving's contract included a clause that assured him a bonus when he received his degree (which he eventually obtained).
The contract called for $500,000 for four years. Each year, Erving received $75,000 in cash with about $50,000 deferred and paid out over seven years.
The Doctor energized the ABA and helped keep it afloat financially.
Virginia coach Al Bianchi admitted he didn't really know what he had in Erving. He told reporters that Julius could rebound and had big hands. Bianchi called his old college coach, Tex Winter, who told him, That kid is really talented, but it's raw talent. Not a great shooter, not a real good ballhandler. But he is very explosive to the basket. He could end up being very good down the line.
Julius impressed his teammates and coaches during the first scrimmage of preseason camp. Kerr: ... a shot banged against the back of the rim and went straight up. It was one of those rebounds where it seems that all five players were jumping for it. Out of the middle of the pack came Julius ... up ... up ... up. He cupped the rebound with one hand and then slammed it through the rim, all in one motion. The gym went silent. All the players just stopped for a few seconds. This was a tryout camp and I had just watched one of the best plays I had ever seen in my life. ... It wasn't long after that when I told some of the writers who covered the Squires, "You guys are going to think I'm crazy, but one day Julius Erving will be going into the Hall of Fame."
In the first exhibition game, Erving did the unthinkable. He dunked on C Artis Gilmore of Kentucky. Colonels' coach Joe Mullaney described the play: He went right over 7-foot-2 Artis Gilmore and dunked on him. On another play, Julius drove the baseline, Artis came over for the block and Julius just floated past him in the air, under the basket, and then made a reverse layup.
The rookie proved Winter a prophet by leading the league in offensive rebounds but also in turnovers. He averaged 27.3 ppg and 15.7 rpg and made the ABA All-Star team.
Bianchi: When I coached, I hever had a bench that was more attentive than when Doc played for me, because the guys wanted to watch the game to see what he would do next.
Virginia swept The Floridians in the first round of the playoffs before losing to the New York Nets in the Eastern Division Finals. Five of the seven finals contests drew more than 10,000 fans.
Erving scored at a higher clip in the playoffs than in the regular season - 33.3 for eleven games.
Erving did even better his second season.
He averaged 32 points, 12 rebounds, and 50% shooting. Dr. J was a drawing card throughout the league. Fans came early to watch warmups.
Teammate George Irvine: One time in warm-ups, Julius was doing his thing where he'd throw the ball off the backboard, grab it with one hand and dunk back over his head. It was a totally new dunk for him or anyone else. I said, "Doc, where did you come up with that one?" He said, "Last night, I had a dream and I saw myself do it. I never tried it until today." I thought, "Man, this guy even dreams about dunking." In the layup lines, no one wanted to go behind Doc. He'd do one of his indescribable dunks then I'd come along and do a little wimpy jam and the fans would get on me. After that happened once, I always made sure that I dunked in front of Julius.
The Squires made the playoffs again but lost to the Colonels in five games in the opening round.
Before the 1973-74 season, Erving becomes embroiled in a contract controvesy involving both rival leagues, the ABA and NBA.
Reference:
Loose Balls: The Short, Wild Life of the American Basketball Association as Told by the Players, Coaches, and Movers and Shakers Who Made It Happen
,
Terry Pluto
(1990)
To be continued ...

Return to Golden Rankings home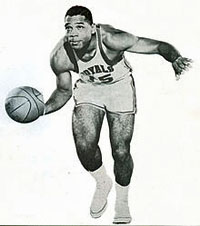 Wayne Embry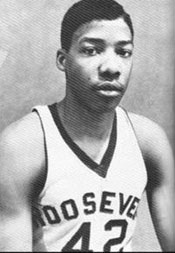 Julius Erving, Roosevelt HS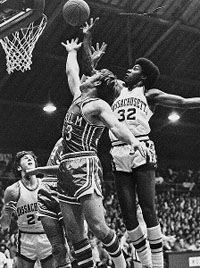 Julius Erving in college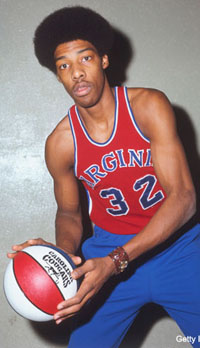 Erving with Squires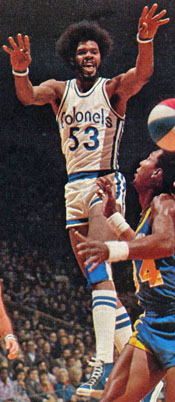 Artis Gilmore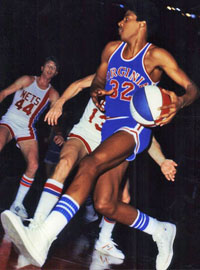 Erving with the ABA's red, white, and blue ball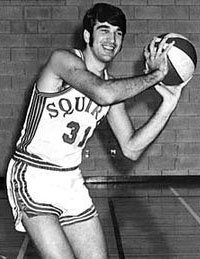 George Irvine