The episodes that mark
Stan Musial
's performance in the 1940s have filled many pages in many books. He wasn't just the player of the decade for the
Cardinals
, he was the player of the decade in the National League, and arguably in all of baseball.
How he got to be that player was somewhat remarkable.
Musial
was a hard-throwing lefthanded pitcher growing up in Donora, Pa., so gifted that at 14, he was recruited to play for the semipro
Donora Zincs
. Standing all of 5-foot-4 and 140 pounds,
Musial
struck out 13 adult batters in his six-inning debut.
No question,
Musial
could throw hard. He just couldn't be certain where the ball was going.
Michael Duda
, who coached
Musial
in his only season of high school baseball at
Donora High
, recalled the quandary.
"The problem with him as a schoolboy pitcher was we couldn't find anyone who could catch him,"
Duda
said. "He might strike out 18 men, but half of them would get to first on dropped third strikes."
The good news:
Musial
had a knack for hitting, too. During that same season at
Donora High
, he batted. 455 and led the school to the Mon Valley High School championship. Passing up a possible scholarship to play basketball at the
University of Pittsburgh
,
Musial
signed a Class D contract with the
Cardinals
before the 1938 season.
In his organizational report on
Musial
, scout
Andrew French
wrote: "ARM? ... Good. FIELDING? ... Good. SPEED? ... Fast. Good curve ball. Green Kid. PROSPECT NOW? ... No. PROSPECT LATER? ... Yes."
But
Musial
's transition from suspect to prospect - to Hall of Fame - would include a dramatic change of direction, a shift that blossomed in the 1940s, and began by fate.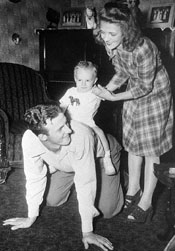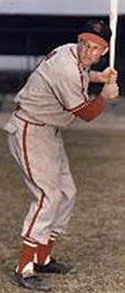 L-R: Young Stan Musial at Rochester; Stan and Lillian with their son Dick;
One of the most iconic stances in baseball history.
Musial
was still considered a pitcher by trade in 1940, and seemed to be progressing in Class D
Daytona Beach
. Manager
Dickie Kerr
was employing
Musial
as an outfielder on days he wasn't pitching, an approach that was working well as
Musial
won 18 games and batted over .300. But in August,
Musial
was playing in the outfield and hurt his left shoulder diving for a ball.
It was a bad break, probably the best bad break in the history of the franchise. His career as a pitcher would soon be over, and he was not disappointed. "More and more, I wanted to be a hitter,"
Musial
said years later.
The die, which would be underlined by 3,630 career hits, was cast. During the same season in which
Joe DiMaggio
hit safely in 56 consecutive games and
Ted Williams
batted .406,
Stan Musial
the hitter was born. In 1941, a 20-year-old
Musial
batted .379 at Class C
Springfield
, .326 at Class AA
Rochester
, and finally .426 in 12 late-season games in St. Louis.
During that September promotion, the
Cardinals
played a doubleheader with the
Chicago Cubs
in which
Musial
played left field in the first game and right field in the nightcap. In the first game, he made two diving catches, threw out a runner at the plate and collected four hits. In the nightcap, he stroked two more hits and made two more notable catches. Afterward,
Chicago
manager
Jimmie Wilson
offered, "Nobody can be that good.
Nobody
."
But
Musial
was just getting started.
Over the rest of the decade,
Musial
became the first player in baseball history to win three MVP awards and assumed his place as the National League's dominant gene. He won three batting titles and led the
Cardinals
to four World Series appearances (1942, '43, '44 and '46) in five years. In fact, the only year the club missed a pennant during that stretch - second-place in 1945 -
Musial
missed the season serving in the Navy.
From 1942 through '49, baseball's "perfect warrior" batted .346 with a .427 on-base percentage and .578 slugging average. He averaged 21 homers, 43 doubles, 100 RBIs and led the league in triples four times, and in doubles and hits five times.
"You could scout
Musial
by the sound of the ball hitting the bat," former teammate
Joe Garagiola
said. "You didn't even have to watch him."
You didn't have to watch him, no. But you couldn't help but watch him. While
DiMaggio
dated Hollywood starlets and
Williams
fought battles with the press,
Musial
was to baseball what
Andy
was to Mayberry. He married his high school sweetheart, signed countless autographs and represented wholesome values of his Midwestern surroundings.
"I remember one spring training I caught him entering the hotel lobby at 7 a.m.," recalled
Kerr
. "I thought he'd been out all night roaming the town. When I asked him about it, he said, 'No, sir. I'm coming back from morning Mass.'"
Bouts with appendicitis and tonsillitis pulled
Musial
down in 1947, as he "slumped" to a .312 average. He was determined to bounce back in 1948 and changed his batting approach to hit for more power. The result was one of the greatest seasons ever registered by a big-league player.
His .376 average won the batting title by 43 points. His .702 slugging average topped the category by 138 points. His 131 RBIs led the league, too, while his home run total (39) fell on shy of
Ralph Kiner
's and
Johnny Mize
's 40, denying
Musial
the Triple Crown. It was the only meaningful offensive category in which
Musial
did not rank first.
Perhaps one game in '48 best underscores the zone in which
Musial
was operating. The
Cardinals
were clinging to their pennant hopes when they faced the first-place
Boston Braves
on Sept. 22 and
Stan
was dealing with two swollen wrists. Carefully picking his spots, he took only five swings that game. And he went 5-for-5 with a home run, double and two RBIs. It was his fourth five-hit game of the season, tying a record set by
Ty Cobb
26 years earlier.
The
Cardinals
didn't catch the
Braves
that season (not for lack of effort by
Musial
, who hit .443 against them in 22 games), and they finished one game behind the
Brooklyn Dodgers
in 1949. A remarkable decade in
Cardinals
baseball had come to an end, but the legend of "
Stan the Man
" was just beginning.