Vexatious Veecks - I
Bill Veeck: Baseball's Greatest Maverick, Paul Dickson (2012)
Shortly after persuading recalcitrant NL and AL owners to support the playing of the first All-Star Game in 1933, Bill Veeck Sr., General Manager of the Chicago Cubs, proposed another radical idea.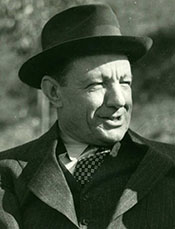 Veeck
senior was in New York City on August 22 (1933) for the
Cubs
-
Giants
game, but it was rained out. Gotham scribes were "looking for a rainy day story," which
Veeck
gave them. With an eye to
Cubs
attendance, which had shrunk by about 400,000 dur­ing the season, he proposed a series of mid-season games between American and National league teams as a means of stimulating interest in the game. He maintained that the game was in "critical condition" and that aggressive action had to be taken to revive interest before the 1934 season. "There is no use kid­ding ourselves any longer,"
Veeck
told
Alan Gould
of the Associated Press. "Only one big league club of 16 made money last year." He pointed out that anyone who looked at the attendance figures from July 5 until the middle of August saw that the game was in the doldrums.
Calling these weeks the game's "dog days,"
Veeck
urged their monotony be broken with interleague games that counted in the standings.
Veeck
's plan was quite specific: thirty-two interleague games for each club, with four against each team of other league - two home and two away.
Gould
's story appeared in every major city. The reaction to what the
Chicago Daily News
called a "radical prescription" was immediate.
Cleveland Indians
president
Alva Bradley
and
Brooklyn Dodgers
president
Stephen W. McKeever
had declared themselves definitely in favor of the idea, and the
Cardinals
'
Sam Brea­don
and the
Pirates
'
William Benswanger
felt it was worth considering.
Soon though, the "
Veeck
Plan," as it was known, was attracting serious American League opposition. Opined
Clark Griffith
, the gray-haired president of the
Wash­ington Senators
, "Nobody thinks of that sort of stuff unless he's deaf, dumb, and blind."
Col. Jacob Ruppert
, the owner of the
Yankees
, dismissed the notion, saying he had not given it "a single thought." The American League believed itself the superior circuit and did not want to share the box office draw of
Ruth
,
Gehrig
, and others.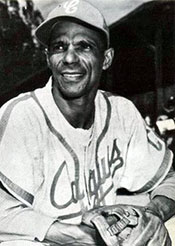 The day after
Veeck
's interview with
Alan Gould
was published, a letter dated August 23, 1933, was sent to
Veeck
's office from
Syd Pollock
, owner of the
Cuban Stars
, a semipro team playing in the Negro leagues. Addressing
Veeck
's statement that only one major-league club was profitable,
Pollock
urged that the ban on Negro teams be lifted, which would boost gate revenue throughout baseball. He proposed "pla­cing an entire Colored club to represent a city like Cincinnati in the National League and Boston in the American League." ...
Pollock
based his argument on having sent his
Cu­ban Stars
to play in thirty-two states during the previous season, in the process beating every white minor-league team they faced. He wrote about one of his stars,
Tetelo Vargas
, who he predicted would steal more bases during the season than any two cur­rent major-league players combined.
Vargas
had also hit seven consecutive home runs in two days against top semipro competition in 1931, but this feat was entirely ignored by the white press. "With a colored club in either or both circuits, these feats, common among colored ballplayers, would not go unnoticed and bring greater interest in baseball, with the necessary publicity to go with it."
To bolster his argument,
Pollock
quoted
Babe Ruth
's comment that "the colorful­ness of Negroes in baseball and their sparkling brilliancy on the field would have a tendency to increase attendance at games," [and]
Pirates
coach
Honus Wagner
's assertion that "the good colored clubs played just as good as seen anywhere" ...
The letter ended with the assurance that
Pollock
was in a position to assemble such a team or teams for the 1934 season. ...
Pollock
sent a copy of the letter to the local
North Tarrytown Daily News
, which published it the day after it was mailed to Veeck. In due course, it was picked up by the
Chicago Defender
,
Pittsburgh Courier
,
Amsterdam News
, and other Negro newspapers.
Whether
Veeck
had any thoughts of acting on the idea of a black team or teams in the majors is unknown. No surviving record exists of a response by
Veeck
to
Pollock
, which is most likely explained by the fact that
Veeck
was suffering the early stages of the illness [leukemia] that would take his life.