Composite Pre-Season Rankings
Here is the summary of eight preseason rankings, with the order determined by the average rank across all the magazines and polls.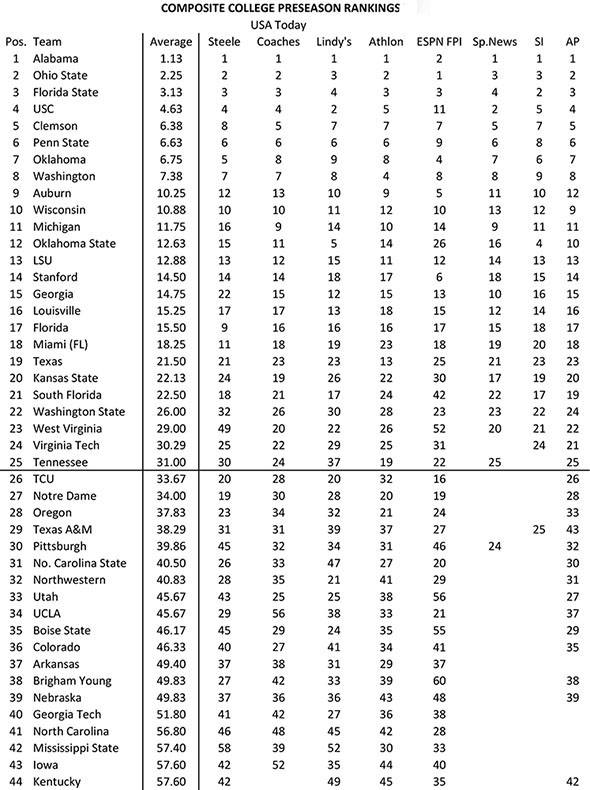 It's amazing how much the various magazines and polls agree on the top teams.
Alabama, Ohio State, and Florida State are in the top four in every column.
The composite #4, USC, however, is ranked as low as #11 in one poll but still has a nearly two-point advantage over #5 Clemson.
LSU's rankings don't vary much, between 11 and 15 in every column. Compare that with Auburn, which has a high of 5th and a low of 13th.
If you're wondering how accurate the composite preseason rankings might be, here's last year's Top Ten.

| | |
| --- | --- |
| 1. Alabama - 1.63 | 6. Ohio State - 6.88 |
| 2. Clemson - 2.88 | 7. Michigan - 7.88 |
| 3. Florida State - 3.75 | 8. Tennessee - 8.25 |
| 4. Oklahoma - 3.88 | 9. Stanford - 10.63 |
| 5. LSU - 6.38 | 10. Ole Miss - 11.13 |

The top two are in agreement with the CFP Committee's ranking of the teams at the end of the regular season although Clemson won the championship.
#6 Ohio State finished 3rd in the CFP rankings.
The 4th playoff participation, Washington, had a composite ranking of 12.
The other three SEC teams in 2016's composite top ten were disappointments. After #5 LSU lost two of its first four games, Les Miles lost his job.

2017 College Football Preview: Lindy's Sports
All text below that is not in parentheses is from the magazine.
Lindy's Top Ten
Alabama
USC
Ohio State
Florida State
Oklahoma State
Penn State
Clemson
Washington
Oklahoma
Auburn
2017 College Football Playoff Predictions
Sugar Bowl:

Alabama

vs

Florida State

Rose Bowl: Ohio State vs USC
LSU is ranked #15.
Five Coaches on the Hot Seat
Brian Kelly, Notre Dame
He changed both coordinators in the offseason; the next move for AD Jack Swarbrick is obvious - if Kelly doesn't win.
Jim Mora, UCLA
Six consecutive Top 20 recruiting classes don't get you what it used to in Westwood.
Kevin Sumlin, Texas A&M
He's 44-21 in five season, which ain't half bad. But there's death, teaxes, and an A&M fade in November.
(tie) Todd Graham, Arizona State; Rich Rodriguez, Arizona
Graham, the defensive whiz, can't stop a summer breeze. Rodriguez, the zone-read master, still searching for star-level QB.
Hugh Freeze, Ole Miss
Fired since the magazine hit the newsstands.
Lindy's Top Five New Coaching Hires
Minnesota - P.J. Fleck
Only 36, Fleck brings irrepressible energy to the program, and he owns the trademark "Row the Boat." He's an all-out attitude buy who should instill a positive culture at a place that needs it and will fight tooth-and-nail on the recruiting trail. Only question: Will Minnesota be able to keep him around long-term?

Purdue

- Jeff Brohm
What Brohm did in three years at Western Kentucky was just plain magical ... It's a heck of a jump, though, from WKU to

Purdue

... actually, check that. It really isn't. Brohm probably has taken a slight step down in terms of the quality of his players, though the step up in competition is severe. But this hire makes all kind of sense. Brohm should be the

Boilermakers

' best coach since Joe Tiller.
Texas - Tom Herman
Is it too much to call this a grand-slam hire? At the least, it's probably premature. Yet there are so many reasons this should work out well. Herman has strong in-state recruiting ties, not only from his brief time as head coach at Houston, but also from prevous bounce-arounds as a young assistant. His offensive style meshes nicely with the way high school ball is played in much of the state. The Longhorns return starters galore, so there's every chance to hit the ground running.
South Florida - Charlie Strong
Breaking news: Strong and Texas weren't the greatest fit. But if anyone deserves a do-over, let's agree that it's Strong, who not long ago was universally regarded as one hell of a head coach. The Bulls are loaded with experience, and Strong won't let things drop off. This could be the start - make that the re-start - of something terrific for a guy who undoubtedly will feel more comfortable in Tampa than he did in Austin.
Western Kentucky - Mike Sanford Jr.
First of all, give credit to WKU for its previous hires of Willie Taggart, Bobby Petrino and Brohm. And in that vein the Sanford hire just kind of feels right. He has no head coaching track record, but at 35, he has worked at Stanford, Boise State and Notre Dame ...
5 New Coordinators in Key Positions
Brian Daboll, OC,

Alabama


Saban's sixth OC in 11 years suggests instability. But every one of his predecessors seemed to have thrived because of Nick, himself, or both.
Jim Leavitt, DC, Oregon
The founding father of South Florida football may not get back to being a head coach. But Leavitt's defensive chops are beyond doubt. After helping resuscitate

Colorado

's D en route to the South Division title, Leavitt needs to give some mouth-to-mouth to some ailing Ducks.
Kevin Wilson, OC, Ohio State
Scandal at Indiana allowed Wilson to fall into Urban Meyer's lap. J.T. Barrett is lucky to have this send-off. He will become a better QB because of Wilson.
Chip Long, OC, Notre Dame
Something has to give. Until Deshone Kizer, Brian Kelly had never had a QB stick in the NFL. (That still might not happen.)
Matt Canada, OC, LSU
It's a revolving door at LSU. Until the

Tigers

recruit a difference-making QB, not much is going to change.
Five Underachieving Programs
Texas
UCLA
North Carolina
Texas A&M
Arizona State
LSU Players on Lindy's Preseason All-America Team
First team offense – RB Derrius Guice (#2 RB)
First team defense – LB Arden Key (#1 OLB)
Other Tigers ranked in the Top Ten at their position:
Will Clapp #4 center
Donte Jackson #8 CB
LSU Players in the top five seniors at their position on the NFL draft board
D. J. Chark - #3 WR
Christian LaCouture - #4 DT
SEC PICKS
SEC WEST
SEC EAST

Alabama

Auburn

LSU

Arkansas

Texas A&M

Mississippi State

Ole Miss

Georgia

Florida

Tennessee
South Carolina

Kentucky

Vanderbilt

Missouri
LSU players on Lindy's All-SEC Teams:
1st team offense
RB Derrius Guice, C Will Clapp
1st team defense
LB Arden Key
2nd team offense
OL K. J. Malone
2nd team defense
DB Donte Jackson
3rd team defense
DB Kevin Toliver
Excerpts from full page write-up on LSU
PRIMARY STRENGTHS
Athleticism abounds, as it has for the Tigers in past years. Highly acclaimed Guice leads a stable of RBs who were the focal point of the past regime. The offensive line has experience, as does QB Danny Etling. The defensive line features five fifth-year players. LSU finished strong in providing evidence of a return to glory.
POTENTIAL PROBLEMS
A second-year coordinator must figure out how to cope with lack of defensive depth, particularly amongthe LBs. The preferred offensive style of play remains uncertain under a first-year coordinator. There will be retooling and new ideas on both sides of the ball. How LSU adapts to change could well determine its fate.
OVERVIEW
The Tigers certainly won't lack for aggression under the emotionally charged Orgeron. That bodes well for a speedy yet stout defense that must avoid injuries that could hamper its production. The offense promises to display much-needed diversity. LSU has the potential to become a national powerhouse again, but must do more than show glimpses of its underlying potential.
(In the text accompanying LSU's #15 ranking)
THE GOOD NEWS: LSU fans crave more creativity from the offense, but there's nothing wrong with handing the ball to Derrius Guice, who does a really nice impersonation of Leonard Fournette. A veteran front leads the way for a defense that's always relentless and always among the nation's best.
THE BAD NEWS: The upside of QB Danny Etling is limited. The annual exodus of defensive stars - such as CB Tre'Davious White and S Jamal Adams - took place right on schedule. You can assume Orgeron is a better head coach that he was at Ole Miss, but let's call that one TBD.
OUR CALL: In four of the past five seasons, LSU finished 14, 14, 16, and 13 in the final AP poll, and was unranked the other season. Can Orgeron's Tigers get back to the high-rent district? Not this fast.
By the Numbers
| | |
| --- | --- |
| 31-9 | Three-year record of Bryan Harsin, Chris Peterson's replacement at Boise State. (Is Bryan destined for a Power Five job next year?) |
| 1998 | Last year UCLA won a conference championship |
| $65M | Value of Saban's new contract at Alabama |
| 181 | Number of Division I football programs whose total athletic budget for the year is less than the value of Saban's contract |
| $950K | Yearly salary of Alabama LB coach Tosh Lupoi, which would make him 47th among FBS head coaches |
| 7 | Consecutive years Alabama has had the #1 recruiting class |
| 0-6 | Auburn's record against Alabama and Georgia the past three years |
Interesting Quotations
(On Les Miles's unemployment) The former LSU coach is sitting this one out, but get him now - he won't be on the market for long.
(SEC coaches were asked to comment on their rivals anonymously)
LSU doesn't have a QB. They can't throw the ball. And No. 5 (Guice) is a helluva player. But any way you cut it, the QB situation has got to be resolved. The QB is average as grits.
Any time

Vanderbilt

beats

Tennessee

, they ought to fire the coach at

Tennessee

. ...

Vanderbilt

should never beat

Tennessee

. There's not an excuse on the planet for that.
It's time Bret Bielema to put up or shut up. It's time to make substantial improvement, or the people in Arkansas will realize they've got the wrong guy. He hasn't done anything significant yet. What's he done that Houston Nutt didn't do in five years?
I think Florida has recruited subpar the last three years and I think it will catch up with them this year. I don't think Jim (McElwain) enjoys recruiting; he won't get his fingernails dirty in recruiting.
For Mississippi State fans, Mullen's done a good job. But nobody (from another school) has bit on him because he's a difficult guy to get along with. But if you're 7-5 at Mississippi State, they ought to be happy because Starkville is a hell-hole. If not for the junior colleges in the state, they wouldn't have a program.
Alabama will miss Lane Kiffin. ... The guy did an unbelievable job at Alabama, probably the best job in the history of college football as an offensive coordinator ... If Lane had called the game vs. Clemson last year, Alabama would have won.
(On Ed Orgeron replacing Les Miles) Everybody loves Coach O, right? He was really good last season - just what the Tigers needed - and he fits like a glove in his home state. Players love him. Recruits love him. Everyone he meets loves him or least wants to be his buddy. So why is there skepticism about his chances to maximize what LSU can be? Orgeron will be 56 when the season starts and still battling the perception that he isn't CEO material. Whatever plays out, it'll be fascinating to watch.
The Big Ten had four teams in the top 10 of last season's final AP poll. The Pac-12 had two in the top four. ... The more Alabama dominates the SEC, the more we have to question just how good the football being played around the rest of that league is.
(On the playoff) It's in Year 4, for those of you scoring at home. So far it's been pretty good, right? Yet we'll see if a non-league champ makes it into the final four, as Ohio State did a season ago. ... Still waiting on one conference to place two teams into the semifinals. Better yet: Maybe we'll get four unbeaten league champs in 2017? It's the dream scenario.
TOP 100 HIGH SCHOOL SENIORS 2017-18 – LSU Verbal Commitments
39. Kelvin Joseph CB Scotlandville Magnet
44. Caden Sterns S Cibolo TX
ESPN's Top 25
Alabama
Florida State
Ohio State
USC
Clemson
Penn State
Oklahoma
Washington
Wisconsin
Oklahoma State
Auburn
LSU
Michigan
Florida
Stanford
Miami
Georgia
Louisville
Kansas State
Texas
South Florida
Virginia Tech
TCU
Washington State
West Virginia
2017 College Football Playoff Predictions
Sugar Bowl:

Alabama

vs USC
Rose Bowl:

Florida State

vs Ohio State
SEC PICKS
SEC WEST
SEC EAST

Alabama

Auburn

LSU

Texas A&M

Ole Miss

Mississippi State

Arkansas

Georgia

Florida

Tennessee
South Carolina

Kentucky

Missouri

Vanderbilt
By the Numbers
31-2

Nick Saban's record vs current SEC head coaches in conference games
QUICK QUIZ: Who are the two coaches who have beaten him?


22.5

Combined sacks for Florida State's top three returning pass rushers in 2016

2

Florida State

's national rankings in sacks in 2016, behind

Alabama

8.4%

LSU

's chance of winning the SEC West according to ESPN's Football Power Index

5-2

Las Vegas odds for

Alabama

winning the National Championship

77%

Oklahoma's chance of winning the Big 12, the largest % among the Power Five conferences

69%

Ohio State's chance of winning the Big Ten
2017 College Football Preview: Athlon Sports
All text below that is not in brackets is from the magazine.
Athlon's Top Ten
Alabama
Ohio State
Florida State
Washington
USC
Penn State
Clemson
Oklahoma
Auburn
Michigan
2017 College Football Playoff Predictions
Sugar Bowl:

Alabama

vs Washington
Rose Bowl: Ohio State vs Florida State
LSU is not ranked in the top 25.
The Tigers are projected to go 9-3 (5-3 SEC) and meet USC in the Fiesta Bowl.
Athlon asked each of its editors to answer some questions.
Which coach is under the most pressure in 2017?
Mitch Light
Kliff Kingsbury at

Texas Tech

. He's one of the most popular players in school history, but the results just haven't been good enough in four seasons. He's under .500 overall and 10 games under .500 in Big 12 games. The offense, as expected, has been very good, but the defense continues to be atrocious. Kingsbury will have to get to a bowl game at a minimum to save his job.
Steven Lassen
Jim Mora at UCLA. With USC emerging once again as one of the top-10 teams in the nation, there's added pressure on Mora to right the ship after a disappointing 4-8 season. Of course, it's unfair to pin the blame solely on Mora for last year's record. The Bruins lost QB Josh Rosen midway through the season with a shoulder injury and never recovered.
Braden Gall
Anyone in the SEC not named Nick Saban? Butch Jones at Tennessee is only under marginally more pressure than Gus Malzahn at Auburn, Kirby Smart at Georgia, or Kevin Sumlin at Texas A&M. Jones' new AD won't take kindly to a bloodthirsty fan base.
Which top-10 team scares you the most? Which team do you think we might have over-ranked?
Mitch Light
Probably Auburn, a team that failed to live up to lofty expectations two years ago. This time, though, is different (we think) because Jarrett Stidham should end up being much, much better at QB than Jeremy Johnson. But even if Stidham ends up being as good as we think, Auburn still has some question marks. The Tigers need some playmakers to step up at WR, and they lost two very good players on the D line in Carl Lawson and Montravious Adams. I like Auburn as the No. 2 team in the SEC West, but it wouldn't shock me if they don't end up in the top 10.
Steven Lassan
A QB like Sam Darnold can mask a lot of issues ... or carry USC into the CFB Playoff. However, I think this team has more concerns than our No. 5 ranking would suggest.
Braden Gall
There are a lot of volatile teams in the top 10 that need to prove it, but I will go with Oklahoma. Realistically, the Big 12 champ will be a top-10 team, and the Sooners are clearly the favorite. But stacked up against the rest of the top 10, Bob Stoops' bunch doesn't appear to be nearly as deep or talented.
[Obviously Athlon's magazine went to press before Stoops retired in June.]
Name a coordinator hire that you like.
Mitch Light
Tough one. I'll give Jim Leavitt, the new D coordinator at Oregon, the nod over Kevin Wilson (OC at Ohio State). Leavitt did a great job during his two years at Colorado and was a big reason the Buffaloes won the Pac-12 South title last season.
Steven Lassan
Kevin Wilson at Ohio State. Even though the Buckeyes averaged 39.4 points a game last season, it was clear this unit needed an overhaul for 2017. Since Tom Herman left Columbus, the big-play ability and passing game ofOhio State's offense has regressed. But Wilson should immediately make an impact on a team capable of winning the CFB Playoff.
What was the most puzzling hire?
Mitch Light
Major Applewhite at Houston. That program had a ton of momentum after Tom Herman put the Cougars on the national map in his two season, and it's arguably the most coveted Group of 5 head coaching job in the country. Applewhite might end up being a great coach, but it feels like Houston settled by tabbing a Herman assistant to take over. Seems like a guy like Sonny Dykes, who had been a successful head coach, would have been a better choice.
Steven Lassan
I thought Nevada's hire of Jay Norvall was surprising. He's a 54-year-old career assistant with no previous head coaching experience. And his resume as an offensive coordinator leaves a lot to be desired.
Braden Gall
Ed Orgeron. Coach O is a great recruiter, one helluva defensive line coach and a likable guy. But I have no idea if he's capable of handling the treacherous waters of Baton Rouge. Les Miles won nearly 80 percent of his games and a national championship and was still run out of town. That's the level of expectation at

LSU

, and it is a complete unknown if those stakes are too big for Orgeron. It's not the first time we've been puzzled by the

LSU

administration.
Teams on the Rise
Analytics can tell us which teams are poised to surprise in 2017.
I've been maintaining the S&P+ ratings at FootballOutsiders.com since 2008. They represent an attempt to dig deep, deriving efficiency and explosiveness from the play-by-play level. They combine aspects of football that affect college football's Five Factors - efficiency, explosiveness, field position, finishing drives and turnovers - into a single opponent-adjusted number.
Each year, S&P+ produces results that make you doubt its creator's sanity. But if you know what you are looking for, a system like this can be useful. Among other things, it can drop pretty strong hints regarding who's about to have a really good, or really poor, season.
2016 S&P+ Rankings
Alabama

Clemson
Michigan

LSU

Ohio State
Florida State
Washington
Penn State
USC
Oklahoma
[Write up on LSU in the article - bold added by me]
Rarely is a dicthotomy as perfect as it was for LSU's offense in 2016. The Tigers played 12 games last fall - four against teams that were ranked in the top 10 of Defensive S&P+ and eight vs. teams that weren't.
Against the eight defenses outside of the top 10, LSU was dominant. The Tigers averaged 7.5 yards per play and, despite a slow tempo, 37.9 points per game. They went 8-0 in these contests, winning by an average of 21.8 points. This includes games against five bowl teams and a bowl matchup against Lamar Jackson and Louisville.
Against the four teams with elite defenses, however, the results were just slightly different: 4.9 yards per play, 9.3 points per game, and an 0-4 record despite a defense that allowed just 15 points peer game in these contests.
As observers, we see that and tie it to previous seasons. Les Miles couldn't develop a QB! LSU's offense stunk [because of a tiny sample)! The Tigers were overrated - again.
The numbers, however, see a team that was really, really close to a brilliant season. They were a late INT away from potentially beating an eventual 11-win Wisconsin team and suffered late goal-line miscues in losses to both Auburn and Florida. And while Alabama's 14-0 start featured 12 wins by at least 18 points, the Tide were tied with the Tigers, 0-0, heading into the fourth quarter.
S&P+ sees a team that had a brilliant defense and an offense that had four great gears but needed a fifth. It also sees a team that recruits at an elite level and has won an average of 10 games per season in the rugged SEC West over the last 14 seaons [and a still-solid 9.6 over nine years since its 2007 national title].
It sees, in other words, one of the safest bets in college football. Dominating iffy teams whlie losing tight games against good-to-great ones is a way to get overlooked in human polls while setting yourself up beautifully for the future, and LSU was closer to 10-2 or even 11-1 than 7-5 last year.
Of course, LSU does, in fact, need a QB. And while turnover was kept to a minimum during Ed Orgeron's shift from interim head coach to full-timer, the Tigers still have a lot of their hopes pinned on a new offensive coordinator. That's always a scary proposition. But it's hard to find many teams with more impressive raw materials, and there are just enough new influences involved to make you think this might be the year LSU again lives up to its full potential.
Coaching Report Card
We assess every Power 5 hire from 2012-16.
SEC Coaches
Home Runs
Nationally relevant with no end in sight.
5. Gus Malzahn, Auburn (2013- )
The head coach at Auburn is never more than a bad year or two from the chopping block (see: Terry Bowden, Tommy Tuberville, Gene Chizik), especially when most of the oxygen in the state of Alabama is being sucked up by the Crimson Tide. Sure enough, Malzahn faced legitimate questions about his future last fall before the Tigers hit their stride en route to the Sugar Bowl. Regardless of when or how the Malzahn era eventually ends, though, or whatever else happens to unfold in the meantime, the Kick Six-fueled run to the BCS Championship Game in 2013 will always be worth it.
Holding Steady
On the right track, but yet to win big.
6. Jim McElwain, Florida (2015- )
Back-to-back SEC East titles speak for themselves. But McElwain's teams haven't made any apparent headway on Florida State or Alabama at the end of the schedule, and even within the division they've arguably lost ground to Tennessee. Until McElwain finds a QB he can trust, the Gators are just treading water.
7. Butch Jones, Tennessee (2013- )
The 2016 Vols were erratic, combustible, and resilient - often on the same afternoon - a combination that temperated disappointment with sheer exhaustion. The result was a missed opportunity in a watered-down division, but also a reminder of how far the Vols have come on Jones' watch.
8. Bret Bielema, Arkansas (2013- )
It's probably too soon to suggest Bielema is facing a make-or-break year on the heels of three consecutive winning seasons, especially given the post-Bobby Petrino turmoil he inherited. But simply maintaining the status quo isn't going to keep the critics at bay, either.
10. Derek Mason, Vanderbilt (2014- )
Mason's third season in Nashville included wins over Georgia, Ole Miss and Tennessee and a berth in the Independence Bowl, which by Vanderbilt standards qualifies as a banner year. The

Commodores

aren't going to repeat their historic success under Mason's predecessor, James Franklin, anytime soon, but as long as they don't feel permanently consigned to the SEC basement, Mason probably isn't going anywhere either.
The Thrill Is Gone
Entrenched, but perhaps not for much longer.
1. Kevin Sumlin, Texas A&M (2012- )
In retrospect, the initial enthusiasm of the Johnny Manziel years is beginning to look more like a curse. The lofty expectations (and even loftier recruiting rankings) that followed have fizzled in three consecutive 8-5 finishes, each one more deflating than the last.
2. Hugh Freeze, Ole Miss (2012- )
[Since he's resigned, no point in reprinting what was said about him.]
Jury's Out
Fledgling tenures yet to move the needle either way.
2. Kirby Smart, Georgia (2016- )
UGa fans were certainly hoping for more than Smart's debut campaign than an uninspiring 8-5 slog, one that often felt like a rerun of the Mark Richt era at its worst. But the Bulldogs did finish strong and sustained the momentum into the new year by inking a top-five recruiting class.
3. Will Muschamp, South Carolina (2016- )
The Gamecocks arguably exceeded expectations in 2016 by eking out six wins, a clear step forward from the 3-9 debacle in 2015. Even better: The leading passer (Jake Bentley) and rusher (Rico Dowdle) were both true freshmen, and, and the top two WRs (Deebo Samuel and Bryan Edwards) are back as well.
10. Barry Odom, Missouri (2016- )
Not that anyone expected Odom to guide Mizzou back to the SEC title game in Year 1, but obviously a last-place finish in a watered-down East Division doesn't lend itself to muich positive spin.
LSU Players on Athlon's Preseason All-America Team
First team offense – RB Derrius Guice
First team defense – LB Arden Key
Second team defense - CB Donte Jackson
SEC PICKS
SEC WEST
SEC EAST

Alabama

Auburn

LSU

Arkansas

Mississippi State

Texas A&M

Ole Miss

Georgia

Florida

Tennessee
South Carolina

Kentucky

Vanderbilt

Missouri
LSU players on Athlon's All-SEC Teams:
1st team offense
RB Derrius Guice, OL Will Clapp
1st team defense
LB Arden Key
2nd team defense
DB Donte Jackson
Excerpts from full page write-up on LSU
Matt Canada,

LSU

O-Coordinator: "With the talent already here and what we will recruit, we can put together one of the best offenses in the country. We're going to develops QBs, score points and bring some excitement to the offense here at

LSU

."
Canada hasn't ... divulged a particular group [on his offense] that he wants to feature this coming season, but the

Tigers

' roster automatically becomes one of the deepest he's coached, especially an offensive line he says has been really, really impressive early in system installation.
The

Tigers

' offensive line is five guards in search of a tackle, but at least

LSU

can count on the experience of senior K. J. Malone at LT.
A second-year coordinator must figure out how to cope with lack of defensive depth, particularly amongthe LBs. The preferred offensive style of play remains uncertain under a first-year coordinator. There will be retooling and new ideas on both sides of the ball. How

LSU

adapts to change could well determine its fate.
Guice now enters this season as Fournette did the last: as a legitimate Heisman Trophy candidate, one on pace to shatter Fournette's just-established career school record for yards per carry (Fournette was at 6.2ypc, Guice is at 7.8).
Senior D.J. Chark returned after a bit of convincing from Canada. Now Chark, who says he had to give up root beer to stay conditioned for Canada's demanding drills, is set to emerge at Etling's top target after catching 26 passes for 466 yards and three TDs in 2016. The two developed chemistry as a scout squad combo two years ago.
Key is expected to return in the fall, but there was enough doubt to be disconcderting for the

Tiger

faithful given his immense talents. "He can just run around somebody," says Aranda ... "I've never been around a player who can do that."
The LB corps is the setting for

LSU

's biggest rebuilding job as the

Tigers

must replace their top two tacklers from 2016 in departed ILBs Duke Riley and Kendell Beckwith.
Orgeron promises a more aggressive approach to returning and blocking kicks under special teams analyst Greg McMahon, formerly of the

New Orleans Saints

.
THE VERDICT
2017 PROJECTION: 9-3, 5-3 SEC
It's a familar story in Baton Rouge:

LSU

is loaded with elite playmakers on both sides of the ball, but there are perceived problems with the offense and concerns with the head coach. A quick look at the numbers, however, suggests

LSU

's offense was just fine in 2016; the

Tigers

averaged 6.7 yards per play in SEC games (second best in the league) - though they did struggle against top competition. The pressure will be on Ed Orgeron to prove he can successfully run a program after struggling to do so at Ole Miss. The pieces are in place from a talent standpoint for the

Tigers

to make a run at Alabama and win the school's first SEC title since 2011. The schedule could be an obstacle:

LSU

plays only three league games at home this fall.
Postseason: Fiesta Bowl vs USC
Scouting the

Tigers


Opposing Coaches Size up

LSU


I think Ed Orgeron will do a good job of letting his coaches coach. Matt Canada is pretty sharp, so he'll be a good addition to their staff. He's very creative, and if you watched him at Pitt - especially their game against Clemson last year - he did an awesome job. Even though they're physical at the point of attack and they're going to run the ball, there's a lot of eye candy and misdirection built into his formations that takes a while to figure out. I think that really plays into their hands because in this league, people just kind of get passed around, and over time you get a book on people. When you hire someone from outside the conference, it takes the other staffs a year or so to get caught up. This will be a different style of offense, and he's obviously getting to work with a caliber of athlete he didn't have at Pitt.
Even though Leonard Fournette got all the attention, I thought Derrius Guice was just as good of a back and was probably harder to scheme against because he wasn't all downhill all the time.
I still question the QB deal. Danny Etling doesn't have much upside. He's just OK.
On defense they had some freaks last year. I think five of those guys will play in the NFL for a decade.
Ed figured out he had to hire a great staff so he can be the energy guy, but I think the big question mark is why they missed on so many in-state kids in recruiting this year. You can't lose three blue chip guys in the state to Alabama and expect to compete with them head to head.
By the Numbers
5

LSU

's national rank in points allowed (15.8 ppg) in 2016

1

LSU

's rank in TDs allowed (16 or 1.33 per game)

9

Number of games in which

LSU

allowed one TD or fewer

27.8

LSU

offense's average starting field position - 110th in the FBS and 13th in the SEC.

10

National rank of Pittsburgh's offense under Matt Canada in scoring (40.9 ppg) in 2016

13

Pitt's rankings yards per play (6.71)

5/13

Of Clemson's 13 passing TDs allowed all last season, five came against Pitt - the only team to defeat the Tigers.
Interesting Quotations
Opposing coaches size up each SEC team
Alabama
They get whoever they want in recruiting ... Now, how do they transition it with a new offensive coordinator? I think it will be more pro style, back to what they uesd to do. What's amazing about it is they run the same offense for the most part, it's just different window dressing.
Jalen Hurts obviously gives them an element similar to Blake Sims. He can run the system. He seems to be smart. They like him, butyou could tell they didn't totally trust him.
Bo Scarbrough is a monster, and they can keep it pretty simple and play more ball control, but Hurts has to grow as a passer and be more precise getting the ball outside.
Arkansas
I think their offensive coordinator (Dan Enos) is awesome, just really, really good.
They do stuff no one else really does anymore in terms of lining up and playing smashmouth football. ... They make you play a way you're not used to having to play.
They made a change (at D coordinator). I don't know how much background Paul Rhoads has as a 3-4 guy, but they're going with it full bore because they just have such a hard time defending the spread.
Auburn
It'll be fascinating to see what happens with (O-coordinator) Chip Lindsey coming in. I think Gus (Malzahn) is going to let him do what he wants. That's the rumor, anyway. I think if that's the case, their passing game will be more dynamic than you've seen in the past from them. ... I'd guess they have a chance to be sneaky good this year.
I think defensively they've done as good a job as anyone recruiting other than Alabama.
They're really good up front ... and they'll have a chance to be one of the better defenses in the league.
Why haven't they been as good offensively? I wish I had an answer for that. I think it came down to inconsistency at QB.
Mississippi State
I know Dan Mullen rubs some people the wrong way, but those guys can flat out get the job done.
They're kind of boring schematically when you really watch them and break them down. ... Mullen does a good job - it's just not particularly creative. ... With Mullen, he kind of has his things he likes and that's what he does. There's no newness there.
They're always just OK up front. ... they're not super talented.
They're a developmental program ... You have have to respect what he (Mullen) does at a place where it's hard to recruit.
Ole Miss
Schematically, they're pretty similar to Auburn but maybe even a little bit more creative.
I would think they have to play Shea Patterson (at QB), but he was very up and down at the end of last season when they had to pull the redshirt. It's pretty important that they have a guy back there who can move around because they historically aren't great up front.
Defensively, they fell off a cliff and had to make a change.
Texas A&M
Kevin Sumlin bounced back a little bit last year, but it still feels like he might be on shaky ground ... They're as talented as anybody, but for whatever reason they don't put it together very often.
I thought they continued to improve on defense, but losing Myles Garrett is definitely something we're happy about. John Chavis gets his guys ready to play and they'll always be tough on defense ... We had a great plan against them last year because he's pretty predictable on defense, but he just sits back and watches and over the course of the game they tinkered with things here and there and made it really tough. He just knows what he's doing.
I thought (O coordinator) Noel Mazzone did a nice job last year.
Florida
They're going to drop off on defense ... they're losing a lot of players who played a lot of football.
This is a make-or-break year for them on offense. They need a QB and everybody knows it. Antonio Calloway is a damn good player, and he has had some issues.

Tennessee


I don't think anybody outside of the building can speak to what's going on inside, but there's obviously some turmoil. That's a talented team that should win more games than it has.
My question is, what are they trying to be on offense? I really don't know ...
Their LBs are really bad relative to the rest of the division, so it'll be interesting to see if that gets exposed.
Phil Steele's 2017 College Football Preview
Steele's Top 15
Alabama
Ohio State
Florida State
USC
Oklahoma
Penn State
Washington
Clemson

Florida

Wisconsin
Miami (FL)
Auburn
LSU
Stanford
Oklahoma State
2017 College Football Playoff Predictions
Sugar Bowl:

Alabama

vs USC
Rose Bowl: Ohio State vs Florida State
Text for LSU in his Top 15 listing:
Since their 2011 National Title game, LSU has lost 3, 3, 5, 3, & 4 games. Derrius Guice is back at RB and LSU has my #4 rated OLine and a veteran QB. The Tigers have their standard Top 10 defense and my #9 special teams. They were +124ypg in the SEC in '16 (2nd best) but do have a rare 5 SEC road games.
LSU Players on Steele's Preseason All-America Team
1st team offense – RB Derrius Guice
1st team defense – LB Arden Key
4th team offense - C Will Clapp
4th team defense - CB Kevin Toliver
SEC PICKS
SEC WEST
SEC EAST

Alabama

Auburn

LSU

Texas A&M

Arkansas

Ole Miss

Mississippi State

Florida

Georgia

Tennessee
South Carolina

Kentucky

Missouri

Vanderbilt
LSU players on Steele's All-SEC Teams:
1st team offense
RB Derrius Guice
1st team defense
LB Arden Key, CB Kevin Toliver
2nd team offense
C Will Clapp
2nd team defense
DB Donte Jackson
3rd team offense
WR DJ Chark
Excerpts from full page write-up on LSU
QUARTERBACKS
Etling had his ups and downs. ... They add in two talented true frosh whom new OC Matt Canada recrited. They should have their best QB play in years.
RUNNING BACKS
Despite the loss of the most talented RB in college football, this unit looks just as strong.
RECEIVERS
Despite losing NFL talent, this unit should at least match 2016's lower than expected numbers.
LINEBACKERS
This unit looks to be down a notch, losing more than they did last year.
DEFENSIVE BACKS
They do return three who started 5 or more but with the loss of their top two, they figure to be down a notch.
SPECIAL TEAMS
Orgeron fired his ST coor Dale Peveto ... and replaced him with a committee. This group should make another move up my rankings.
2017 ANALYSIS

8-4



Ratings of LSU Players at Their Positions
QB Danny Etling #36
RB Derrius Guice #2
WR DJ Chark #7
OT Toby Weathersby #17
G William Clapp #2 [he has moved to C]
G K.J. Malone #32 [he has moved to T]
G Maea Teuhema #36 [he has transferred]
DE Arden Key #4
DT Greg Gilmore #20
DT Christian LaCouture #29
OLB Donnie Alexander #64
CB Kevin Toliver #6
CB Donte Jackson #11
S John Battle #44
P Josh Growden #12
Rankings of LSU Units Nationally
QBs - not in top 55
RBs - #4
Receivers - not in top 54
O-line - #4
D-line - #14
LBs - #10
DBs - #8
Special teams - #16
LSU's 2017 schedule is ranked the TOUGHEST in the nation
Steele pegs LSU as his #5 Surprise Team. His explanation:
The schedule is a big factor in whether a team can win the title or not but sometimes talent can override a tough schedule. LSU actually has four groups that rank in my Top 15 nationally with my #4 RBs, #4 OLine, #14 DLine, #10 LBs, #8 DBs. They also have a veteran QB. The schedule will keep them out of the Top 10 as last year they forced Florida to play them in Baton Rouge and now pay the price with 5 SEC road games including trips to Alabama and Florida. They get Auburn at home and could be favored in all their other road games so that means they could be an upset of Alabama away from playing in the SEC Title game and that would give them a great shot at making the playoffs. If you check out my Power Poll LSU has Top 10 talent.
Teams Going UP for 2017
Wisconsin
Ohio State
Northwestern
Rutgers
Arizona
Ole Miss (before Freese was fired)

Oregon
South Florida
Utah State
Northern Illinois

Teams Going DOWN for 2017
South Carolina
Utah
Georgia Tech
Maryland
New Mexico
UTEP
Air Force
Wake Forest
Boston College
Georgia
<!END COLUMN ONE>

Golden Rankings Home